Activity Flooring
Graphics

Activity playgrounds are a place that children can go to blow off steam after a long morning of education. We want to create play areas that children can look forward to using whilst still encouraging learning. We provide a huge variety of rubber activity flooring graphics that are perfect for giving life and character to your playground. They also fill it with colour and different games that children love to play.
Activity Surface Games
Wet pour rubber safety surfacing and Multisport synthetic turf are perfect flooring specifications for outdoor play areas as they can be used with a range of activity surface games whilst remaining safe for use due to the soft feeling of the surface. The wet pour surfacing has to be installed at different depths to ensure that it can accommodate these pieces of play equipment.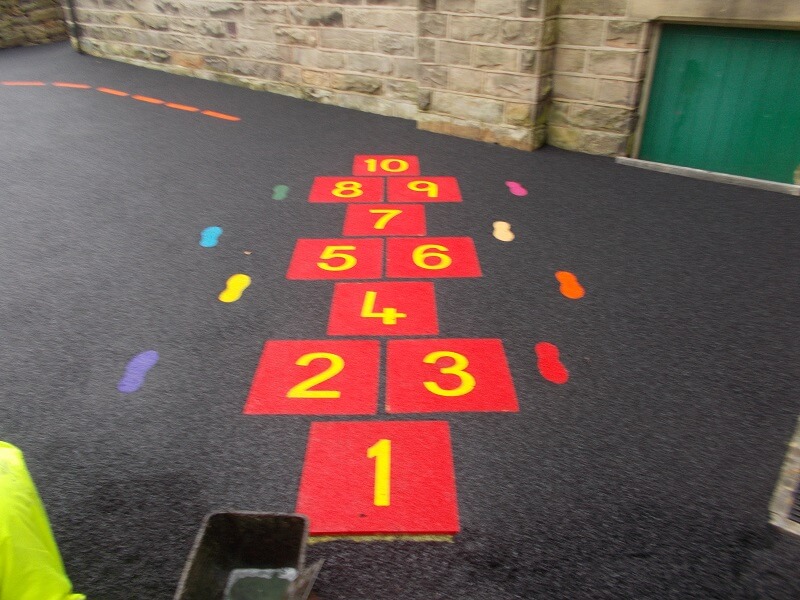 This means some schools prefer the in situ activity surface games as they're easy to maintain, completely safe for use and teach children a wide variety of skills effectively. The synthetic turf specification is installed as a carpet which is rolled out onto a macadam sub base and filled with sand for stability.
Our product ranges span from number activities including hopscotches to colourful animals and cartoons. All the rubber inserts and artificial turf designs that we offer are available in different colours ensuring that you can maintain any colour scheme that your school or school logo may have.
We want to make sure that you have full control over the customisation of the activity flooring graphics. We'll give you the choice of different colours, shapes and sizes to suit your play area. Please get in touch with us today through our contact form if you would like to discuss designs for activity surface games at your school.
Our team will be able to offer you more information on activity flooring graphics if necessary. Please do not hesitate to contact our team for more details on the surfacing graphics and the costs of these designs. Simply fill in the contact form provided and we will respond right away.
Thermoplastic Play Markings
We can install thermoplastic play markings that are made from superior quality plastic so they offer strength and longer-lasting results. Since young children are going to be running around and playing games on the graphic designs, it is important for them to be secure.
We're able to install the coloured play markings on plain tarmac surfaces to help brighten up the playground. These markings are fantastic for kids of every age group, plus they could even make up their own activities.
The application of plastic surface markings is rather quick and simple, minimising disruption for primary schools and daycare centres. We'll put the shapes on the tarmac surface and apply heat using a special burner until they stick to the floor. It is an environmentally friendly, safe and 100% reliable material that will refresh a current play area.
The range of play area designs we offer is perfect for making the area more fun and beneficial. Youngsters will be able to learn much better through these interesting recreational markings. They can also improve their health, fitness and social skills with regular activity.
Activity Surfacing Graphic Designs
We understand that not every playground is made from EPDM rubber wet pour or Multisport synthetic turf, so we also offer an alternative for play areas made from the tarmac. Thermoplastic markings allow you to have activity surfacing graphic designs imprinted onto your tarmacadam facilities easily and quickly.
These products are similar to rubber graphics in many ways. They are both easy to maintain and are incredibly durable. These markings come in a huge range of different activity surfacing graphic designs and colours to suit individual requirements. We can tailor all of our products, such as activity surface graphics and thermoplastic markings to children of different ages.
Some of the popular designs include:
Numbers
Letters
Roadways/Walking Tracks
Animals
Maths Games
Fitness Trails
We can fully customise all of these and more to suit any age group. Just let us know what you're looking for and we'd be glad to provide a few design options.
You can change the playground graphics designs to fit the expectations of younger demographics, such as nurseries and primary schools. Or you can have more general designs for public parks. We pride ourselves on our flexibility, we can take your budget and offer you the best graphics plans and packages that fit your design specifications.
Contrary to wetpour rubber inserts, the thermoplastic playground activity designs can be a lot more complex, allowing for big and intricate pieces. The different markings that we offer range from hopscotch to full-sized games of snakes and ladders.
Please contact us if you'd like more information on activity surfacing graphic designs. We'd be happy to offer you some advice on design, specification and price quotations.
Multi-Activity Surface Graphics
Many organisations get multi-activity surface graphics installed to enhance the appearance of their own flooring, allow the kids to have more fun, and impress the OFSTED staff. Play area surface designs are key for the children's education, together with their fun and physical fitness levels. They are great for kids from primary to secondary school in both Key Stage 1 and Key Stage 2.
We can install educational surface graphics so that the pupils can play games to learn numerous subjects. Some of the most commonly used play markings may be things such as number grids, planets, letters and footprints. We can also provide play area maintenance services to help keep these facilities in top condition after the installation.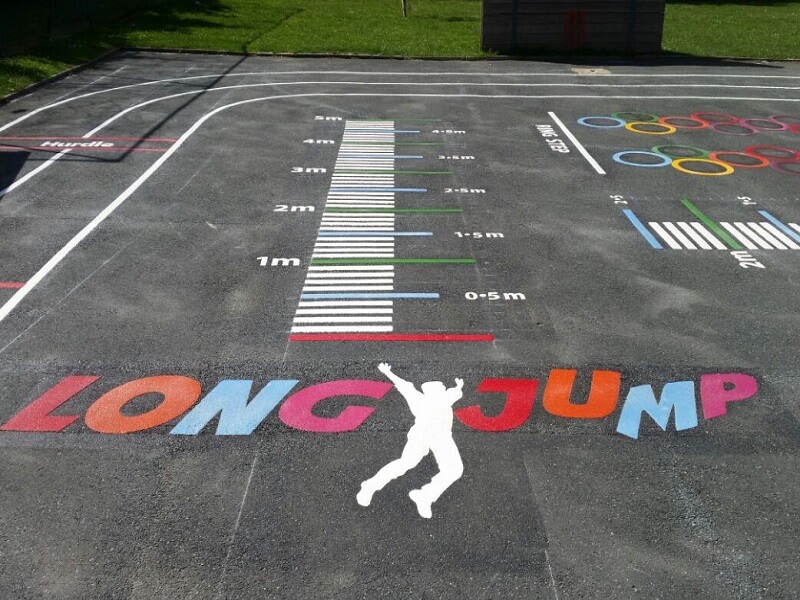 The colourful patterns are good for getting little ones to become far more energetic and healthy. They also enable them to have a good time playing in the fresh air. Obesity statistics are slowly growing with children within the UK. This is an effective strategy to deal with the issue in schools. There are lots of clients who can have decorative play markings installed.
Get In Touch
If you require any more information on activity flooring graphics, please get in touch using the contact form provided. We will respond at the earliest opportunity with more details on prices.
Get expert advice,
today call us on
Get a FREE quote from our award winning team