Benefits of Multisport Synthetic Surfacing
Over Sand Filled

Many schools and clubs in the UK have Multisport synthetic surfacing installed for sports pitches and athletics facilities as an alternative to natural grass pitches and polymeric running tracks. The specification of this fibre bonded artificial carpet is made up of tight curly yarn fibres which create what's known as a needlepunch surface. The carpet is then infilled with a layer of specialist silica sand to enhance the playing qualities and offer improved stability. Multisport synthetic surfacing is popular with schools as it is commonly used as an all-purpose facility for a range of sports and activities like football and tennis without needing to use different surfaces for individual sports.
Why Choose Multisport Synthetic Surfacing?
Some organisations choose to have a 2G sand-filled artificial turf pitch installed to create a more natural appearance of grass. However, there are many factors that make Multisport synthetic surfacing a better choice for schools and clubs who are looking to create a multi-use facility:
The Multisport synthetic surfacing system creates a more durable and long-lasting sports surface that can withstand heavy use over long periods of time whilst resisting damage and weathering. The surface type also has UV stable fibres which resist fading and damage from sun exposure, as well as being installed with scrim reinforcement to prevent rucking and maintain an even playing surface.
The durability of a needlepunch carpet also gives it an extended lifespan in comparison to a sand-filled pitch, with generally around a 10-15% longer life expectancy depending on the amount of use and providing that regular maintenance is carried out.
There is 50% less sand installed within a Multisport synthetic pitch compared with a sand-filled surface. This means that you are playing more on the actual grass surface rather than a thick layer of sand; therefore the performance qualities are a lot better. The higher absorption of needlepunch surfacing also means that the sand is encapsulated better within the carpet, therefore also contributing towards improved playing characteristics with a range of sports.
Due to the reduced amount of sand infill and the more dense carpet pile, the needlepunch system does not get compacted as easily as the sand filled pitch specification. This combined with the additional integral carpet strength means less maintenance is required for a Multisport surface so overall costs are reduced and repair maintenance can be kept to a minimum.
Due to the specially designed carpet specification, a needlepunch Multisport pitch gives a much higher porosity reading as the free draining construction system allows water to drain through easily. This makes it a true all-weather surface that can be used throughout the year for various sports and activities.
While sand-filled pitches provide good performance qualities for football and hockey, the needlepunch surface is a much better option for an all-purpose, multi-use facility where a wider range of sports and activities can be played. Football, hockey (FIH compliant), tennis, basketball and netball can all be played on this surface along with any other outdoor games you can incorporate into PE lessons and extracurricular activities.
The designs you can choose from with Multisport synthetic surfacing are very versatile as the specification comes in a range of colour options including green, blue, red and orange. This allows you to create a bespoke sports facility that is unique to your particular school or club and fits in with any existing colour schemes you may have.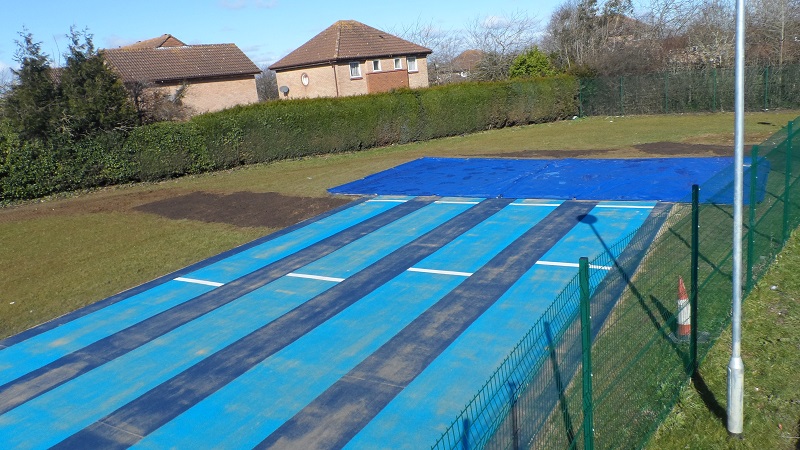 Expert Surface Installers
In the video below you can see a full installation project for a Multisport synthetic pitch at a school:
If you are interested in having Multisport synthetic surfacing installed at your school, club or public sports facility, please use our contact form to get in touch with us and send us your enquiry. We would be happy to discuss various design options and send you over a quote for the work so don't hesitate to ask if you need any advice in regards to specification, budgets and installation of this versatile sports pitch surface.
Get expert advice,
today call us on
Get a FREE quote from our award winning team