Benefits of Outdoor Play
for Children

I'm sure you'll agree that as a young child some of your fondest memories were made outdoors. Playing football, hopscotch or on your bike. Some of the most important lessons you learnt were taught outside. How to build a battle resistant den, or 'mummies and daddies' were everyday occurrences, which led us to the people we are today.
Children are spending more time on technology than ever before, meaning they're missing out on the kinds of moments and memories we all made in our adolescence. Surveys suggest the horrifying rate, which increases every year of children who don't go outside at all, even to play. Your parents telling you to stay outside and keep the door shut are a thing of the past, so we would believe. What are the benefits of outdoor play for children which could be getting missed?
Improving Physical Health with Play
According to statistics by the NHS, in 2014/15, over 1 in every 5 children in Reception and 1 in every 3 children in their 6th year of primary school were declared obese or overweight. Figures like this are putting children at a greater risk of a number of serious illnesses in adulthood. There need to be more improvements made to school playground facilities to enable them to be used efficiently.
The NHS states that regular exercise reduces the risks of major illnesses by as much as 50%. That's heart disease, stroke and cancer. As well as early death reduced by 30% just from exercising regularly. Children are in the most important part of their development in the younger years and spending more time sat down than ever before. There are many ways which schools and parents could be encouraging children when it comes to improving physical health with play.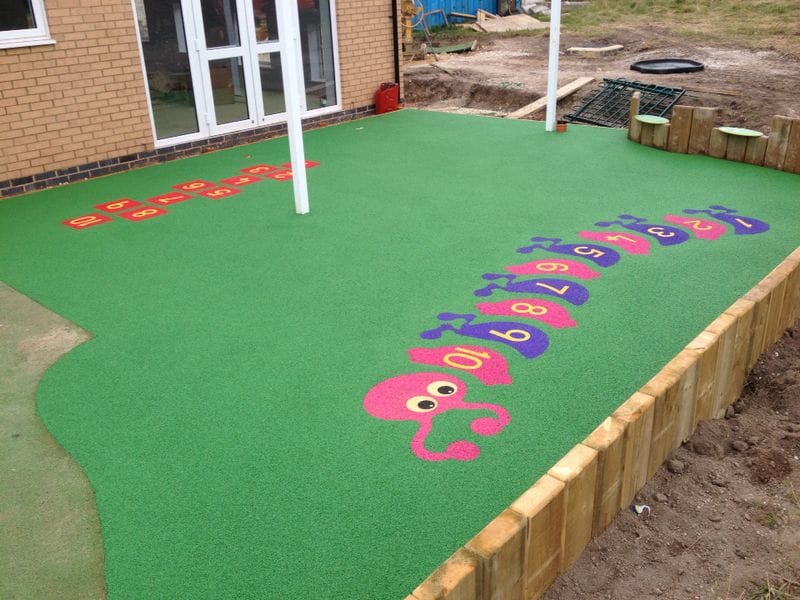 The Effects of Technology
Spending 30 minutes a day exercising will dramatically reduce these risk factors so why aren't our children spending time outdoors? The obvious factor is technology, is this causing our children to become overweight or lazy? For some the answer is yes. Too much tech has had lasting affects on their health but on other things too.
With suggestions our attention spans are getting shorter by the year thanks to 4-second gifs, tabloid media and 140 character tweets our children's attention span is merely doomed. However, playing outside has proved to expand attention spans and equip children of all ages with the ability to learn at a faster pace and efficiently.
Not only this but development is vital in the primary years for children and playing outside provides us with a number of great things, one being Vitamin D. Deficiencies in this vital component can result in health problems, such as weakened bones, rickets (in children) or muscle aches and pains. You can easily avoid these problems by playing outside for just half an hour a day. So already we can see the number of physical benefits playing outside provides children with.
Children's Mental Health Benefits
As Mental Health becomes more recognised we are able to uncover the importance of prevention for young people. Not only will exercise help to prevent mental health problems but it will better enable parents, teachers and guardians to recognise signs that your younger ones are suffering. Research shows that childhood inactivity could affect the NHS as there are more children with health problems due to obesity.
A variety of children's mental health benefits can be found through outdoor activities. Playing outside provides children with the vital functions associated with brain performance, social relationships and social skills, but how beneficial is playing to their mental health?
Studies conducted by the University of Queensland concluded that – people who visited parks for 30 minutes or more each week were less likely to suffer from high blood pressure or poor mental health than those who don't. For children, development in their younger years will determine the quality of life as they grow older so it is important to give them the best chance of healthy adult life by encouraging outdoor play.
According to Childwise, children aged, between 5 and 16 spend over 6 hours per day in front of a screen. That includes watching TV, Game Stations, Computers, Mobiles and Tablets. Without having to communicate to their friends or family for over 6 hours per day means they are missing out on vital social skills brought by playing outside.
Similarly, Science Direct found that children who play in green schoolyards had peace away from the stress of the classroom and school life. They were more focused and able to build strong social relationships.
Taking Learning Outside
In order to reap the benefits of the outdoors, there is always the option to take everyone outside. They can then explore while learning some of the best lessons. The things taught in the park or playgrounds won't be forgotten quickly, there are a number of reasons why.
Providing children with new surroundings will encourage the release of dopamine (happy hormone). Combine this with the sunny outdoors (which we get occasionally here in the UK) the youngsters' imaginations will run wild. This will enable you to grab their excitement and turn it into enthusiasm. This is the best combination for learning.
Not only is taking learning outside in this kind of environment motivating, but its resources also provide no limits. Create new things with their own hands; learn about the animals that share their environment. Various different types of playground equipment can be used in schools and nurseries to provide more opportunities for learning. There are hundreds of valuable lessons you can learn outside.
For parents or teachers, encouraging your children's play and learning from the outdoors about nature or sport will encourage them to venture out more often or spark the beginnings of a new hobby. It will even provide you with a chance to spend quality time getting to know them as they grow older. There are so many benefits of outdoor play for children and it can really give them a boost physically and mentally throughout their development.
Get in Touch
To learn more about the different outdoor facilities and designs, please contact our team. We'll get back to you as soon as possible to discuss the costs and specifications. Our quotes vary for each project depending on size, location and design. Make sure to give us as much information as you can so we can give an accurate price.
Get expert advice,
today call us on
Get a FREE quote from our award winning team