Leisure Grass
Installation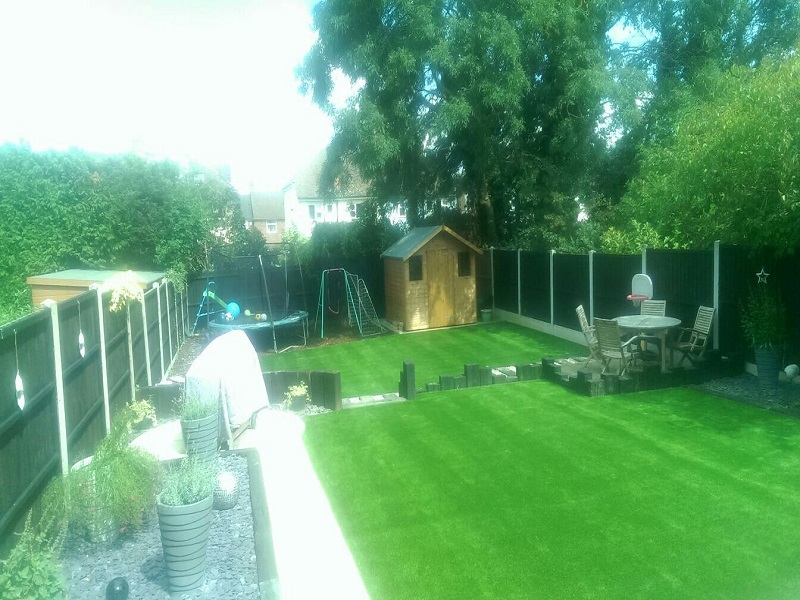 Artificial grass is becoming more popular for peoples gardens, patios, playgrounds and park surfaces in the UK, this will be due to the weather that we have. Artificial grass requires very little maintenance and it will stay looking green and great all year round – no cutting, no watering, no weeding, and no mud! This means that you will spend more time relaxing and enjoying your garden, rather than carrying out maintenance.
Installing Synthetic Leisure Turf
Leisure grass installation is a quick and simple process with our professionals, no hassle or mess and you will have a high-quality outdoor surface installed in no time. If you are thinking of having a leisure grass installation at your home or nursery playground, then we suggest that you do your research and background checks.
These background checks should include checking when they were established and how long for, previous installations and references. This is because the installation of synthetic turf is a skill and you need to use specialist contractors who have a range of experience and who you know will give you the garden which you want.
Installing synthetic leisure turf can be varied to meet your design specification and artificial grass technology has improved. This allows the fake garden turf to be better in the winter and bad weather conditions. It also looks and feels more natural and will not be discoloured by the UV sunlight, which was a previous synthetic turf problem.
There is a variety of fake grass available in different styles, colours, shades and each can be custom to meet your personal specification and this allows you to have a unique surface.
One of the benefits of installing synthetic leisure turf as well as the other main ones are that it is useable in all types of weather. The reason that it is suitable for use in all types of weather is because of its sub-base. The common sub-base for fake grass starts with extracting the existing muddy surface. We will then insert a geotextile membrane over the whole area before edging the surface.
When this is finished a compacted layer of MOT type 1 aggregate stone is poured before the screed of sand is placed with the artificial surface on top. These groundworks provide a porous synthetic grass surface, which is able to drain appropriately and water can flow through into the substrata instead of causing a muddy area and puddle to form on the garden surface.
If you are going to buy fake turf, it is important to buy it from a top seller, who has a good reputation. This is because cheaper surfaces might cost you more in the long run, they could fade and not look very nice. If you want an artificial garden surface installed, we are specialists who can do it for you. We can complete the installation in 2-3 days but this is varied on the size, access and specification of your surface. Please get in touch with us if you need some information or a price quote for leisure grass installation.
Leisure Grass Preparation Works
Prior to fitting the fake turf for your backyard, the leisure grass preparation works should be done. This is important to create the best foundations for your synthetic surface to be installed on. This sort of job might include excavating the current area and creating the sub-base.
Designs of artificial surfacing are improving a lot lately and producers are making lots of developments all the time. The synthetic surface is now much better in winter and cold, wet types of conditions. This surface has also enhanced in appearance because it now looks a lot more like a natural lawn and is also UV stable. This means that it will not discolour through exposure to natural sunshine.
Man-made lawns can be found in many different depths and shades, and that means you can decide how you would like it to appear. The depths of artificial grass begin at 15mm and get up to 40mm. You'll be able to choose the colour of green you prefer to get it exactly right. A range of specs are available with these products, so the clients get their surface to fulfil their needs.
Artificial Grass Installation Costs
You will need a professional and experienced installer to fit the synthetic surface to a high-quality finish. It is advised to do a variety of background checks and receiving client references prior to selecting the company. Doing this helps to ensure that the whole project operates well with no complications.
Numerous things can change the artificial grass installation costs. If you are looking into how much it will be to put in artificial grass in the backyard it is necessary that you measure the longest and widest sides of the area.
Installing Recreational Turf
We are experts when it comes to installing recreational turf and can offer the best services to ensure your grass installation is the very best quality. Our team have been in the industry for a number of years giving them plenty of experience. Since there are a number of different specifications to choose from you can be sure that you will get exactly what you want. Whether it's for a school playground surface or your own home garden, we can help.
We will be more than happy to alter our designs and specifications to meet up your individual needs and requirements. Our main aim is to make certain that our clients are happy with the installations. So please do not hesitate to contact us if you have any specific requests.
Get expert advice,
today call us on
Get a FREE quote from our award winning team