Artificial Grass and Wet Pour pathway
in Birmingham
Synthetic turf and Wet pour are perfect for Schools and playgrounds in the UK.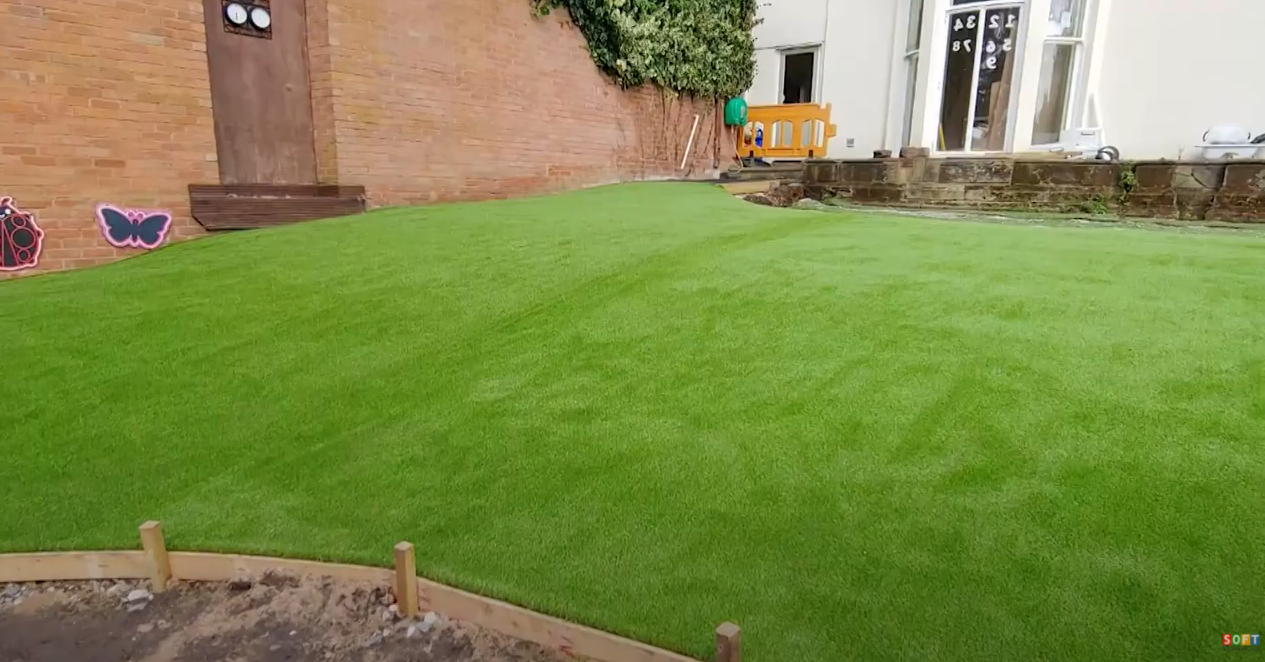 What was the specification? : Artificial Turf and Wet Pour
What colours were used? : Green, Black
What was the size of the job? : 220m²
How long did the job take? : 3 days on site
Installment of Artificial Grass and Wet Pour Pathway in Birmingham
Soft surfaces installed this Synthetic turf and Wet Pour Pathway for a school in Birmingham. Take a look at the video below to see the full project from start to finish.
Video Transcript
Hi guys its Dan here, and today we're going to be showing you an Artificial Grass and Wetpour Pathway Installation at a School in Birmingham.
For this work, the school wanted to renovate their outdoor area by having new outdoor surfacing fitted. They were keen on having multiple surfaces fitted that would suit their needs, whilst ensuring the children stayed safe at the facility.
So the first surface type we installed at their school was the large artificial grass flooring. This was installed to replace their old grass area, whilst still providing the appearance of natural grass.
One of the biggest benefits for them was that the grass needed little to no maintenance all year round, saving the school money over time.
Additionally, the synthetic turf we fitted for this work is fully porous, enabling rainwater to drain through the surface throughout the entire year.
The other surface type we fitted for this job was wetpour rubber surfacing, which was fitted around the perimeter of the school.
This was an important flooring for the school to have fitted, as its EPDM rubber make-up means it's one of the safest surfaces available, soaking up trips and falls really well.
Also, just like the artificial grass, this flooring is also porous, perfect as an outdoor area.
We've been installing and maintaining a variety of outdoor surface types nationwide for over 2 decades now, so no matter what works, our team is spread out across the country and can help.
You can see from these photos here that the final job has been completed, and looks great at their school. They were really pleased with what we did for them.
Although we do work nationwide, from doing plenty of jobs in the Birmingham area we now rank in Google for these keyphrases:
Fake Grass Installer Birmingham
Birmingham Rubber Safety Surfaces
Best Artificial Turf Company Birmingham
Birmingham Wetpour Flooring Experts
3G Grass Builders based in Birmingham
and more.
Thanks a lot for watching this video guys, and to enquire today please contact us at www.softsurfaces.co.uk or simply give us a call at 01625 445 760
Contact Our Team
If you'd like some more information about wetpour rubber surfacing we can install for nurseries and schools, feel free to contact us.
We can discuss the costs and different designs we offer for these areas. Just let us know what you're looking for and we'll get back to you as soon as possible.
Get expert advice,
today call us on
Get a FREE quote from our award winning team