SudStone Permeable
SUDS Surfacing
SudStone Resin Bound Gravel is a SUDS compliant surface which can be installed in a range of different areas.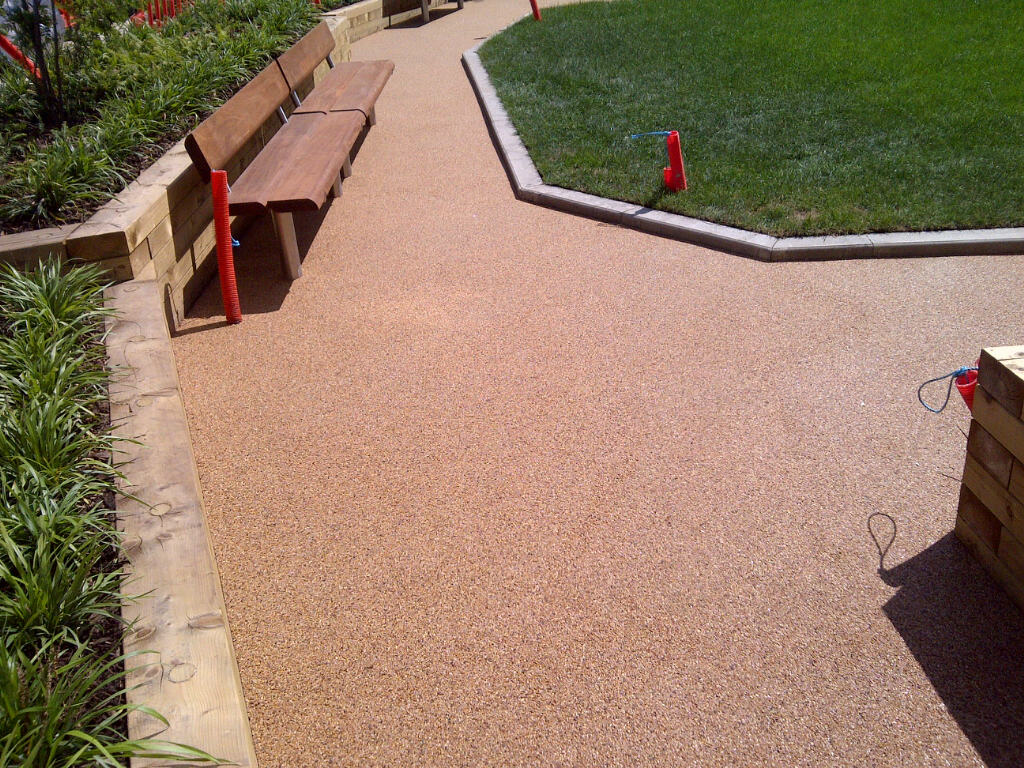 SudStone is a type of resin bound surfacing that can be used in a range of different areas. The SudStone system varies to standard resin bound, as it is a thicker system with the addition of a Geogrid and Geofabric.
But, why choose Sudstone for your home or commercial property?
What is SudStone Resin Bound Surfacing?
SudStone is a SUDS (Sustainable Urban Drainage System) compliant surfacing, which can be installed in various colours to meet individual needs and requirements. It is a decorative surface which is becoming more popular in recent years.
SudStone is a thicker system than standard Resin Bound Gravel and does not require a macadam or concrete base to lay onto. This can save on groundworks costs!
Our SudStone surface creates a natural finish available in various colours.
National SudStone Resin Bound Installers
We install a range of resin bound surfaces across the UK. Our SudStone specification is becoming increasingly popular for both residential driveways and commercial use.
Have a look at this video below to see an example of one of our installations of this SUDS compliant surface:
What is SUDS Compliant?
A SUDS compliant surface refers to a surfacing that allows water to drain through. The permeable surfacing is great for driveways, patios, commercial properties and a range of other areas.
The water that passes through these fully permeable surfaces will either drain to natural ground or it will get directed to a soakaway system that has been installed.
Advantages of SudStone Surfacing
Some benefits of the SudStone surface include:
Since water drains through, there will be no puddling on your surface
No planning permission is required, due to the SUDS compliance
It is an eco friendly surface
Due to it being a seamless surface, weeds will not grow through
SudStone can be installed in a number of different colours
It is a strong and durable surface type
For more information on the advantages of our SudStone system, please contact our team today using the enquiry form on this page.
SudStone Resin Bound Installation
We have plenty of experience when it comes to installing SudStone resin bound stone.
We can install our SudStone system onto a number of different bases. The most common type of sub base would be a geotextile membrane and 175mm MOT Type 3 stone.
Once an appropriate sub base has been installed, we can then install the SudStone system. This comprises a Goefabric layer followed by a Geogrid.
Our team will then install a minimum of 25mm Soft Surfaces Resin Bound Base Course. This is trowelled to a smooth finish using 6-10mm aggregate.
Following the base course, we will then install our Soft Surfaces Resin Bound Surface Course. This is also trowelled to a smooth finish. The typical depth using the 6mm aggregate is 18mm. When using a 3mm aggregate the typical depth would be 15mm.
Finally, we would apply a fine grit. This would be cast onto an uncured surface. The area will then be left to cure.
It is recommended to have expert resin bound installers carry out the construction of your surface to get the very best results.
Unfortunately, We could not find any results for: post. Category: sudstone.
Contact Our Team
If you are interested in having our specialist SudStone Resin Bound SUDS compliant surfacing installed, make sure to contact our team. We offer the very best prices for high quality resin bound surfaces.
Simply fill in our contact form today and we can get some prices over to you.
Get expert advice,
today call us on
Get a FREE quote from our award winning team