Wet pour
Wet pour is a rubber crumb play surface used in playgrounds, parks and recreational areas.
Wet pour is a two layered system including a base shock pad and a coloured top. This is often referred to as 'rubber tarmac' or 'soft tarmac'.

Wet pour, sometimes known as soft tarmac, has become a popular surface type for playgrounds and other outdoor areas throughout the UK.
Our wet pour playground safety surfacing is available in a wide range of colours, including yellow, green, red EPDM and much more.
We can create a variety of different designs to meet your individual requirements. Fill in our enquiry form today if you have a design in mind.
What is Wet pour?
Wet pour is an impact absorbing rubber crumb safety surface. The rubber granules are mixed with a polyurethane resin and laid in the desired colour.
The installation of rubber safety flooring to playgrounds is available in a variety of bright colours.
All our rubber surfaces are tested to BS EN 1177 standards to meet safety and Critical Fall Height ratings. to use with various playground equipment including swings and climbing frames.
Wet pour surfacing is becoming increasingly popular for primary schools and nurseries. The rubberised play surface is installed in many different depths to meet certain requirements.
We can also install play graphics on the areas to create fun, educational games for the children to play on. When the shock pad is down, the next step is to install the wearing course. This is 1-4mm EPDM rubber that we mix with the polyurethane resin and pour onto the shock pad.
Where Can Wet pour Be Installed?
Wet pour surfacing is a surface that can be installed in many different outdoor areas, which include the following:
Playgrounds
Multi Use Games Areas
Pathways
Running Tracks
Seating Areas
Outdoor Pathways
Splash Pads
and much more.
Predominantly, wet pour is installed as an outdoor playground surface within the UK, but as you can see, there's many different applications for this popular flooring type.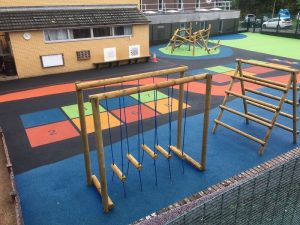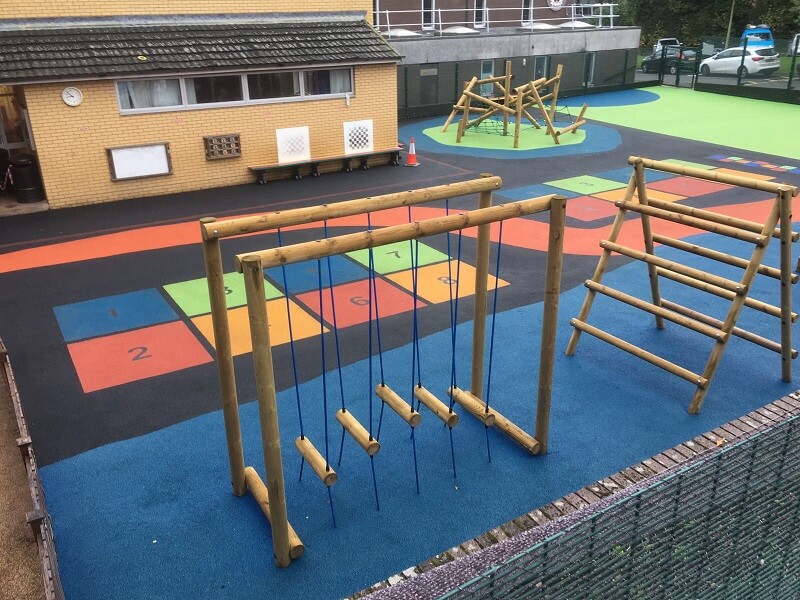 Benefits of Wet pour
The main benefits of wet pour rubber surfaces are:
Reduces Impact from falls (meeting the critical fall heights requirements)
Low Maintenance
Easy to clean
Suitable for all weather conditions
Laid in a variety of colours/designs
Durable rubber play surface
Wetpour surfacing can be laid easily into awkward shapes
Using wet pour rubber crumb surfacing has a number of other benefits when it comes to safety standards, design and children's physical development.
Whilst there may be similarities when it comes to poured rubber and rubber tiles, poured rubber (or wet pour) seems to be more popular, as you can include exciting designs and can lay in any shape without any wastage. If you are looking to have a rubber crumb play area fitted, make sure to contact us today.
Wet pour Colours
There's an excellent choice of wetpour colours to choose from when having this surface installed, which include the following:
Teracotta Red Wetpour
Bright Red Wetpour
Light Green Wetpour
Dark Green Wetpour
Bright Yellow Wetpour
Earth Yellow Wetpour
Light Blue Wetpour
Dark Blue Wetpour
White Wetpour
Beige Wetpour
Grey Wetpour
Black Wetpour
and even more.
The prices of wet pour can differ depending on what colour you do end up selecting, so for the best ideas of cost for your wet pour safety surfacing, feel free to get a free quote today and we can discuss this further.
Here at Soft Surfaces, we also offer blended wet pour colours should you wish to have a mixed colour installed. These blended wet pour colours look fantastic, and are available in many different colour choices, which include:
Earth Blend Wetpour
Fire Blend Wetpour
Water Blend Wetpour
50% Black and 50% Earth Yellow Wetpour
50% Black and 50% Dark Blue Wetpour
and many more.
Be sure to take a look at the video above to learn more about our wet pour colour options.
Wet pour Graphics
When installing wet pour safety surfacing, many schools choose to brighten the area with a variety of coloured graphics.
These fun designs within the poured rubber playground flooring stimulate the children's minds through games and educational activities.
A popular choice is to have the wet pour rubber flooring in black EPDM and then add coloured graphics. Designs for the various playground surface types can include many games such as:
Hopscotch
Educational activities
'What's the Time Mr Wolf?'
Number and letter grids
Footprints
Cartoon characters
Roadways
Phonics activities
Geometric shapes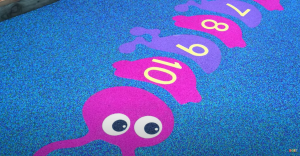 The educational graphics with letter and numbers are particularly popular in school playgrounds. These enable pupils to practice the skills learnt in lessons.
Be sure to take a look at our dedicated wet pour graphics page for more about what they are and how we can help.
How Much is Wet pour?
The average cost of rubber wet pour is is £50-100 per square metre, excluding the base works.
Wet pour costs can be influenced by various factors, though, including size of the job, colour specification, graphics chosen, location and much more.
It's best to get in touch with us for a free quote if you are interested in finding out more about the costs of your wetpour surfacing installation.
Additionally, to find out more about what influences the cost of this, take a look at our dedicated wet pour costs page.
Wet pour Installation Process
Here at Soft Surfaces, we're a wet pour installation specialist that works throughout the United Kingdom to install EPDM rubber wet pour surfacing at a variety of locations throughout the UK.
Wet pour surfacing is becoming increasingly popular for schools and nurseries where young people will be playing. The impact absorbing safety surfacing can be installed in a number of different depths to meet certain requirements. We can also install play graphics on the areas to create fun, educational games for the children to play on.
Wet pour Installation Explained
For more information on the wet pour installation process, please watch the video below which goes into more detail.
A wet pour safety surface can be installed in various shapes too, as it is a 'pour on' rubber flooring. Get in touch for more information.
Wet pour Specification
The NBS specification of wet pour surfacing is a two-layer system. This comprises of an SBR base layer and an EPDM top layer. The SBR base acts as a shockpad to absorb impact. The EPDM wearing course layer is made up of rubber granules and comes in a range of bright colours and designs.
We install your wet pour playground surface onto various sub bases depending on the existing conditions. Impact absorbing play surfaces are installed onto a compacted MOT type 1 stone sub base. It's also known as poured rubber flooring due to the way it is installed.
Our preferred sub base would be a solid porous surface. This includes open-textured porous macadam or no fines concrete.
We offer many options of wet pour play area surface for schools, nurseries and public facilities.
Please feel free to contact us today by completing the quick enquiry form on this page. We can help with product information and offer advice on install costs.
These are just a few of the places where the soft tarmac surfacing is regularly used. It's a very versatile flooring type so it can be installed in many more locations and facilities depending on your requirements.
Wet pour Flooring Specialists
As specialist installers of rubber safety surfacing in the UK, we can offer a wide range of wet pour rubber flooring services to schools, nurseries, public parks and play areas to ensure that any children using the safe surfacing are fully protected against injuries.
The great thing about our team is that we are wet pour play surface suppliers that fit our products to the very best quality.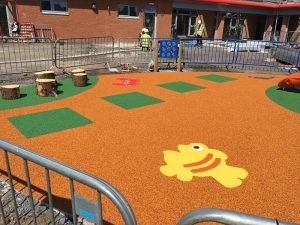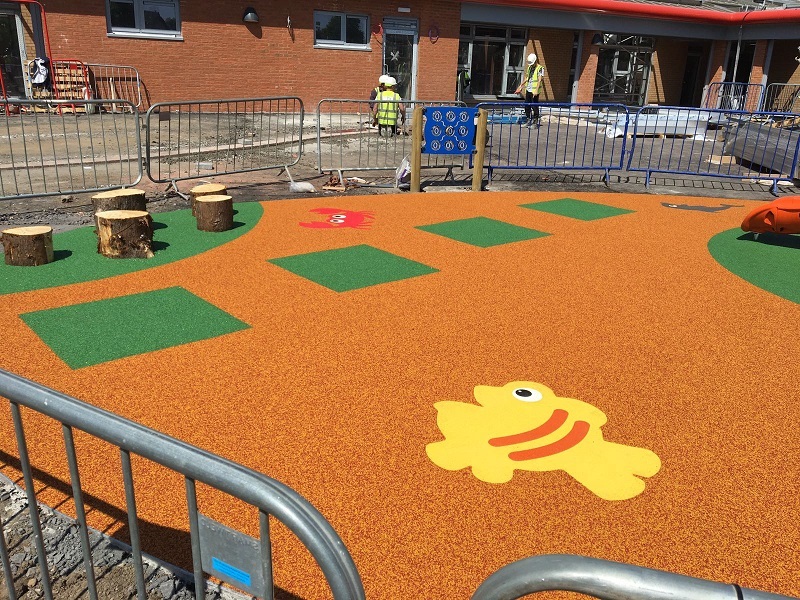 One of the main services we carry out is the full install of wet pour safety surfacing to playgrounds in a variety of bright colours and designs. All of the rubber flooring that we fit have been specially tested to BS EN 1177 standards for safety and Critical Fall Height ratings to use with various playground equipment including swings and climbing frames.
If children will be running on the area, we may also recommend an anti slip coating application to reduce the risks of falls. Make sure to find out more about this to see if this is recommended for your project.
Frequently Asked Questions
If you are interested to find out even more about soft pour surfacing, make sure to have a look at some of our frequently asked questions.
Wet Pour or Wet Pore?
The correct terminology for this surface is wet pour EPDM rubber surfacing.
People often spell wet pour as 'wet pore', however this is incorrect. The name 'wet pour' comes from the installation process, as the rubber is poured onto the sub base to create a solid rubber surface.
This solid rubber play area surface can then be used under play equipment to ensure children are safe in the event they fall.
How Long Does Wet pour last?
Wet pour surfacing will last around 10-15 years if well-maintained by the owner, and installed well.
To ensure your wet pour's longevity, it's important to have a reputable and experienced company install your new flooring.
Additionally, carrying out proactive maintenance as the owner of the wet pour surface is also crucial to preserve the surface over-time.
Is Wet Pour Rubber Porous?
Yes, wet pour rubber is a porous system. Made up on an EPDM compound, this surfacing type absorbs rain throughout the year, making it a perfect outdoor surface option.
This rubber surface type is very popular in the United Kingdom, due to the rainfall seen year in and year out. Wet pour is less likely to flood than other surface types, and does a brilliant job at soaking up that rain water.
What is a Soft Surface?
A soft surface can refer to any rubber safety flooring including wet pour, rubber mulch and rubber tiles.
Each of the surfaces are different in appearance, but all offer safety qualities. Rubber mulch is generally used in more natural areas.
Wet pour is often preferred over rubber tiles, as it is a poured rubber surface. This means that the flooring can be installed in any shaped area with no wastage as it is poured in place rubber.
How do you Pour Rubber?
Here is a step by step guide on how to pour rubber surfacing:
Mix EPDM rubber granules with binder
Pour mixture over the prepared sub base
Spread the rubber crumb across the ground
Screed the rubber crumb to create a flat surface at the required depth
It is important to get a professional to carry out the installation of the pour in place rubber flooring. As experts in the industry, we can ensure you get the very best installation to the correct levels.
Get In Touch
Interested in wet pour playground rubber surfacing?
If you're in need of any of these wet pour services, please feel free to contact us. Please use the enquiry form on this page to send over your details.
Our experienced staff will be able to answer any wet pour surfacing questions you have. We can also provide details on many other playground flooring and safety surfacing specifications.
We can carry out full installations, repairs and maintenance of wet pour surfaces. We only use the highest quality materials too, meaning you can rest assured your wet pour we lay is of the highest possible quality.
We install wet pour surfacing nationwide in the UK and can offer competitive prices for both supply and installation of wet pour.
Get expert advice,
today call us on
Get a FREE quote from our award winning team