Surface Types
Specialist Surfacing
We can offer many types of specialist surfacing within the UK market for a range of projects at homes, schools, recreational areas and commercial attractions. Depending on the requirements of your particular project, there are loads of options to choose from. We can tailor each design to fit the needs of the individual client.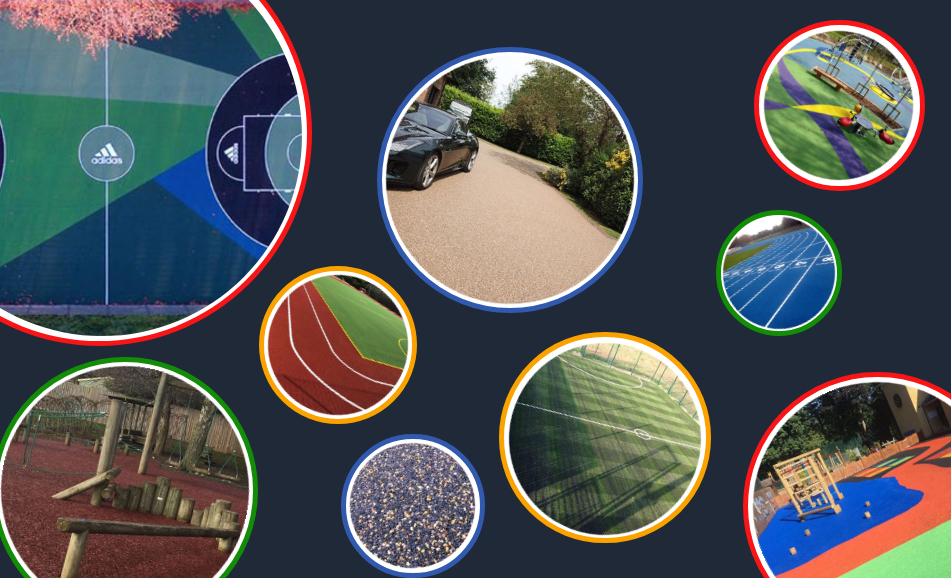 Throughout the UK schools, nurseries and public play areas have various types of specialist surfacing outside. This creates a safe environment for kids to play on without the worry of them hurting themselves when running around or playing on equipment.
The safety surface types we can install for these projects include:
This is a popular choice for many playground in the UK as it provides impact absorption to create enhanced safety qualities and the specification can also come in a range of bright colours with various graphics and designs. The wetpour surfacing consists of a two tier rubber system with an SBR base layer to act as a shockpad and an EPDM wearing course layer which gives the colour for the surfacing. Most schools, nurseries and councils often choose to have a wetpour playground surfaced mostly in black EPDM with coloured graphics and designs added within the surface. These designs can include roadways, hopscotches, colourful animals and educational games that children can interact with during active play.
This bonded safety surface is made up of rubber shred which is mixed together with a resin. We then lay this out as a continuous surface as an alternative to loose rubber bark which is a specification that requires more maintenance. The rubber mulch design is a great option for playgrounds which have muddy areas that need to be covered up, or for timber activity trails which have a more natural appearance.
These are rubber squares that come in tiles that are approximately 1.5m x 1.5m in size. We can install these to existing natural grass areas for schools, nurseries and parks. They're great if you want to maintain the natural appearance but need added safety qualities for use with play equipment like swings and climbing frames. The playground grass mats fit together with an interlocking system to suit most area sizes, and the honeycomb-shaped design means that natural grass will grow through the holes and disguise the look of the rubber.
Specialist Sports Surface Types
Many schools and clubs have sports facilities which are ideal for a range of different activities. This helps to save on overall costs and maintenance.
We can offer a range of specialist sports surface types. These are suitable as all weather facilities with a number of sports.
As one of the most versatile multi use sports surfaces, the macadam specification can be used for many activities including tennis, basketball and netball. It provides a durable and long-lasting surface that doesn't require a lot of maintenance and. It's also porous to let water drain through it quickly, therefore making it an all-weather system.
There are a few different specifications of synthetic turf sports surfaces to choose from. It all depends on what your primary sports will be. A 3G artificial carpet is perfect for football and rugby. Its rubber infill layer provides impact absorption and natural playing characteristics. 2G sand filled pitches are great for football, hockey and tennis but can't be used for contact sports like rugby. Synthetic leisure grass is also popular for nursery gardens, schools, domestic lawns and commercial visitor attractions throughout the UK.
Needlepunch Synthetic Surfacing
This sports flooring design is another type of artificial turf carpet however it's a slightly different specification. The needlepunch surface is a fibre bonded carpet that is stronger and more durable. It's great for a wider range of sports including football, hockey, tennis, athletics and various playground games. You can even have this synthetic surface installed in a range of bright colours and designs.
This is an ideal MUGA court surface for sports like basketball and netball as it provides good ball bounce and slip resistance qualities. The rubber surface specification is made up of EPDM granules. These are mixed together with a binder and then laid out onto a macadam sub base. As well as multi-use games areas, polymeric surfacing is a great choice for athletics tracks, long jump runways and high jump fans.
Decorative Outdoor Paving Types
Different types of specialist surfacing that we can install for decorative outdoor paving can include:
This is made up of natural stone aggregate which is mixed together with a specialist resin and then laid out onto a macadam or concrete sub base. The resin bound stone surface type creates a natural appearance but can also come in a range of colours and designs to suit individual projects.
This specification also uses natural gravel, however, we install it in a different way and gives a slightly different appearance. For resin bonded gravel surfacing, the resin is applied to the existing macadam or concrete surface and then the loose stone aggregate is scattered across the area and sticks to the resin. This creates the look of loose gravel but without the heavy maintenance requirements.
The specification for this surface type is made up of rubber granules and stone mixed together with resin. This design gives the rhino pave surface excellent porosity so water can drain through it easily. Many outdoor paths are installed in the rhino pave design as it doesn't require a lot of groundwork preparation. This also makes it ideal for areas with a lot of trees or natural vegetation where you don't want to disturb the roots.
Get In Touch
We can provide more information on any of the types of specialist surfacing that we can install. This includes safe play areas, decorative paving and outdoor sports facilities. So please get in touch with us straight away. You can use our contact form to send us over details of the facility you're looking to install. We'll get back to you with some advice on the best types of surfacing and a price for the work.
We can also help you with creating ideas for painting designs and extra accessories. These include fencing and floodlights to make sure you have the best quality sports pitch or court for your organisation.
Get expert advice,
today call us on
Get a FREE quote from our award winning team