Artificial Grass and Wet Pour Roadway
in Liverpool, Merseyside
Synthetic turf and Wet pour are perfect for Schools and playgrounds across the nation.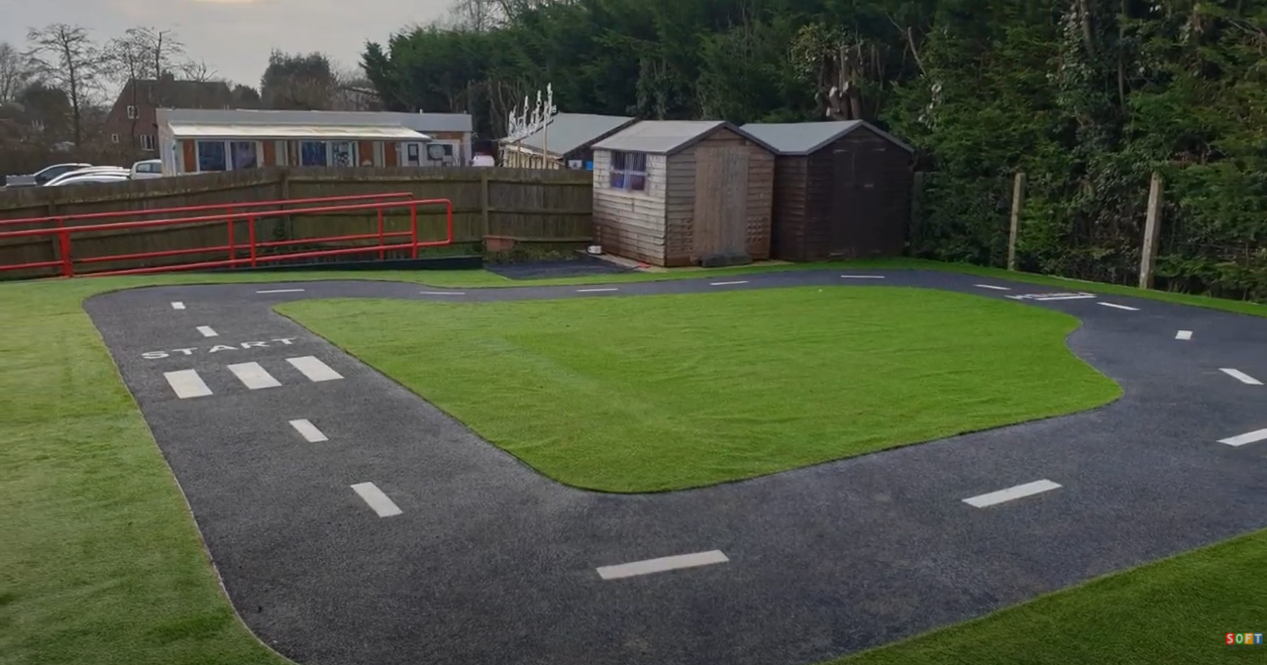 What was the specification? : Artificial Turf and Wet Pour
What colours were used? : Green, Black, White
What was the size of the job? : 90m²
How long did the job take? : 2 days on site
Artificial Grass and Wetpour Roadway Construction in Liverpool
Soft surfaces installed this Synthetic turf and Wet Pour Roadway for a school in Liverpool. Take a look at the video below to see the full project from start to finish and see how the roadway looked.
Video Transcript
Hi guys it's Dan here, and today we're going to be showing you an Artificial Grass and Wetpour Roadway Construction in Liverpool.
So for this particular installation, the client gave us a call enquiring about having a largely maintenance-free area for the kids to play on, whilst keeping a natural appearance. We broke down the services we could provide, and soon after we were cracking on with the work.
So to start things off, let's discuss the surface type we used for the surrounding areas, which was artificial grass. We've been fitting this flooring type for over 20 years now, and whilst synthetic turf is becoming more and more popular here in the UK, it's really important that a professional fit this in order to preserve the longevity of the surface.
The main benefits of artificial grass are fairly well-known including the fact that it helps keep the area looking natural whilst removing the traditional maintenance needed for natural turf. A big advantage for this particular install though was that it can be used all year round, and when children were leaving the play area they weren't dragging mud and dirt back in with them after playtime.
For the actual play area roadway, we opted for a wetpour surface. Again, like artificial grass, we've been fitting this surface nationwide for decades, and are proud to have become market leaders in the field. Wetpour is made up of an EPDM rubber so it's extremely safe and can be fitted in a huge variety of colours and specifications. We can plan all of this out with you prior to the install.
You can see now that the final job has been complete, and looks truly excellent. The client was over the moon with what we achieved.
Although we do work nationwide, as we've done plenty of jobs in the Liverpool area we now rank in Google for these keyphrases:
Liverpool Artificial Grass Company
Wetpour Playground Surfacing Liverpool
Fake Grass Specialists in Liverpool
Liverpool Rubber Play Area Flooring
Best Synthetic Turf Installers Liverpool
and even more than that. Thanks again for watching our video, and if you are interested in any of the services that we provide, please feel free to get in touch with us at www.softsurfaces.co.uk or give us a call on 01625 445760.
Contact Our Team
If you'd like some more information about wetpour rubber surfacing we can install for nurseries and schools, feel free to contact us.
We can discuss the costs and different designs we offer for these areas. Just let us know what you're looking for and we'll get back to you as soon as possible.
Get expert advice,
today call us on
Get a FREE quote from our award winning team