Artificial Grass with Rubber Shock Pad installation
at St Ann's Hospital, London
Synthetic turf with rubber shock pads are perfect for gardens, patios, and much more in the UK.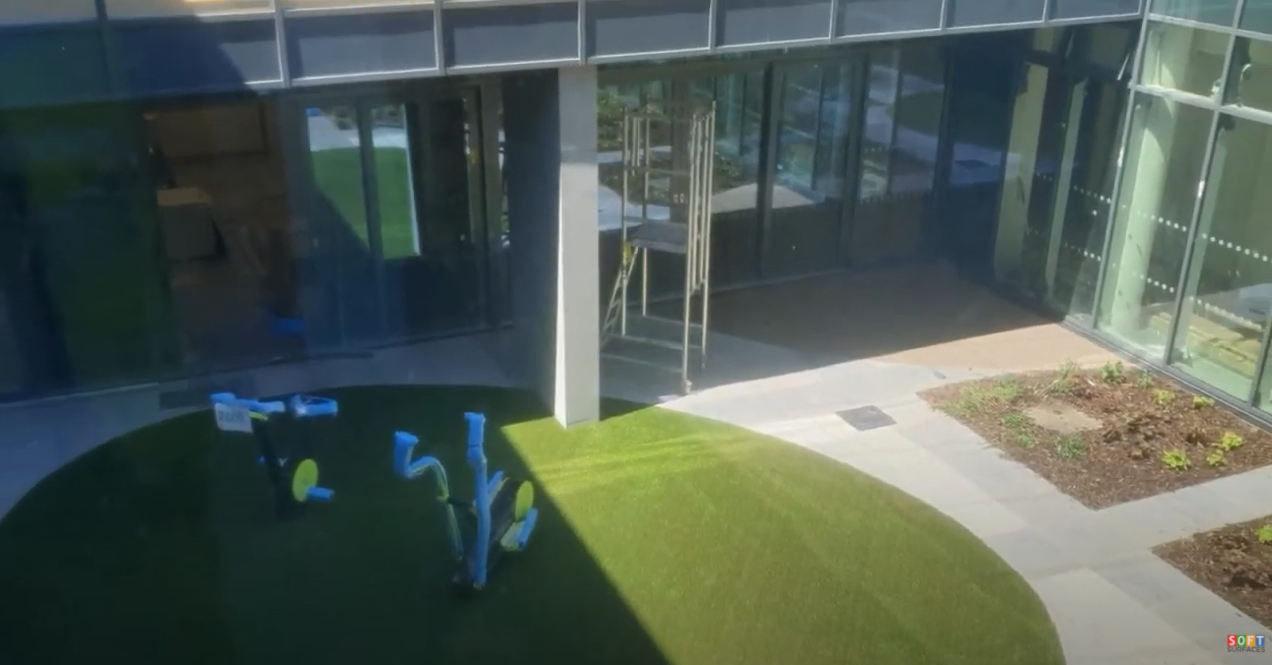 What was the specification? : Artificial Grass and Rubber Shock pad
What colours were used? : Green
What was the size of the job? : 40m²
How long did the job take? : 1 day on site
Artificial Grass with Rubber Shock Pad Installation at St Ann's Hospital, London
Soft surfaces installed this Synthetic turf with Rubber Shock Pad for St Ann's Hospital in London. Take a look at the video below to see the full project from start to finish and see how the outcome looked.
Video Transcript
Hi guys it's Dan here, and today we're going to be showing you an Artificial Grass with Rubber Shock Pad Installation at St Ann's Hospital, London
So with this installation, the hospital got in contact with us with the intention of creating an outdoor space that gave the appearance of natural grass, but with reduced maintenance.
We explained the artificial grass that we could install for them, along with its many benefits. Shortly after, we were on site cracking on with the work.
So one big benefit of the synthetic turf we installed for this job is that it's a brilliant outdoor surface, particularly for organisations such as these that could do without the tedious traditional grass maintenance.
The artificial surface is perfect for the outdoors here in the UK as it's largely weatherproof, able to withstand our more challenging months and with no need to cut or trim in the summer.
We only use high-quality materials when fitting this product, as we feel it's important to preserve as much of the natural look with the artificial grass as possible.
For this actual job, we chose to fit a rubber shock pad underneath the artificial grass itself. The reason for this is because the rubber soaks up trips and falls excellently, and we wanted to ensure that the flooring was as safe as possible at the hospital.
At Soft Surfaces, we've been installing and maintaining fake turf for over 20 years now, and are proud to offer these services nationwide. So if you're interested in having artificial grass fitted, please feel free to get in touch with us.
You can see here that the final job has been completed, and looks great as their new outdoor surface. The hospital themselves were really pleased with the work we carried out for them.
Although we do work nationwide here at Soft Surfaces, as we've carried out a lot of work in the London area we now rank in Google for the following keywords:
Fake Turf Installers London
Best Artificial Grass Company London
London 3G Surfacing Experts
Synthetic Grass Installation London
London 4G Turf Specialists
and more.
So thanks a lot for watching today's video guys, if you'd like to contact us for a quote please just visit www.softsurfaces.co.uk or give us a call at 01625 445 760 and our team will get back to you right away.
Thanks a lot for watching, and we hope to hear from you soon.
Contact Our Team
If you'd like some more information about wetpour rubber surfacing we can install for nurseries and schools, feel free to contact us.
We can discuss the costs and different designs we offer for these areas. Just let us know what you're looking for and we'll get back to you as soon as possible.
Get expert advice,
today call us on
Get a FREE quote from our award winning team