Benefits of Resin Bonded Gravel
Paving

Stone surfacing is commonly used in outdoor areas to provide a decorative and long-lasting design; there are many benefits of resin bonded gravel paving which can be installed at homes and public facilities in the UK. This surface type is installed through a professional scatter system where resin is applied to the existing surface (usually tarmac or concrete) and natural stones are scattered over the area so they stick to the resin. You can choose from a number of coloured gravel aggregates to create a unique design for driveways, paths, visitor attractions, car parks and other outdoor features. Feel free to contact us if you would like to discuss costs and designs for resin bonded paving at your home or public facility.
This scatters system surface can be installed with a customised appearance, and some of the benefits of resin bonded gravel paving include:
A decorative and natural appearance that can be designed in a range of colours to match the look of any other surfaces in the surrounding area.
The rough textured finish provides anti slip qualities which are perfect for slopes and public walkways.
Withstands heavy use from vehicular traffic and pedestrians and is durable against weathering.
The paving does not require a lot of maintenance; simply sweeping and occasional pressure-washing is enough to remove dirt, making the system more cost-effective than some others.
Unlike loose gravel surfacing, the resin bonded paving doesn't lose particles of stone or get washed away during wet weather.
This is a very resilient paving system with a life expectancy of up to 15 years depending on the specification and design you choose.
Resin Bonded Stone Designs
The kinds of places that will often have resin bonded stone designs installed are domestic homes, parks and recreational areas, museums, theme parks, public facilities and heritage sites. We offer a number of different coloured aggregates and mixed blends for resin bonded stone paving so each client can choose a bespoke look for their surface. You can also choose different shapes as the flexible application process allows resin bonded stone designs to be installed for curved pathways, steps, and around existing outdoor features like furniture.
Due to the way that the stone is scattered, the surfacing leaves a textured effect which provides added grip and traction for pedestrians and vehicles that may be moving across the paving. The costs of installing a resin bonded stone surface will vary for each project as we have to take into account the area size, chosen design, site location and other factors which affect the overall price. However, if you are looking to stick within a particular budget, we can offer professional advice to create a design that looks great and still matches your price range.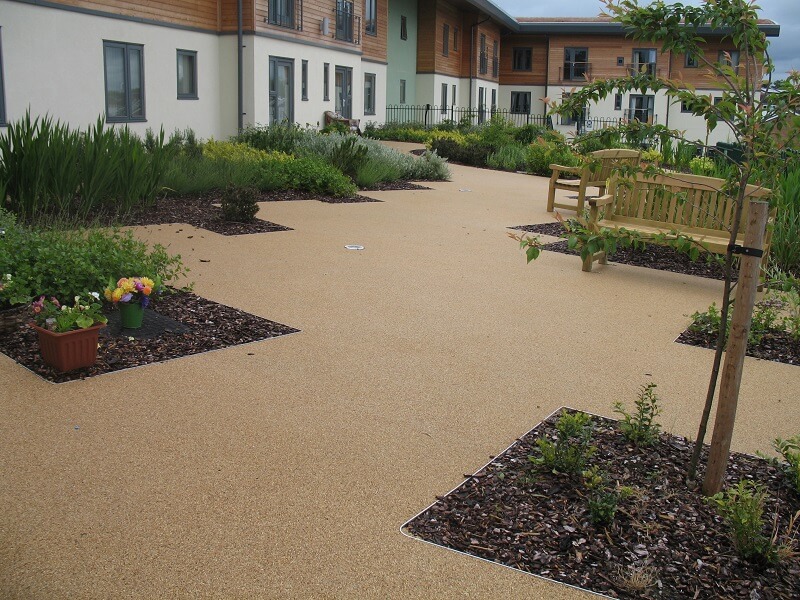 Outdoor Paving Installers
We have been working as outdoor paving installers in the UK for many years and our specialist team have completed numerous projects for homeowners, schools, businesses, councils and public facilities. Due to the benefits of resin bonded paving, this is a surface type that we commonly install as it is perfect for gardens, driveways, outdoor community spaces, walkways and many other applications. Our professional installers have a great deal of experience in designing and laying resin bonded gravel surfacing so you can be confident that you'll get a great quality finish that is durable and long-lasting.
If you would like some more details on the benefits of resin bonded gravel paving or you'd like to discuss an enquiry with us, please take a moment to fill in our simple contact form. Be sure to include a description of the work you're thinking of having done and the dimensions of the proposed area. One of our experts will be in touch with you to talk about the available designs, types of stone and the costs to install gravel paving systems for outdoor areas.
Get expert advice,
today call us on
Get a FREE quote from our award winning team