Black Wetpour with green fleck
in Swansea, Wales
Wetpour designs are great for play areas in the UK.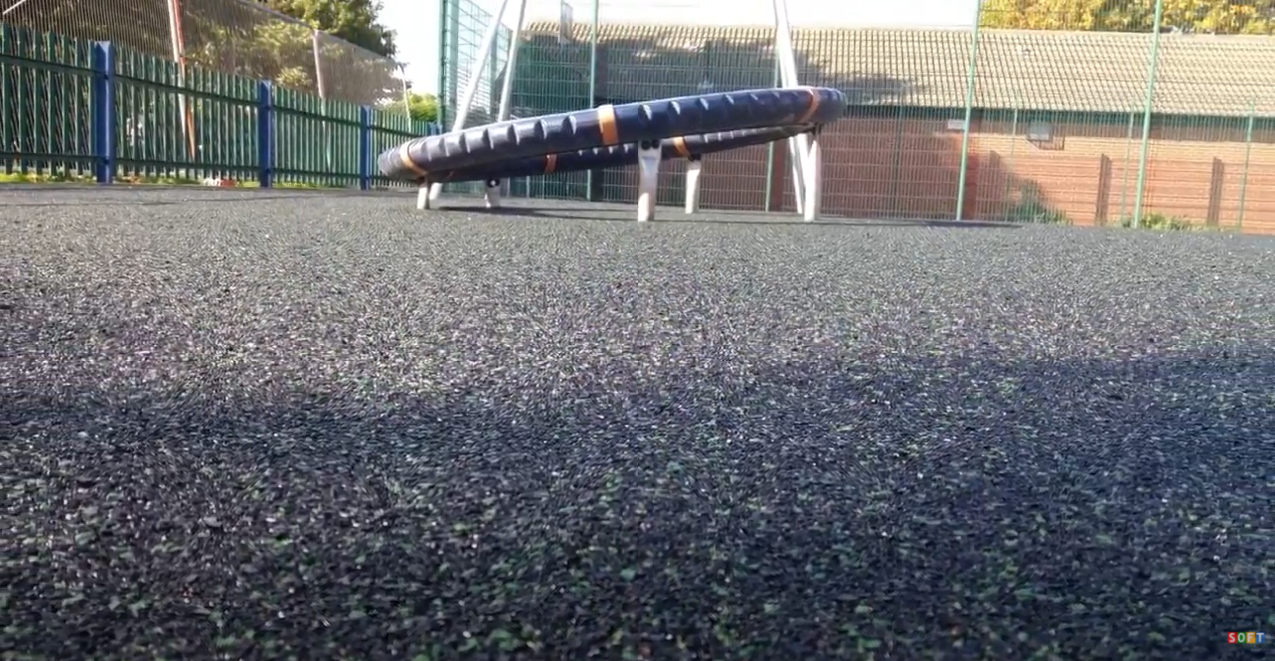 What was the specification? : Wet Pour
What colours were used? : Black with Green Fleck
What was the size of the job? : 150m²
How long did the job take? : 2 days on-site
Black Wetpour Play Area with 5% Green Fleck in Swansea, Wales
Soft surfaces constructed this black Wetpour with green fleck for a play area in Swansea, Wales. Take a look at the video below to see the full project from start to finish and see how the playground looked.
Video Transcript
Hi guys it's Dan here, and today we're going to be showing you a Black Wetpour Play Area with 5% Green Fleck in Swansea, Wales.
We were contacted by the owner of the playground, and they wanted a new surface for their facility, looking for a flooring that was customisable but kept the safety of the children in mind.
We discussed that they had several options for the surface that we could offer them, and we proceeded to agree that wetpour would be perfect for what they were looking for.
So the first big benefit of opting for a wetpour flooring to be fitted as your playground surfacing is that it's a porous system, meaning it's able to absorb rain throughout our difficult weather conditions in the UK.
This is because wetpour is made of an EPDM rubber, making it not only porous but also one of the safest available surfaces you can have fitted. Its spongy nature means that children's safety is prioritised with this flooring.
And finally, with wetpour, we give our clients the freedom to pick from basically any colour they want for their surface to be fitted in, and it's customisable to where you can have custom graphics fitted to the surface itself!
This particular client wanted to have their surface fitted mainly in black, but with 5% green fleck, which we did for them with no problems.
At Soft Surfaces we've been a market leader in wetpour surfacing nationwide for over 2 decades now, so please do get in contact with us if you are interested.
You can see now that their new surface is now fitted, and looks excellent. They were really happy with what we did for them.
Although we are a nationwide company, from doing a lot of work in Wales we now rank in Google for these search terms:
Wales Playground Safety Surfacing
Best Wetpour Installers in Swansea
Wales EPDM Rubber Flooring
Expert Play Area Surfaces in Swansea
Playground Repairs in Wales
and even more than that.
Thanks again for watching our video, and if you are interested in any of the services that we provide, please feel free to get in touch with us at www.softsurfaces.co.uk or give us a call on 01625 445760.
Contact Our Team
If you'd like some more information about wetpour rubber surfacing we can install for nurseries and schools, feel free to contact us.
We can discuss the costs and different designs we offer for these areas. Just let us know what you're looking for and we'll get back to you as soon as possible.
Get expert advice,
today call us on
Get a FREE quote from our award winning team