What was the specification? : Multisport Synthetic Surfacing
What colours were used? : Red, Green, Yellow, Blue
What was the size of the job? : 189m²
How long did the job take? : 4 days on site
Synthetic Long Jump Runway and Sand Pit
During this project, our team installed a long jump runway and sand pit at a school to be used for athletics practise and events. The track surfacing was Multisport synthetic turf with a number of inlaid line markings of different colours.
You can see how the work was carried out in the video below.
Video Transcript
Hi guys it's Dan here, and today we're going to be showing you a MultiSport Long Jump Pit Installation in Coventry.
So for this job this school got in touch with us interested with us wanting a new long jump installed on their grass field. They were looking for a facility that was well suited to the outdoors, but that also offered brilliant playability for the sport.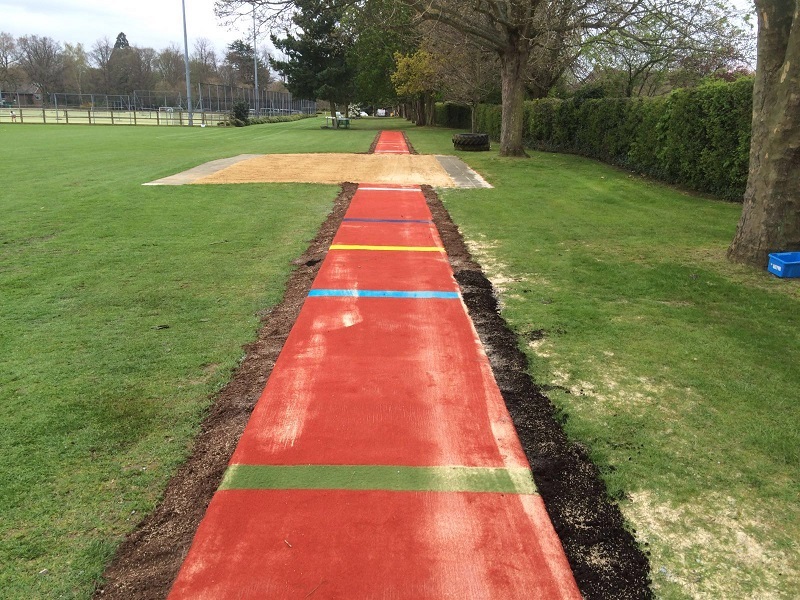 We explained to the client the many benefits of multisport synthetic, which is the surface type we ended up fitting for this actual long jump. This surface is a hard-wearing artificial flooring that does a wonderful job of providing a professional feel when using it for long jump and triple jump activities.
Another large benefit of having a multisport synthetic fitted for your athletics facility is the fact that this flooring is perfect for those wanting an outdoor sports facility, as it can withstand even our most brutal weather conditions excellently. This makes it perfect here in the UK.
Finally, when having a multisport synthetic surface fitted, you even have the ability to choose from a huge range of colour options for your long jump or triple jump. From more traditional colours to bright vibrant appearances, this is totally up to you.
Here at Soft Surfaces we're proud to have been a market leader at installing long jump and triple jump runways nationwide for over two decades now, and in that time we've worked on jobs of all shapes and sizes, so please don't hesitate to get in touch if this is something you may be interested in.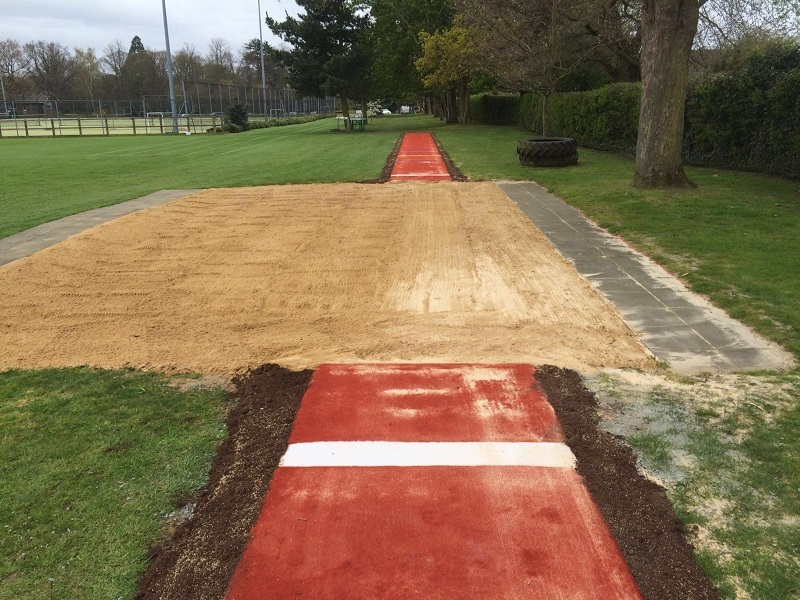 So now finally guys you can see that the job has been fully installed from these photos, and looks wonderful as their new outdoor long jump facility. The school themselves were so happy with the final result.
Although we are a nationwide installer here at Soft Surfaces, as we've worked on lots of jobs within thr Coventry area we now rank in Google for these keywords:
Best Long Jump Installers in Coventry
Coventry Triple Jump Runway Construction
Athletics Surfacing Experts in Coventry
Coventry MultiSport Long Jump Surfacing
Long Jump Runway Specialists Coventry
and more.
Thanks again for watching our video, and if you are interested in any of the services that we provide, please feel free to get in touch at www.softsurfaces.co.uk or give us a call on 01625 445760.
Speak To Our Team
You can get in touch with us if you'd like some more information on long jump runway surfacing and other athletics facilities we install.
Just fill in the contact form and let us know what you're looking for and we'll get back to you as soon as possible with some costs and designs.
You May Also Like
Check out the pages below to learn more about long jump runway surfaces we have installed in the UK.