Cleaning and painting of Tennis Surface
in Manchester
Cleaning and painting old surfaces is great for a brand new look.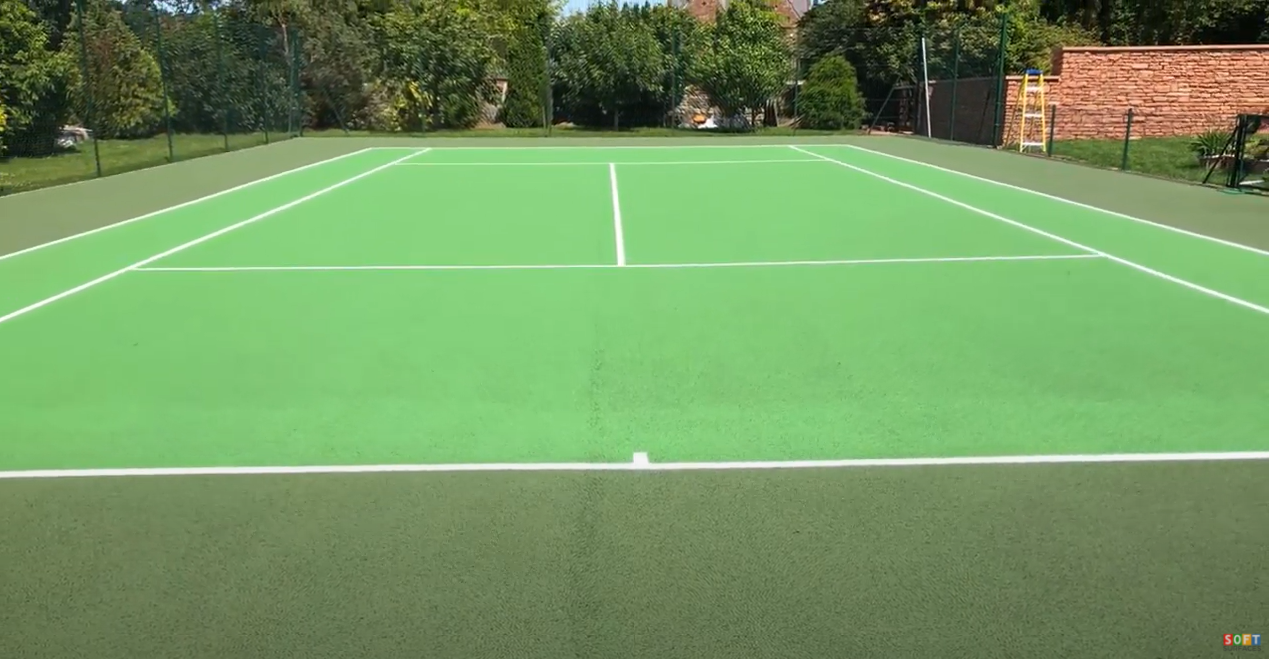 What was the specification? : Cleaning and Painting
What colours were used? : Green, White
What was the size of the job? : 600m²
How long did the job take? : 3 Days on-site
Cleaning and Painting of a Tennis Surface in Manchester
Soft surfaces were cleaned and painted this Tennis Surface in Manchester. Take a look at the video below to see the full project from start to finish and see how the tennis court looked.
Video Transcript
Hi guys it's Dan here, and today we're going to be showing you a Cleaning and Painting of a Tennis Surface in Manchester.
For those that look after outdoor sports courts in the UK, you'll know that keeping your facility clean and free of contamination can be hard, with dirt, moss and algae taking over your area.
The worst thing is, even if you're facility looks to be clean, surface build up can sit deep in the flooring itself, creating dangerous cracks and slippery conditions that can be extremely hazardous.
That's where we can help.
It's advised that as a sports facility owner, you should have your area professionally cleaned and painted every 2-3 years to avoid any unneeded risks, as well as to avoid expensive resurfacing repairs.
A big issue for those looking to have their courts cleaned is finding an expert company local to them, as many organisations have to travel far to get the work done, costing much more than needed.
Additionally, finding a company to do the job to the highest standard can be hard as well, with many companies doing a job that looks great, but wears out again shortly after.
At Soft Surfaces, however, we've been both installing and maintaining these surfaces nationwide for over 20 years, and we have teams spread all across the country, so travel is no concern.
Our team only use the best cleaning products and anti-slip paint on the market, ensuring the job we do will restore your facility back to its absolute best.
You can see just how significant the transformation on this job was, with their court returned back to its safe, aesthetically pleasing best.
Despite working nationwide, as we've done a lot of work in the Manchester area we now rank in Google for these keyphrases:
Sports Court Repainting Manchester
Manchester Tennis Court Repair
Sports Surface Rejuvenation Manchester
Manchester Sports Court Cleaning
Repairing Tennis Surface Manchester
and more.
So don't leave it to chance, if your sports court hasn't been cleaned for over two years, or you have any damage of any kind, get in touch with us at www.softsurfaces.co.uk, or give us a call on 01625 445760.
Contact Our Team
If you'd like some more information about wetpour rubber surfacing we can install for nurseries and schools, feel free to contact us.
We can discuss the costs and different designs we offer for these areas. Just let us know what you're looking for and we'll get back to you as soon as possible.
Get expert advice,
today call us on
Get a FREE quote from our award winning team