Colourful Play Area Surfacing
in Sheffield
Coloured wetpour designs are perfect for playgrounds across the nation.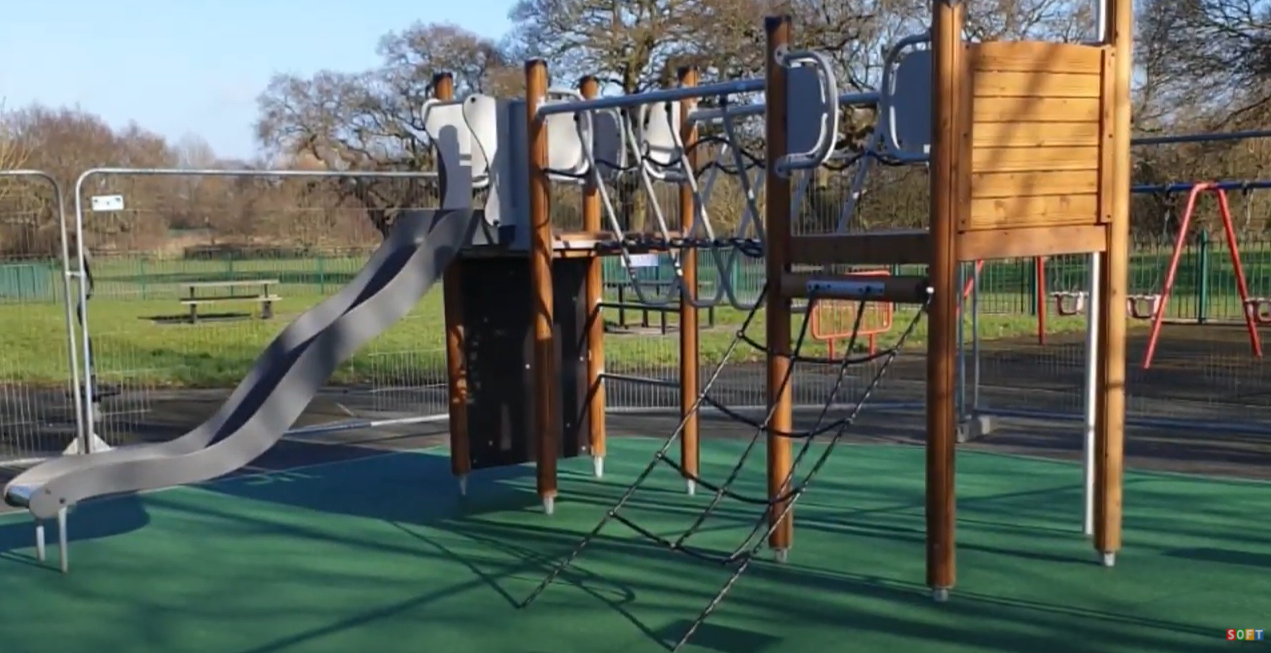 What was the specification? : Wetpour
What colours were used? : Green
What was the size of the job? : 60m²
How long did the job take? : 1 day on-site
Colourful Play Area Surfacing in Sheffield
Soft surfaces installed this colourful wetpour design in Sheffield. Take a look at the video below to see the full project from start to finish and see how the play area looked.
Video Transcript
Hi guys it's Dan here, and today we're going to be showing you a Colourful Play Area Surfacing in Sheffield.
So for this job the client got in touch wanting to have a safety surface installed for their play area that they could customise and make their own. We got back to them explaining the wetpour surfaces we fit and were soon booked in on-site to install.
Wetpour is the perfect surface for outdoor playgrounds here in the United Kingdom and is the most popular play area surface we fit. We've been installing wetpour for over 2 decades, and do so nationwide for jobs of all shapes and sizes. So let's run through what makes wetpour so great:
Firstly, wetpour is a surface type that is arguably the best option for safety. This is because wetpour is made up of an EPDM rubber, giving it a spongy feel that soaks up falls and trips really well. This is one big reason why many opt for wetpour flooring.
Secondly, wetpour's rubber qualities mean that the surface type is also porous, and therefore is much better equipped to deal with the weather that the UK has to throw at it. This makes it ideal as an outdoor playground surface.
Thirdly, wetpour is heavily customisable, with the option to choose from basically any colour or colours you wish. With wetpour, you can also choose from a massive range of graphics to be fitted too, from shapes and games to custom logos, it's totally up to you. All of this can be planned with us prior to the install.
So there are the main reasons why wetpour is arguably the best choice for playgrounds here in the UK. You can see from these photos now that the work we carried out for this particular job has been completed, and looks really amazing in the multiple colours they specified. The client was so pleased with what we did for them, and with their new outdoor playground.
Despite being a nationwide company, from working on lots of jobs in the Sheffield area we now rank in Google for these keywords:
Wetpour Surfacing Company in Sheffield
Sheffield Playground Installers UK
Play Area Flooring Experts Sheffield
Sheffield EPDM Rubber Surfaces
Wetpour Playground Surfaces Sheffield
and more.
So thanks a lot for watching today's video guys, and to enquire today please contact us at www.softsurfaces.co.uk or simply give us a call at 01625 445 760
Contact Our Team
If you'd like some more information about wetpour rubber surfacing we can install for nurseries and schools, feel free to contact us.
We can discuss the costs and different designs we offer for these areas. Just let us know what you're looking for and we'll get back to you as soon as possible.
Get expert advice,
today call us on
Get a FREE quote from our award winning team