Day Care Playground Safety Flooring
in Stoke, Staffordshire
Coloured wetpour designs are perfect for playgrounds, schools, nurseries and daycares across the nation.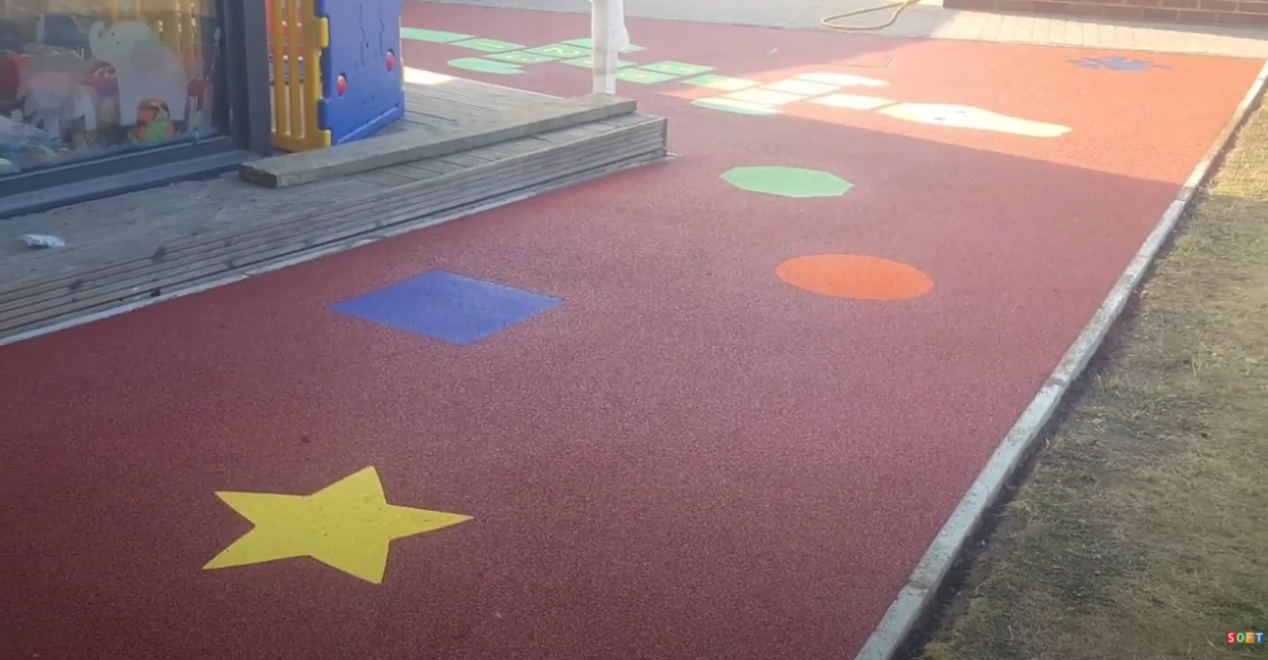 What was the specification? : Wetpour
What colours were used? : Red, Green, Yellow, Blue
What was the size of the job? : 42m²
How long did the job take? : 1 day on-site
Day Care Playground Safety Flooring in Stoke, Staffordshire
Soft surfaces installed this colourful wetpour design in Stoke, Staffordshire. Take a look at the video below to see the full project from start to finish and see how the day care play area looked.
Video Transcript
Hi guys it's Dan here, and today we're going to be showing you a Day Care Playground Safety Flooring in Stoke, Staffordshire.
So for this installation, the daycare owners got in contact with us looking to transform their small outdoor area into an educational play area for the children. We ran through the surface types we could fit for them, and soon after we agreed that EPDM wetpour would be perfect.
So wetpour is a spongy rubber flooring that is very popular in play areas throughout the UK. This is a surface type we're proud to be market leaders for, and it offers the following benefits:
Firstly, with wetpour being made of rubber, this surfacing is a wonderful safety choice for play areas due to its ability to absorb falls and trips so well.
Secondly, rubber wetpour also absorbs the rain fantastically during winter, as it's a porous system. This makes it ideal here in Britain.
And finally, wetpour is hugely customisable. From a massive range of colours to choose from to a seemingly endless list of graphics to fit, you have the ability to make your wetpour playground your own.
Here at Soft Surfaces, we're happy to say that we're market leaders in this field and have been installing and maintaining wetpour playground surfaces nationwide for over two decades now.
There's no job across the country that's too big or too small for us to work on, so if having this flooring type fitted is something you're interested in, please feel free to get in touch with us.
You'll be able to see now from the completed photos that the works have been fully carried out, and has really helped make their area come to life. The client was truly amazed at the work we did.
Despite being a nationwide installer, as we have done lots of work in the Stoke area, we now rank in Google for these keywords:
Wetpour Surfacing Specialists in Stoke
Staffordshire Playground Experts
Rubber Play Area Flooring in Stoke
Staffordshire Wetpour Surface Installers
Best Playground Company in Stoke
and much more.
Thanks for checking out this installation guys, and if you'd like to enquire today, please just visit our website at www.softsurfaces.co.uk or simply just us a call at 01625 445 760
Thanks a lot for watching, and we'll see you guys later.
Contact Our Team
If you'd like some more information about wetpour rubber surfacing we can install for nurseries and schools, feel free to contact us.
We can discuss the costs and different designs we offer for these areas. Just let us know what you're looking for and we'll get back to you as soon as possible.
Get expert advice,
today call us on
Get a FREE quote from our award winning team