EPDM Rubber Play Area Flooring
in Luton, Bedfordshire
Coloured wetpour designs are perfect for playgrounds, schools, nurseries and daycares across the nation.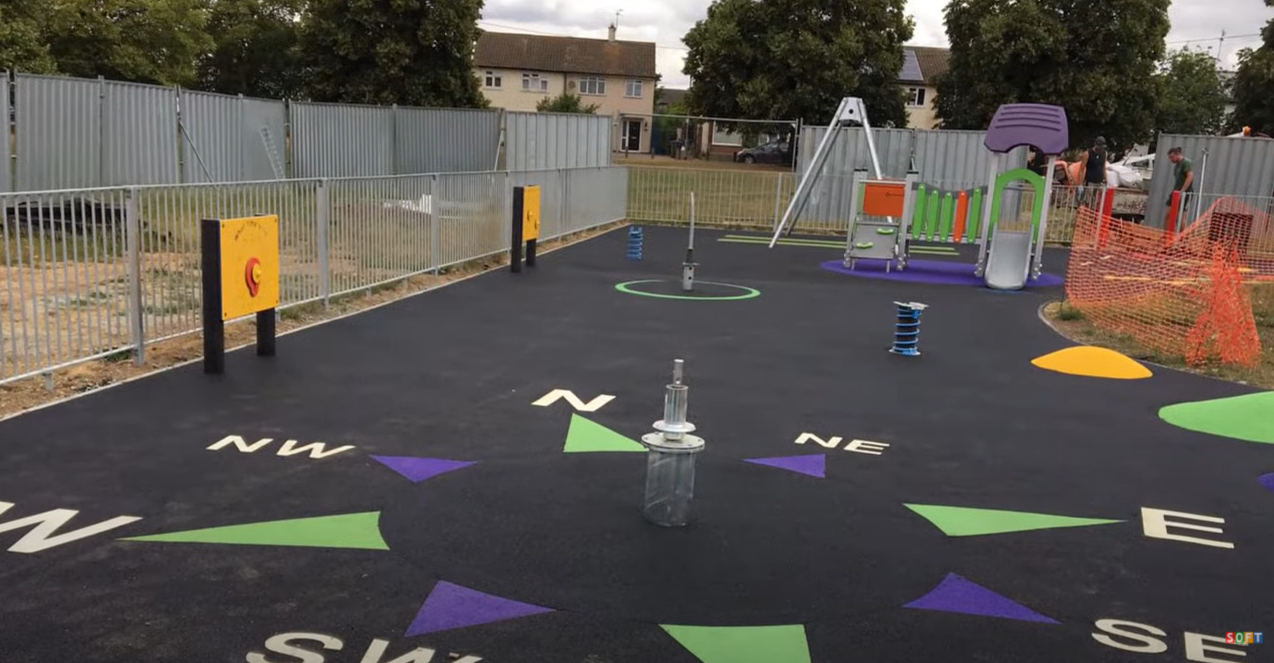 What was the specification? : Wetpour
What colours were used? : Black, Purple, Green
What was the size of the job? : 214m²
How long did the job take? : 3 days on-site
EPDM Rubber Play Area Flooring in Luton, Bedfordshire
Soft surfaces installed this colourful wetpour design in Luton, Bedfordshire. Take a look at the video below to see the full project from start to finish and see how the playground looked.
Video Transcript
Hi guys it's Dan here, and today we're going to be showing you an EPDM Rubber Play Area Flooring in Luton.
So this specific job was installed at an outdoor play area, and the owners contacted us specifying that they were in need of a safety surface for their large playground.
They not only wanted to flooring that focused on safety, but also that could help educate the children during play. We suggested that our wetpour surfacing would be perfect for them, and soon after we were at the facility carrying out the work.
So the wetpour surfacing we install nationwide is a spongy surface made up of EPDM rubber, designed specifically a safety surface to combat trips and falls. As a result wetpour is one of the safest surfaces you can have fitted, meeting the critical fall height requirements needed for playgrounds.
The benefits of wetpour don't just end there either. This flooring's rubber materials means that during bad weather, rain is actually absorbed by the surface, making it porous. This is very convenient particularly here in the UK, where we're used to seeing a decent amount of rainfall.
Finally, this outdoor surface type is wonderful for those that want to customise their play area, as a huge range of colours choices and bespoke graphics can be specified. The graphics themselves range from educational games to shapes, logos and more, and this can really help to enhance the children's playground experience.
Here at Soft Surfaces we are wetpour experts, and have been fitting and maintaining this surface nationwide for over 20 years now, so please do get in touch if you're interested.
You can see now that the works have been fully installed, and their new play area looks great. The client loved the inclusion of the graphics, which help the children to learn during playtime.
Although as I said we are a nationwide company, we've done a lot of work in the Luton area and as a result of this we now rank in Google for these key phrases:
Rubber Playground Installers Luton
Luton Play Area Specialists
Best EPDM Rubber Company Luton
Luton School Playground Experts
Colourful Play Area Design Luton
and more.
So thanks a lot for watching today's video guys, if you'd like to contact us for a quote please just visit www.softsurfaces.co.uk or give us a call at 01625 445 760 and our team will get back to you right away.
Contact Our Team
If you'd like some more information about wetpour rubber surfacing we can install for nurseries and schools, feel free to contact us.
We can discuss the costs and different designs we offer for these areas. Just let us know what you're looking for and we'll get back to you as soon as possible.
Get expert advice,
today call us on
Get a FREE quote from our award winning team