Multisport Long Jump Installation
in Essex
Synthetic surfacing constructions are great for multisport facilities.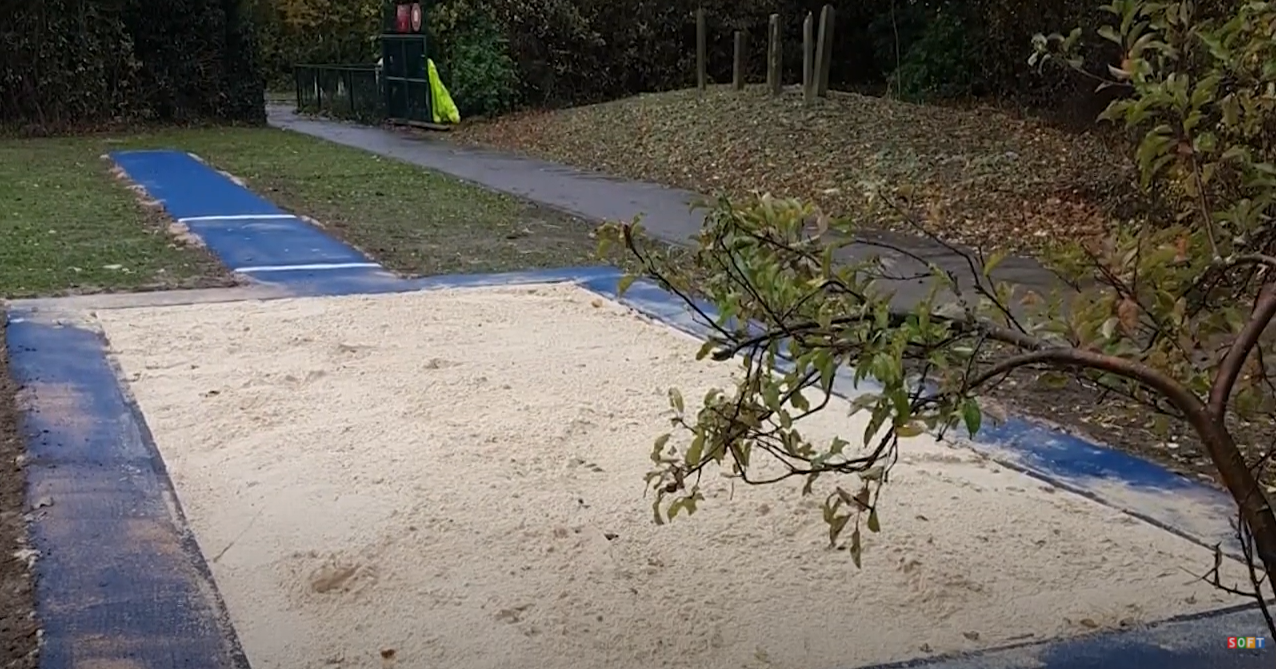 What was the specification? : Synthetic flooring
What colours were used? : Blue, White
What was the size of the job? : 15m x 1m runway / 7m x 3m landing pit
How long did the job take? :  3 days on-site
MultiSport Long Jump Installation at a School in Essex
Soft surfaces installed this Multisport Long jump runway for a school. Take a look at the video below to see the full project from start to finish and see how the outcome looked.
Video Transcript
Hi guys it's Dan here, and today we're going to be showing you a MultiSport Long Jump Installation at a School in Essex.
So for this work, our client was at a school, and gave us a call interested in having a new long jump surfacing fitted on their outdoor field.
They wanted to have a facility that was brilliant for the children to use, but also was hardy enough to cope with our challenging weather conditions here in the UK.
Here at Soft Surfaces we can fit almost any athletics surfacing you can think of, but for this job, it was agreed that the best option for their outdoor area would be MultiSport Synthetic flooring.
This surface type is perfect for outdoor athletics use here in the United Kingdom as it's extremely hard-wearing, able to sit as an outdoor surface and deal with our harshest winters.
It's not just capable of being a good outdoor surface either, it's also one of the best flooring options for athletics. It's synthetic make up gives it an authentic feeling under foot, providing those using the surface with an excellent facility for long jump and triple jump use.
For this particular work, we fitted their long jump as a blue runway with a blue sand pit. We can customise this to your liking, so whatever the colour or specification, we can install it.
We've been installing and maintaining surfaces such as these nationwide for over 2 decades now, so regardless of what the work is and where you're located, we can help.
You can see from these images now that the final work has been installed, and their new long jump facility looks great on their school field. The client was very happy with what we did for them.
Although we do work nationwide, as we've done a lot of work in the Essex area, we now rank in Google for these key phrases:
Essex Athletics Surfacing Experts
Long Jump Runway Installers Essex
Essex Multisport Synthetic Flooring
Best Long Jump Company in Essex
Essex Triple Jump Flooring Specialists
and more.
Thanks a lot for watching this video guys, and to enquire today please contact us at www.softsurfaces.co.uk or simply give us a call at 01625 445 760
Contact Our Team
If you'd like some more information about wetpour rubber surfacing we can install for nurseries and schools, feel free to contact us.
We can discuss the costs and different designs we offer for these areas. Just let us know what you're looking for and we'll get back to you as soon as possible.
Get expert advice,
today call us on
Get a FREE quote from our award winning team