Multisport Long Jump pit Installation with practice lane
in Leicester
Synthetic surfacing constructions are great for multisport facilities.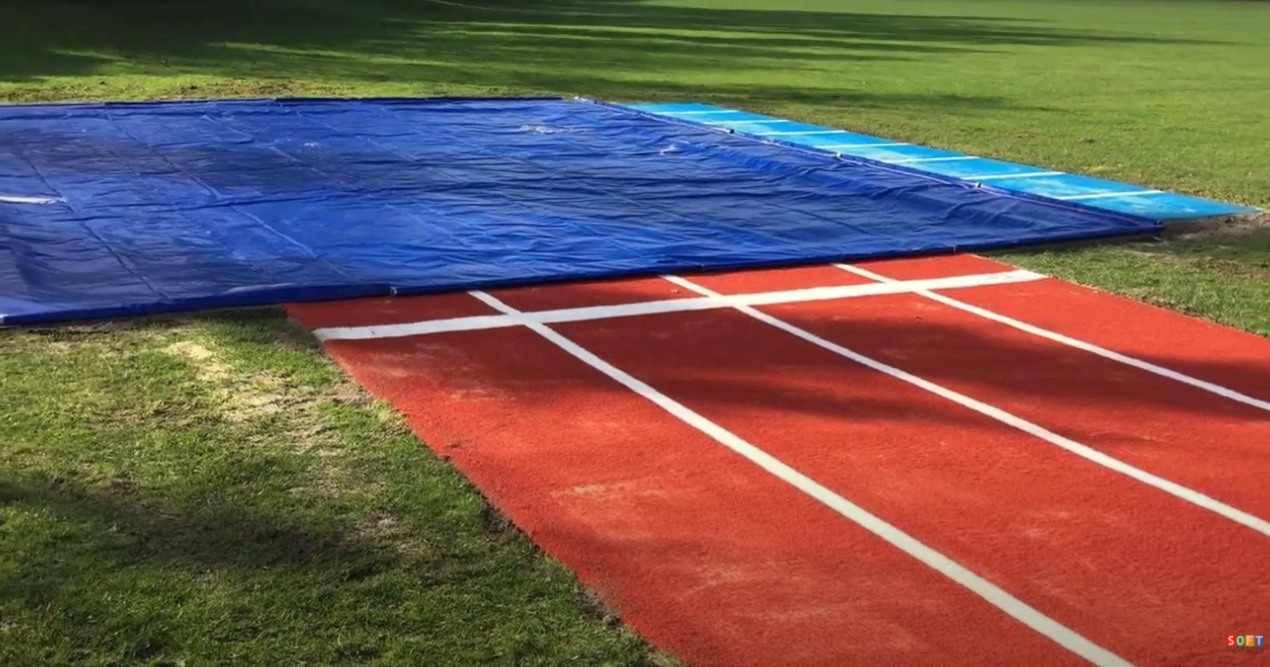 What was the specification? :  Multisport Synthetic flooring
What colours were used? : White, Red
What was the size of the job? : 30m x 4m / 8m x 6m landing pit
How long did the job take? :  5 days on-site
Multisport Long Jump with practice Lane Install in Leicester
Soft surfaces installed this Multisport Long jump runway with a practice lane for an athletic club in Leicester. Take a look at the video below to see the full project from start to finish and see how the outcome looked.
Video Transcript
Hi guys it's Dan here, and today we're going to be showing you a Multisport Long Jump with practice Lane Install in Leicester.
So for this installation, the client contacted us interested in a full long jump facility with a practice lane to be fitted onto their grass field. We explained the options that we offer them, and we were quickly on site working on the long jump facility.
Here at Soft Surfaces, we can build these sports facilities in many different surface types, however, for this work we opted for a Multisport surfacing for their long jump runway.
Multisport is a really excellent choice for outdoor sports surfacing such as these as it's a hard-wearing surface making it ideal for regular outdoor use.
It's also very well-suited to the outdoors as a result of its brilliant porous qualities, meaning water is actually absorbed by the flooring during our many rainy months.
The advantages of multisport don't stop there either, as this flooring offers wonderful playability under foot for running tracks and long jumps such as these.
Multisport is also a customisable surface, in the sense that you can specify how many lanes you'd like fitted, as well as the colours of each lane and even the sand pit. We even fitted a practice lane for this particular job!
At Soft Surfaces, we've been building and maintaining long jump and triple jump runways nationwide for over 20 years now, and are proud of our reputation as market leaders in the field for this service. Feel free to get in touch with us if you're interested in any of our work!
You can see now the works have been done, and the long jump looks great fitted on the field. The client themselves were so happy with what we'd built for them.
Although we do work nationwide, from doing lots of work in Leicester we currently rank in Google for these keywords:
Leicester Long Jump Builders
Best Triple Jump Company in Leicester
Leicester Multisport Athletics Surfacing
Long Jump Surfacing Experts Leicester
Multisport Long Jump Builders Leicester
and even more than that.
Thanks a lot for watching this video guys, and to enquire today please contact us at www.softsurfaces.co.uk or simply give us a call at 01625 445 760
Contact Our Team
If you'd like some more information about wetpour rubber surfacing we can install for nurseries and schools, feel free to contact us.
We can discuss the costs and different designs we offer for these areas. Just let us know what you're looking for and we'll get back to you as soon as possible.
Get expert advice,
today call us on
Get a FREE quote from our award winning team