Nursery School Green Wetpour Overlay
in Gloucester, Gloucestershire
Wetpour Overlaying is brilliant for Nurseries, Schools and Playgrounds across the nation.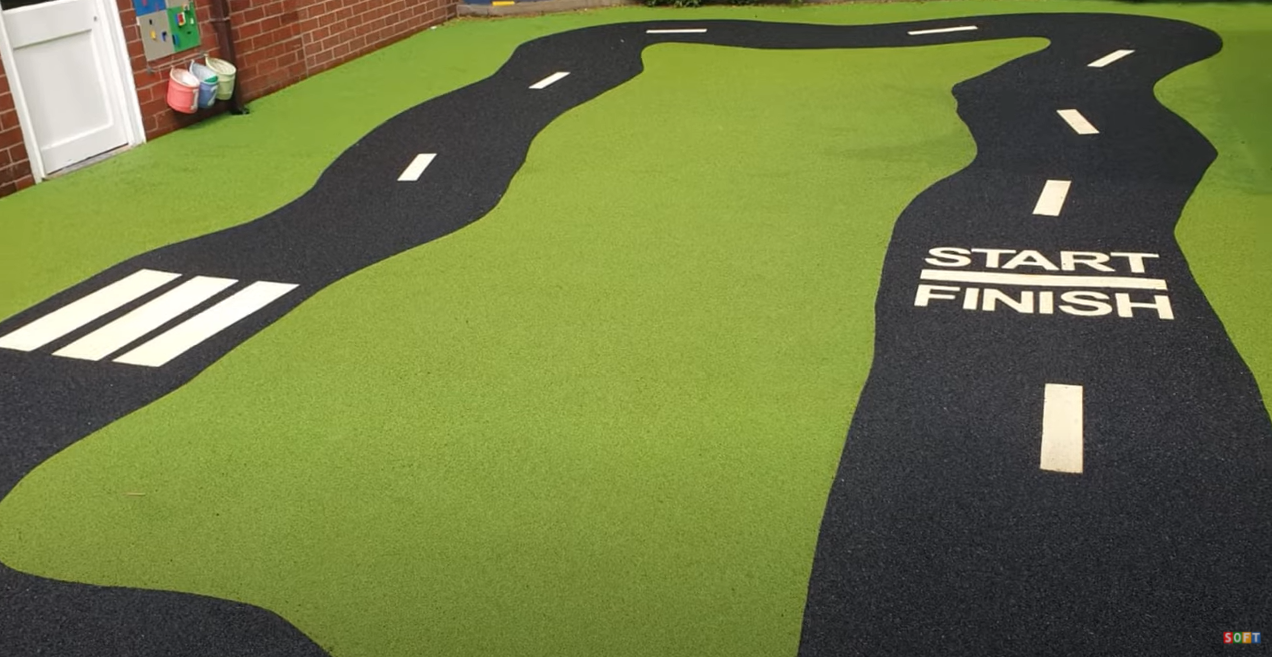 What was the specification? :  Wetpour Overlay
What colours were used? : Black, Green, White
What was the size of the job? : m²
How long did the job take? :  days on-site
Nursery School Green Wetpour Overlay in Gloucester
Soft surfaces installed this Wetpour overlay in Gloucester, Gloucestershire. Take a look at the video below to see the full project from start to finish and see how the outcome looked.
Video Transcript
Hi guys it's Dan here, and today we're going to be showing you a Nursery School Green Wetpour Overlay in Gloucester.
So this work was installed at a nursery, which had an existing playground flooring that was beginning to wear and show signs of age.
They wanted to have new flooring installed, but weren't sure whether a resurface was needed. They got in contact with us, and we explained what we could do for them.
So after assessing their existing surface, we determined that once their flooring was given a professional clean and contamination removal by our team, we were able to actually fit an overlay onto their surface without the need for resurfacing
This meant that the client's play area surfacing could return to its best, and also gave them the freedom to choose new colours and a new design for their play area should they wish to.
The surface type we used for this job was wetpour floorings. This flooring type has many benefits, including the fact that it's very safe for children to play on, and it's porous, absorbing rainfall throughout the year.
This is because wetpour is made up of an EPDM rubber material, making it spongy and absorbent, ideal for outdoor play areas here in the United Kingdom.
We're able to install, and repair these surface types nationwide and have been doing so for over two decades, so you can be sure that the work we carry out is of the highest quality.
We can work on jobs of all shapes and sizes and are proud to have become a market leader in our time working on playgrounds, so please do get in touch if you're interested.
You can see now that the final works have been completed, and the client was over the moon with their new and improved play area flooring.
As we previously mentioned we work nationwide, however from doing a lot of work in Gloucester we now rank in Google for these keywords:
Gloucester Playground Repair Company
Play Area Surfacing in Gloucester
Gloucester EPDM Rubber Flooring
Best School Surfacing in Gloucester
Gloucester Rubber Safety Surfaces
and even more.
Thanks a lot for watching today's video guys, and to enquire today please contact us at www.softsurfaces.co.uk or give us a call at 01625 445 760
Contact Our Team
If you'd like some more information about wetpour rubber surfacing we can install for nurseries and schools, feel free to contact us.
We can discuss the costs and different designs we offer for these areas. Just let us know what you're looking for and we'll get back to you as soon as possible.
Get expert advice,
today call us on
Get a FREE quote from our award winning team