Pre-School Play Area Surfacing
in Wigan
Outdoor Wetpour surfacing is great for schools all across the nation!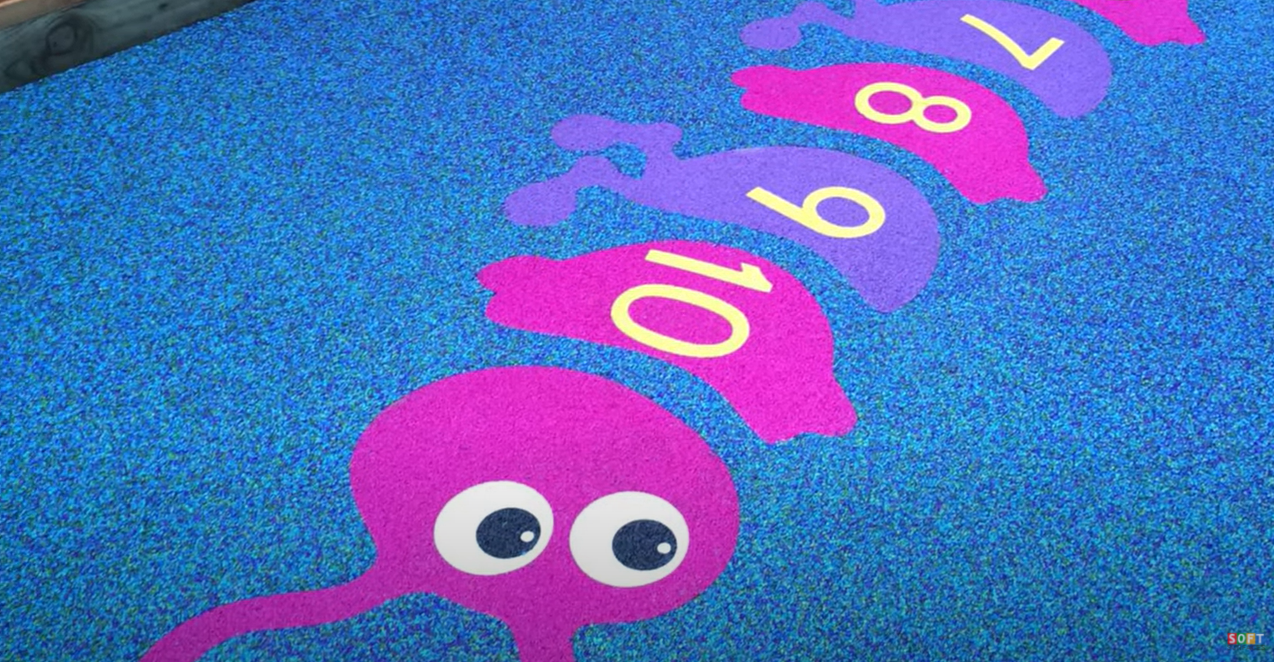 What was the specification? :  Wetpour
What colours were used? : Blue, Black
What was the size of the job? : m²
How long did the job take? :  days on-site
Pre-School Play Area Surfacing in Wigan
Soft surfaces installed this wetpour surface for a pre-school in Wigan. Take a look at the video below to see the full project from start to finish and see how the outcome looked.
Video Transcript
Hi guys it's Dan here, and today we're going to be showing you a Pre-School Play Area Surfacing in Wigan.
So this pre-school previously had a tiled flooring that you can see here, but wanted to have a new surface fitted than encouraged play, looked great and prioritised safety. We explained the wetpour surfacing we offer to them, and we were booked in right away.
So wetpour is the perfect surface type for pre-schools and nurseries such as this one, as it ticks every box the client was looking for: safety, aesthetics and playability.
Lets start with safety. So wetpour is a surface type made up of an EPDM rubber compound, and this gives the surface a spongy feel to it. Most importantly, this enables wetpour to meet the critical fall height requirements needed for playgrounds here in the UK, therefore making it one of the safest surfaces you can have fitted.
Additionally, in terms of appearance, wetpour is extremely customisable. You can have your wetpour area installed in any colour or colours you'd like, and the ability to have custom graphics such as educational games fitted to the surface helps to encourage play amongst the kids. We can plan all of this out with you prior to the install.
Finally, due to it's rubber buildup, wetpour is also a porous system, making it absolutely perfect as an outdoor playground surface here in the United Kingdom.
We've been installing wetpour nationwide for over 20 years now, and no job is too big or too small for us, so please get in touch if you are interested.
You can see now the job has been completed, and has completely transformed the area. The school themselves were so happy with the work we did for them.
Despite working nationwide, from doing lots of jobs in the Wigan area we do rank in Google for these keywords:
Nursery School Surfacing in Wigan
Best Playground Flooring Company Wigan
Greater Manchester Play Area Experts
EPDM Rubber Surface Construction Wigan
Greater Manchester Playground Specialists
and even more than that.
Thanks a lot for watching today's video guys, and to enquire today please contact us at www.softsurfaces.co.uk or give us a call at 01625 445 760
Contact Our Team
If you'd like some more information about wetpour rubber surfacing we can install for nurseries and schools, feel free to contact us.
We can discuss the costs and different designs we offer for these areas. Just let us know what you're looking for and we'll get back to you as soon as possible.
Get expert advice,
today call us on
Get a FREE quote from our award winning team