Resin Bound Surfaces in County Durham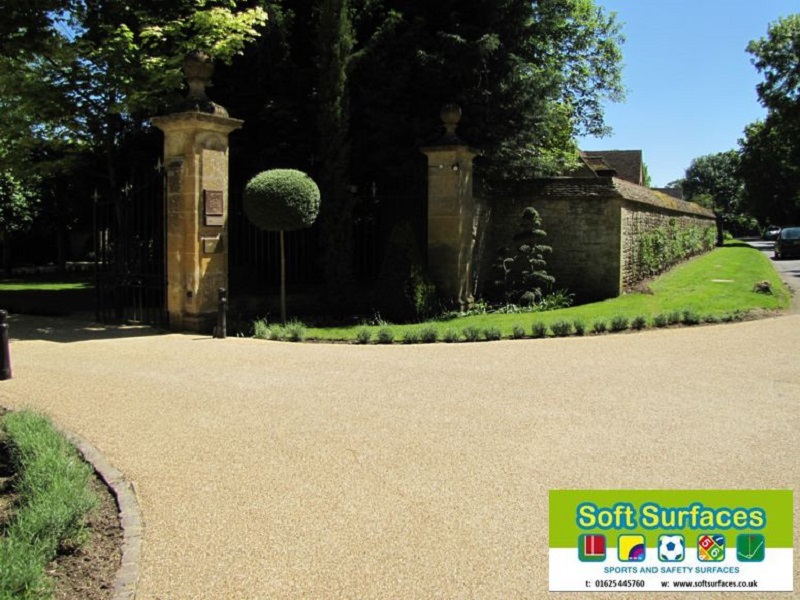 Resin-bound surfaces are becoming increasingly popular in County Durham and beyond, offering a durable and aesthetically pleasing alternative to traditional driveway options.
In this comprehensive guide, we will explore the benefits of resin-bound surfaces in County Durham.
Their compliance with sustainable drainage systems, installation process, material selection, maintenance, comparisons with other driveway surfaces, customization options, cost factors, and finding a reputable installer in County Durham.
Benefits of Resin Bound Surfacing
Resin-bound surfaces, such as driveways, pathways, tree pits, and pool surrounds, offer a multitude of benefits over traditional alternatives like loose gravel, block paving, and imprinted concrete.
For starters, the resin-bound surfacing is easy to clean and highly resistant to staining, eliminating the risk of loose stones becoming a nuisance.
Furthermore, resin-bound driveways boast impressive longevity, lasting for many years with minimal maintenance required.
This is due to the unique process of combining clear resin and aggregates, which is then applied to a suitable existing surface like tarmac or concrete.
The result is an attractive, durable, and permeable surface that allows for natural drainage and does not require planning permission.
Durham Driveways offers a comprehensive product range for resin-bound surfaces, featuring a variety of colours and textures, including natural aggregates, marble, and recycled materials.
The use of Recycle Bound, for example, incorporates the equivalent of 3,000 plastic straws per square metre, making it an eco-friendly choice.
In terms of safety, resin-bound driveways may become slippery when exposed to wet or icy conditions.
Crushed glass can be added to the resin-bound stone prior to curing. This will ensure that the driveway surface remains non-slip.
Sustainable Urban Drainage Systems Compliance
Sustainable Urban Drainage Systems (SUDS) compliance is crucial for resin-bound surfaces in County Durham.
The SUDS scheme was implemented to manage stormwater in towns and cities, reducing the risk of flooding and water pollution.
Resin-bound surfaces offer a permeable solution that permits natural drainage, making them compliant with SUDS regulations.
Ensuring SUDS compliance when installing resin-bound surfaces not only helps to protect the environment but also safeguards your property against the damaging effects of flooding.
By choosing a resin-bound driveway, you are contributing to a more sustainable urban drainage system in County Durham and beyond.
When selecting a contractor for your resin-bound surface project, it is essential to choose one with experience in adhering to SUDS compliance guidelines.
This will guarantee a professional installation that meets the necessary standards, helping to mitigate flooding and water pollution risks.
Resin Bound Surface Installation Process
Understanding the installation process of resin-bound surfaces is crucial to ensure a high-quality, long-lasting result.
The process begins with preparing the base, which typically involves using a tarmacadam sub-base for its superior long-term porous properties.
Resin-bound gravel can then be applied over a suitable existing surface, such as tarmac or concrete, provided it is in good condition and has an appropriate sub-base.
Next, the intricate mixing process takes place, combining aggregates and a transparent binder. This requires specialist knowledge to ensure the perfect balance of materials and a smooth finish.
Once the mixture is prepared, it is applied to the surface and trowelled to create an even, attractive appearance.
The curing time for a resin-bound surface is a minimum of 8 hours. It is recommended to avoid walking on the surface for optimal results.
Allow approximately 24 hours for the best outcome. During the installation process, keeping equipment clean is essential to prevent staining and ensure a flawless end result.
Choosing the Right Materials for Resin-Bound Surfaces
Selecting the right materials for your resin-bound surface is essential for achieving the best possible outcome.
Factors to consider include the type of stone, size of aggregate, and the use of UV-resistant resin. UV stable resin ensures that the colour within the resin-bound surface is protected from the sun's rays, preventing colour fading over time.
Non-UV resin may be a more cost-effective solution, but opting for UV-stable polyurethane resin is recommended for a more durable driveway.
This high-quality resin, when combined with your choice of aggregates, ensures a long-lasting, visually appealing surface that can withstand the elements and daily wear and tear.
When customising your resin-bound surface, consider the wide variety of coloured aggregates available, as well as the different stone types and textures on offer.
This allows you to create a unique and personalized driveway that complements your property's aesthetic and enhances its kerb appeal.
Resin Bound Surface Maintenance and Care
Proper maintenance and care are crucial to ensure the longevity of your resin-bound surface.
Establishing a servicing plan and initiating regular maintenance right away will help prevent the surface from becoming slippery and dangerous due to the accumulation of leaves, weeds, and debris.
Recommended maintenance for resin-bound surfaces includes soft pressure washing to remove dirt and stains effectively.
In colder months, snow and ice can be removed using a soft-bristled sweep or a rubberized scraper to prevent damaging the surface.
When it comes to weed control, it is essential to avoid oil-based weed killers, which can damage the resin-bound surface.
Instead, opt for environmentally friendly alternatives or manual removal to preserve the integrity and appearance of your driveway.
Comparing Resin-Bound Surfaces with Other Driveway Options
When compared to other driveway options such as loose gravel, block paving, and imprinted concrete, resin-bound surfaces offer several advantages.
For starters, resin-bound surfaces demonstrate superior durability, value for money, and a higher-quality finish.
Loose gravel driveways, for example, can be prone to shifting and displacement, requiring regular maintenance and top-ups.
Block paving, on the other hand, can become uneven over time and may require periodic re-sanding and sealing to maintain its appearance.
Imprinted concrete driveways, while initially attractive, can suffer from colour fading and surface cracking over time, leading to costly repairs.
By contrast, resin-bound surfaces require minimal maintenance, provide a permeable solution for natural drainage, and offer a vast array of design options to suit any property style.
This makes them an excellent choice for homeowners seeking a durable, attractive, and cost-effective driveway solution.
Customising Your Resin Bound Surface
One of the key benefits of resin-bound surfaces is the ability to customise the design to suit your individual taste and property style.
With a vast range of colours, textures, and aggregates available, you can create a truly unique and personalised driveway or pathway.
In addition to selecting your preferred colour and texture, you can enhance your resin-bound surface further by adding contrast borders using different coloured aggregates, or even creating intricate patterns.
The possibilities are endless, allowing you to design a driveway that not only serves its functional purpose but also adds a touch of elegance and style to your property.
Cost Factors for Resin Bound Surfaces
In Durham, the cost of resin-bound paving is approximately £60 per square metre.
The cost of installing a resin-bound surface is influenced by several factors, including the size of the area, labour, materials (e.g. stone type), and the use of UV-resistant resin.
It is important to note that, although the initial investment may be higher than some traditional driveway options, resin-bound surfaces require minimal ongoing maintenance, resulting in long-term cost savings.
When evaluating the cost of your resin-bound surface project, consider the many benefits it offers, such as durability, low maintenance, and customizability.
These factors, combined with the long-term cost savings, make resin-bound surfaces a worthwhile investment for homeowners seeking an attractive, functional, and cost-effective driveway solution.
Finding a Reputable Installer in County Durham
Selecting a reputable installer for your resin-bound surface project is crucial to ensure a high-quality, long-lasting result.
Researching companies, checking customer reviews, and asking for references can help you make an informed decision.
When evaluating reviews, consider factors such as the quality of the installation, materials used, and customer service provided.
Requesting references will give you further insight into the installer's previous projects, allowing you to assess their workmanship and the satisfaction of their clients.
One reputable installer in County Durham is Oltco Durham and Sunderland. With a wealth of experience in resin-bound surface installations, they offer a 20-year guarantee on their resin-bound blends and a commitment to customer satisfaction.
Taking the time to find a reputable installer will ensure a flawless finish and a driveway that stands the test of time.
Frequently Asked Questions
Is Resin Cheaper Than Paving?
The initial cost of resin surfaces may be more expensive than that of block paving.
In the long run, it is generally a cheaper solution due to its low maintenance requirements compared to block paving which needs regular weeding and power washing.
Do you Need Permission to Lay a Resin Driveway?
No, it is not usually necessary to get planning permission for a resin driveway.
If the driveway will be permeable and installed in accordance with sustainable drainage systems (SUDS), it will not require permission.
What is the Difference Between Resin Bound and Resin Bonded?
Resin-bonded and resin-bound systems differ in the way they are applied to surfaces.
In a resin-bonded system, the resin is spread across the surface before the loose stone is scattered on top.
Whereas in a resin-bound system, the resin and stone are mixed together first before being trowelled down into place.
This is the accepted terminology among all suppliers of resin.
Can You Have Resin in a Back Garden?
Therefore, with proper preparation, it is possible to have resin-bound surfacing in a back garden.
This would enable you to create a beautiful outdoor space that is durable, low-maintenance and stylish.
In conclusion, having resin-bound surfacing in a back garden is an ideal choice for creating an attractive and low-maintenance outdoor space.
Summary
In conclusion, resin-bound surfaces offer a durable, attractive, and cost-effective alternative to traditional driveway options.
With numerous benefits, including low maintenance, customizability, and SUDS compliance, it is easy to see why homeowners in County Durham are increasingly opting for resin-bound pathway and driveway specialists.
By researching and selecting the right materials, installer, and design, you can create a stunning resin-bound surface that enhances your property's kerb appeal and provides lasting functionality.
Whether you are considering a new resin-bound driveway, pathway, or pool surround, resin-bound surfaces are a versatile and stylish choice that will serve you well for years to come.
Get expert advice,
today call us on
Get a FREE quote from our award winning team