Rubber Playground and Artificial Grass Surfacing
in Middlesbrough

What was the specification? : Wetpour Rubber and Artificial Grass
What colours were used? : Blue, Red and Green
What was the size of the job? : 432m²
How long did the job take?: 5 days on site
Wetpour and Artificial Grass Play Area
We installed a wetpour rubber and artificial grass playground for a school in Middlesbrough, Yorkshire. Take a look at the video below to see the full process and the final result.
Video Transcript
Hi guys it's Dan here, and today we're going to be showing you a Rubber Playground and Artificial Grass Surfacing in Middlesborough, Yorkshire.
So our team were contacted by this company who were looking to have surfacing fitted that was ideal for their outdoor space.
They explained specifically that they were keen on having a new flooring for their outdoor play area, as well as artificial grass fitted to give the appearance of a natural look. We broke down the options we could provide, and were on site installing soon after.
So for the playground flooring we fitted, we opted to go for a EPDM rubber wetpour surface. This flooring type is absolutely perfect for outdoor play areas, as its spongy rubber qualities actually soak up the rain making it a porous system.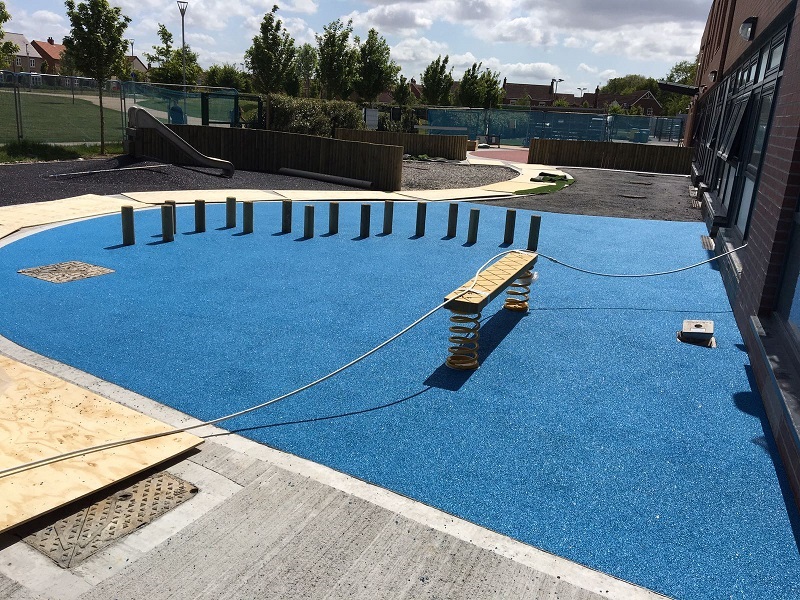 Also, wetpour is one of the safest surface types on the market, meeting the critical fall height requirements necessary for UK playgrounds and offering that all-important peace of mind for playground owners.
Finally, this is a surface that can be specified in basically any colour choice and design you like, which we can plan out with you before the work takes place.
In terms of the artificial grass we fit, we offer plenty of different specifications to suit the client's requirements. For example, we can install surfaces suited for small back gardens, all the way up to full-sized sports pitches!
Artificial grass can have many benefits, and for this installation, the main benefit was that it offered a natural-looking surface without the need for the maintenance required for natural grass.
You can see now that this work has now been completed, and looks fantastic across their outdoor space. The client was really pleased with what we carried out for them.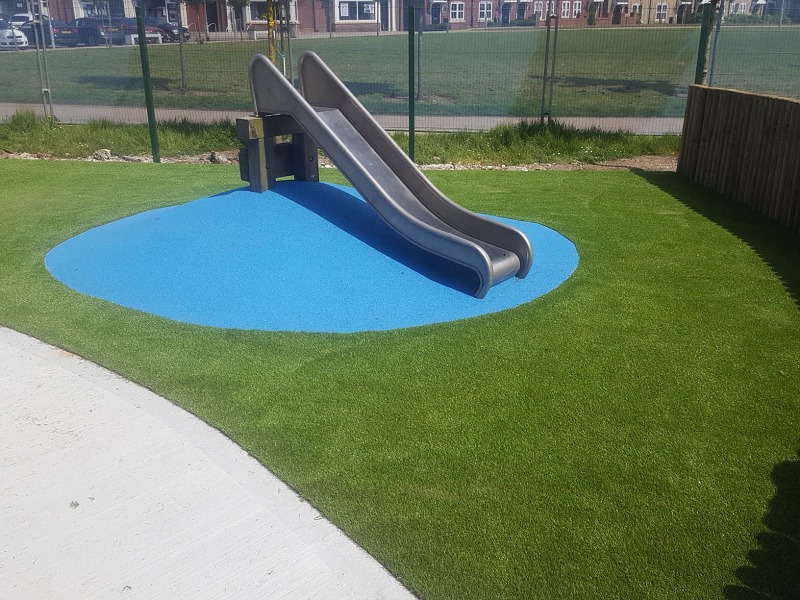 Although we are a nationwide company, from doing a lot of work in the Yorkshire area we now rank in Google for these keywords:
Yorkshire Playground Installation
Best Artificial Grass Company Yorkshire
Middlesborough Rubber Wetpour Flooring
Fake Turf Installers Middlesborough
EPDM Rubber Flooring Yorkshire.
And much more.
Thanks a lot for watching today's video guys, and to enquire today please contact us at www.softsurfaces.co.uk or simply give us a call at 01625 445 760.
Get In Touch
You can contact our team via the form below if you'd like some more information about wetpour rubber surfacing or artificial grass.
We'd be happy to discuss the costs and different designs we offer for these facilities. If you're looking for a new outdoor space for your school or nursery, feel free to get in touch.
Get expert advice,
today call us on
Get a FREE quote from our award winning team