Rubber Playground Flooring with Artificial Grass
in Worthing, West Sussex
Synthetic grass and rubber playgrounds are ideal for outdoor surfaces and play areas across the uk.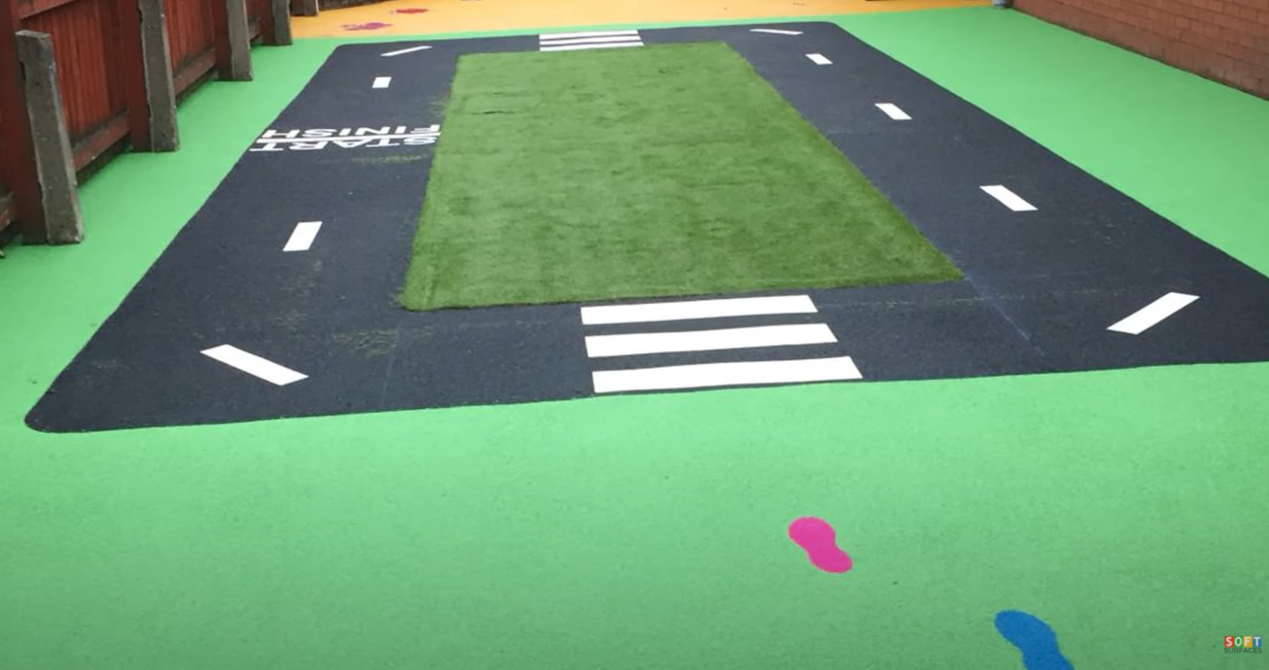 What was the specification? :  Wetpour and Artificial Turf
What colours were used? : Green, Black, white
What was the size of the job? : m²
How long did the job take? :  days on-site
Rubber Playground Flooring With Artificial Grass in Worthing, West Sussex
Soft surfaces installed this Wetpour playground with synthetic turf surrounding for an outdoor space. Take a look at the video below to see the full project from start to finish and see how the outcome looked.
Video Transcript
Hi guys it's Dan here, and today we're going to be showing you a Rubber Playground Flooring With Artificial Grass in Worthing, West Sussex.
So this small nursery had an outdoor space that they were looking to use as an outdoor play area, and were looking for both a safety surface for the youngsters, but also an artificial grass to provide a natural look.
They got in touch with us, and we proceeded to show the client all of the options they had available. It was then decided that wetpour rubber surfacing would be ideal for their safety surfaces, with a high quality synthetic surfacing fitted alongside.
So for their play area, wetpour was a brilliant choice, largely down to its EPDM rubber material. This material makes wetpour surfacing soft and spongy under foot, and massively reduces the chances of serious injury when playing on this flooring.
Also, because it's rubber, this flooring is porous and soaks up rain all year round. Again, this makes it ideal as an outdoor surface, particularly here in our country where weather is often unpredictable.
And finally for wetpour, we offer our customers the ability to specify just how they'd like their wetpour play area to look, from colours to design and graphics, we can do it all.
The artificial grass that we installed provides a natural-looking finish to the centre of their play area but without the need for traditional upkeep and maintenance, something that this client really wanted.
We're able to install a multitude of different artificial grass surfacing nationwide, from small jobs such as this to full-sized sports pitches!
You can see now from these images that the job has been installed, and looks brilliant in their custom wetpour design with artificial grass fitted. The nursery were so pleased.
We're a nationwide company here at Soft Surfaces, however, from doing several jobs within the West Sussex area we now rank in Google for these keyphrases:
West Sussex Playground Installers
Best Fake Turf Company in West Sussex
West Sussex Play Area Safety Flooring
Synthetic Turf Surfaces in Worthing
Wetpour Rubber Flooring in West Sussex
and more.
Thanks for checking out this installation guys, and if you'd like to enquire today, please just visit our website at www.softsurfaces.co.uk or simply just us a call at 01625 445 760
Contact Our Team
Thanks a lot for watching, and we'll see you guys later.
If you'd like some more information about wetpour rubber surfacing we can install for nurseries and schools, feel free to contact us.
We can discuss the costs and different designs we offer for these areas. Just let us know what you're looking for and we'll get back to you as soon as possible.
Get expert advice,
today call us on
Get a FREE quote from our award winning team