Rubber Wetpour Play area flooring
In Bradford
Rubber wetpour is brilliant for surfacing in school playgrounds and much more in the UK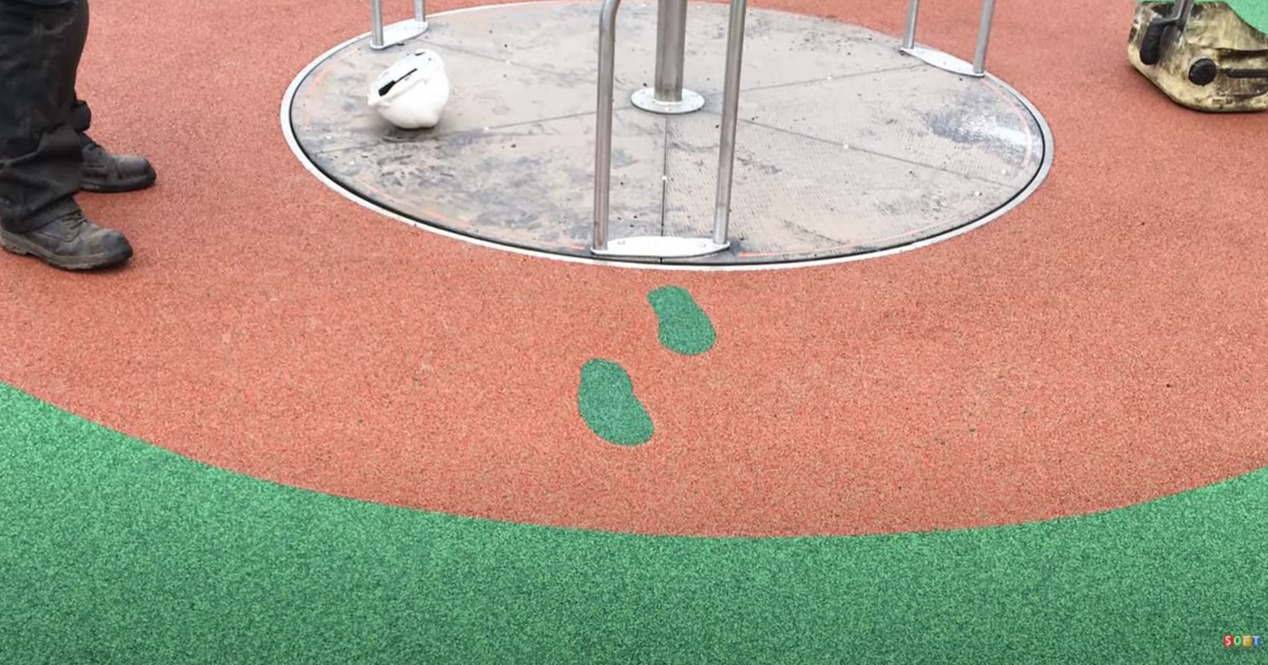 What was the specification? : Wetpour Rubber Surfacing
What colours were used? : Orange and Green
What was the size of the job? : 432m²
How long did the job take? : 5 days on site
Wetpour Safety Surfacing Installation
We carried out this rubber playground surfacing project for a school in Bradford, West Yorkshire. The client chose a colourful orange and green design with a number of fun animal graphics.
Watch the video below to see this project in full.
Video Transcript
Hi guys it's Dan here, and today we're going to be showing you a Rubber Wetpour Play Area Flooring in Bradford.
So this school came to us wanting to have a custom play area surfacing fitted that enhanced the appearance of the area whilst making certain that the surface was as safe as possible for their pupils to be using. We broke down what we could offer for them, and we were soon on site installing.
With this job we ended up agreeing that EPDM rubber wetpour would be the best flooring type to fit their play area. This surface itself is actually the most popular of the options we provide, and here's why:
To begin with, wetpour is made up of a spongy rubber compound that acts as a superb safety surface for children. It's because of this rubber build-up that wetpour meets the critical fall height standards needed for UK playgrounds, and therefore makes it one of, if not the safest surface in the market.
Next, wetpour is the best option for those looking for something with endless design possibilities, as here at Soft Surfaces we can install wetpour in basically any colour combination and pattern you'd like. We can also fit bespoke graphics such as educational games, shapes, logos and more to the surface as part of the installation too!
Finally, the last big benefit of opting for EPDM rubber wetpour for your play area is that it's a porous system, and because of this water is just absorbed by the wetpour during our rainy months. This makes it the perfect outdoor playground surface for our country.
We're proud to have been installing and maintaining wetpour for over 2 decades now, so please do get in touch regardless of the size of the works.
These images now show the job fully completed and looks really stunning in their multicoloured design with various graphics fitted throughout. The school really love their new playground.
Despite being a company that does work nationwide, we've worked on a lot of sites in the Bradford area and now rank in Google for these terms:
Playground Safety Surfaces Bradford
Bradford Rubber Play Area Flooring
EPDM Rubber Wetpour Experts Bradford
Nursery School Surfacing in Bradford
Bradford Outdoor Playground Specialists
And much more.
Thank you for watching this video guys, and if you are interested in any of the services we provide, please feel free to get in contact with us at www.softsurfaces.co.uk or give us a call on 01625 445760.
Get in Touch
You can contact our team today if you need some advice on installing wetpour playground flooring. We work at schools and nurseries all over the UK to provide these services.
Just fill in the contact form and we'll get back to you as soon as possible with some prices and design options.
Get expert advice,
today call us on
Get a FREE quote from our award winning team