Social Distancing
Floor Markings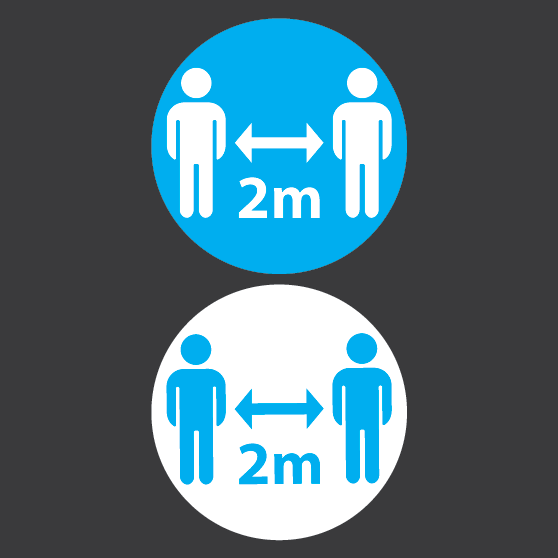 Floor markings to control social distancing is advisable in all public places.
We have worked endlessly to get our floor marking design approved by the Department for Transport for pedestrian areas.
If you are looking to have social distancing floor stickers installed, please get in touch with our team today for prices and information.
Social Distancing Graphics
Due to the Coronavirus, the Government have enforced social distancing measures. It is likely that we will have to learn to social distance safely for quite some time.
Our team have plenty of social graphics that can be installed onto the floor to create a much safer area for anyone visiting your establishment.
Unlike general social distancing floor stickers, our graphics are heat applied, meaning they are much more durable ensuring a longer life span. Once they are installed, you will not need to worry about peeling or ripping.
We have been installing our graphics on school playgrounds, roadways, pedestrian walkways and a range of other areas for a number of years and have plenty of experience.
To find out more about the COVID 19 social distancing floor graphics that we can install, please speak to one of our experts today.
We will be able to offer you information on the graphics and get back to you with costs and information on the designs available.
Duty Of Care
Facility owners have a duty of care so far as reasonably practicable to upkeep and maintain all surfaces.
Facility owners must protect the health & safety and welfare of anyone using their facility. Providing safe flooring which is well maintained and without any risk of slips, trips or falls. This is why we feel the flush thermoplastic markings is a more suitable product for the social distance markings than the tape installed.
Arrangements for ensuring safety to all surfaces and information logged is necessary to ensure the safety of all people.
This is why the govt has put in place funding available for any expenses additional to the safety of the public because of the covid19 pandemic.
Government Funding
Government funding is currently available to all schools. You can find more information by following this govt funding link.
"schools will be eligible to claim up to the limits set out below. Schools will need to provide assurance that costs are legitimate additional costs incurred due to coronavirus (COVID-19) by taking necessary measures and should consider the following before submitting claims: schools should keep records of all expenditure relating to coronavirus (COVID-19), as is usual with all spend, these records will be necessary for local audit arrangements"
The social makings are additional costs due to the coronavirus COVID-19 and therefore you should log any expenses set out for these works to be carried out.
You can claim back these costs and any additional cleaning costs necessary for the health and safety of the facility.
Nursery Markings
As children return to Nursery, measures need to be put in place for parents dropping off and picking up their children.
Clear floor markings for social distancing need to be installed to demonstrate health and safety measures in the UK.
The 2m distancing thermoplastic graphics can be designed as a decorative floor marking and help the routes of queues.
As a nationwide flooring marking company, we can price to supply and install the nursery social distancing thermoplastics markings anywhere in the UK.
We offer 2m distancing dots, social distancing marked pathway designs and a range of other floor markings. It is important for nurseries to have these markings installed to show parents and guardians the safe distance they should be keeping.
School Floor Graphics
Schools throughout the UK are also in need of h+s floor graphics to visualise the two-metre social distance safety measures.
The Government are advising all to keep 2m distances when queuing to prevent the spread of the coronavirus covid19 outbreak.
The COVID 19 pandemic warning by the Govt notes that all the public schools coming to collect the students should keep a safe 2m distance.
Many UK Schools are enquiring to install the permanent thermoplastic markings.
Enquire today to receive the best prices for the supply and installation of the school floor 2m social distance graphics.
Cycle Routes
Signs and markings for cycle routes provide guidance to designers of cycling facilities on the use of Traffic Signs Regulations and General Directions.
Clear floor markings are needed to help guide the general public and cyclists.
Having installed a number of cycle route markings over the years, we are fully qualified to install accurate markings for your pathways.
If you require more information on the markings for cycle routes, please make sure to speak to a member of our team today.
Thermoplastic Markings Vs Tape
Some facilities in the UK were chosen to install standard floor stickers or tape for the social distancing floor graphics but these are causing an issue, as they can start to peel.
The thermoplastic markings are the preferred outdoor social distancing floor graphics because they are permanent.
Our thermoplastic 2m social distancing markings are hard wearing and designed for heavy footfall. Therefore, they are a perfect solution to schools, nurseries and public areas.
Enquire today to receive a free no-obligation quote for the premium social distancing floor graphics at your facility.
How Much are Floor Markings?
The costs of social distancing markers can vary depending on a number of different factors.
One thing that can alter the cost of the floor markings is the number of markings you have installed. The size of the floor graphics will also cause the cost to alter. Obviously larger markers will be more expensive than the smaller ones.
The design of the markers can also have an impact on the price. We have a range of different designs for our social distancing markings.
Speak to a member of our team to see the different designs available and how much each design costs.
Contact Us
If you wish to keep your staff and customers safe during the social distancing measures, you may want to think about having social distancing floor markings installed now.
All of our markings are design approved. We will ensure your markers meet social distancing requirements to help prevent the spread of Covid 19 within your grounds.
Call us today on 01625 445 760 or fill in our contact form to speak to one of our experts.
Get expert advice,
today call us on
Get a FREE quote from our award winning team