Tennis Court cleaning and painting
in York, North Yorkshire
Cleaning and repainting sporting facilities is a great idea for places all across the nation.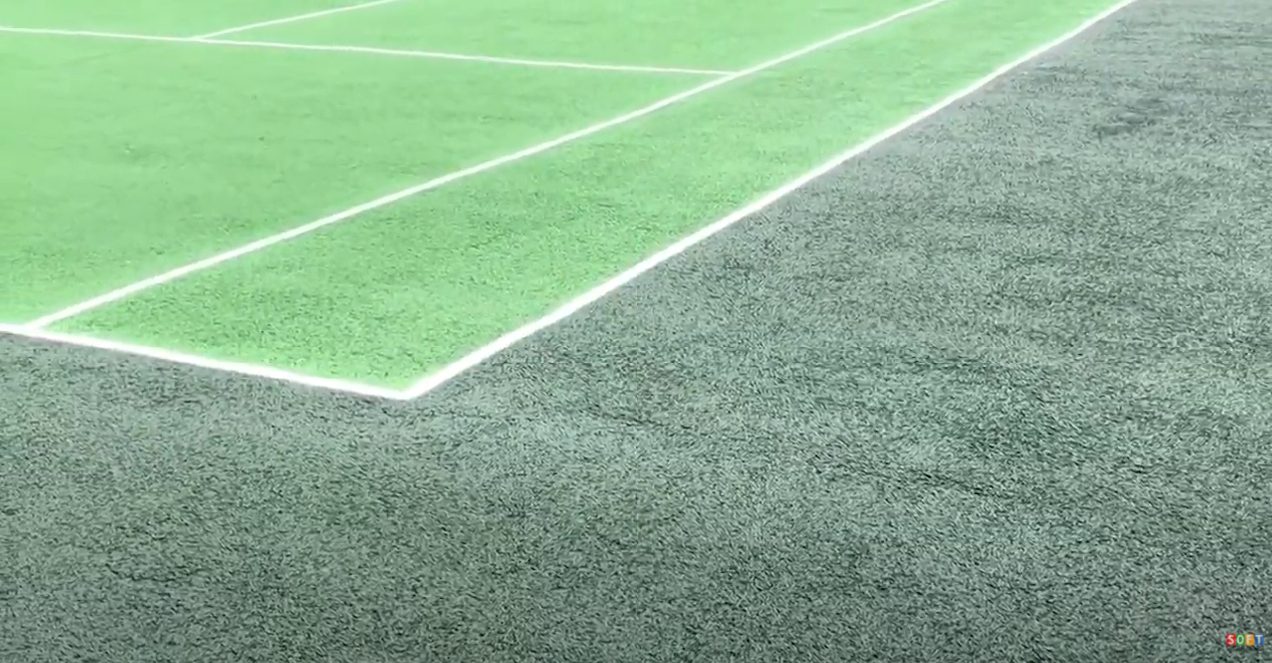 What was the specification? : Clean and Repaint
What colours were used? : Green, White
What was the size of the job? : m²
How long did the job take? :  days on-site
Tennis Court Clean & Paint Maintenance in York
Soft surfaces Cleaned and repainted this tennis court in York. Take a look at the video below to see the full project from start to finish and see how the outcome looked.
Video Transcript
Hi guys it's Dan here, and today we're going to be showing you a Tennis Court Clean & Paint Maintenance in York.
So this work was carried out at a tennis club, who had an older surface that had become warn out and contaminated over time.
Their aim was to get this court back to it's best, and the client initially thought that the surface may have to be resurfaced completely, although we were happy to inform them that we could bring their flooring back to it's best with our bespoke cleaning and painting services.
So the very first thing we needed to do for this job was to make sure all of the build up that's gathered over the years is fully removed, and that the surface itself is fully cleaned.
To do this, we use specialist equipment, ensuring that when we clean the surface, our formula enters every nook and cranny of the court, removing any dirt, moss and algae that may have been there.
It's not just a clean we need to do before painting either, as we go the extra mile to make sure any areas that need small repairs are dealt with prior to painting. This also massively improves the safety of the flooring.
And finally, once fully prepared, we then apply our anti slip paint to the surface. This can be installed in basically any colour choice you wish, and for this job, the client opted for a traditional light green and dark green finish.
At Soft Surfaces, we've been working on sports courts such as these nationwide for over 2 decades now, and our team are spread all across the country, saving clients money in travel costs.
As you'll see from these photos here, the final job has been completed, and looks tremendous. The tennis club owner was very pleased with the final result.
Despite working nationwide, as we've done a lot of work in the York area we now rank in Google for these keywords:
York Sports Surface Repairs
Best Tennis Court Painting in York
York Sports Court Rejuvenation
Expert Tennis Court Company York
York Tennis Flooring Repainting
and more.
So thanks a lot for watching today's video guys, if you'd like to contact us for a quote please just visit www.softsurfaces.co.uk or give us a call at 01625 445 760 and our team will get back to you right away.
Contact Our Team
Thanks a lot for watching, and we'll see you guys later.
If you'd like some more information about wetpour rubber surfacing we can install for nurseries and schools, feel free to contact us.
We can discuss the costs and different designs we offer for these areas. Just let us know what you're looking for and we'll get back to you as soon as possible.
Get expert advice,
today call us on
Get a FREE quote from our award winning team