Tennis Court cleaning and painting
in Yorkshire
Cleaning and repainting sporting facilities is a great idea for places all across the nation.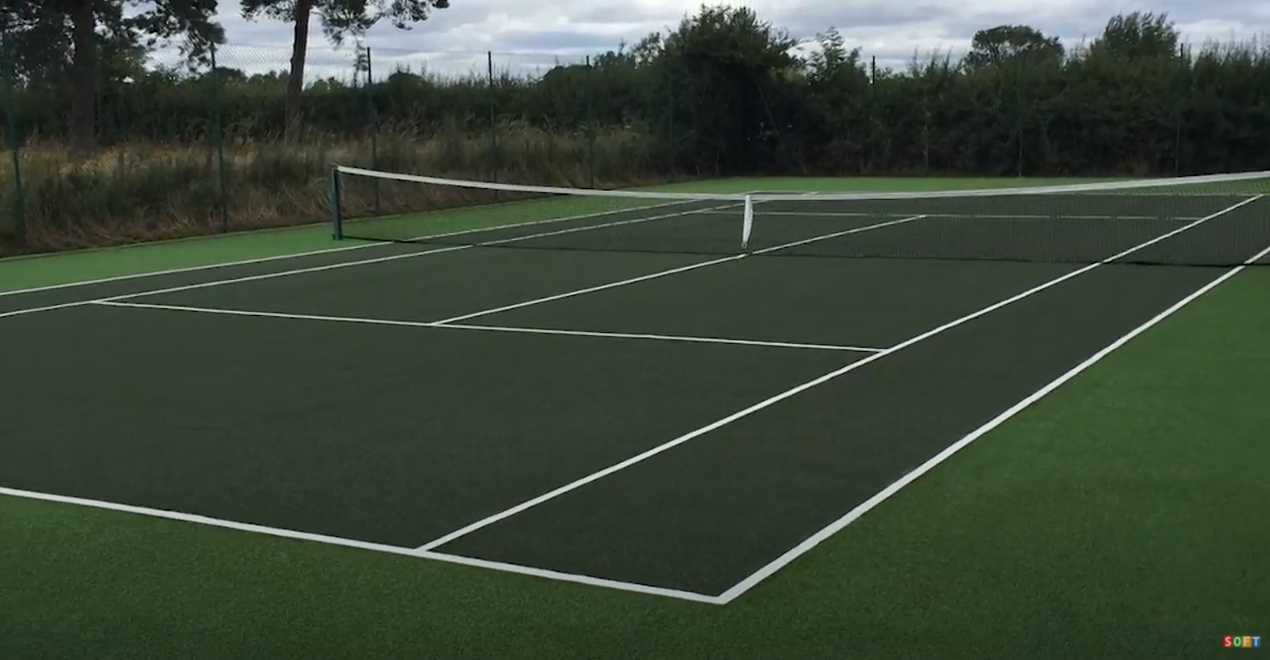 What was the specification? : Clean and Repaint
What colours were used? : Green, White
What was the size of the job? : m²
How long did the job take? :  days on-site
Tennis Court Surfacing Maintenance in Yorkshire
Soft surfaces Cleaned and repainted this tennis court in Yorkshire. Take a look at the video below to see the full project from start to finish and see how the outcome looked.
Video Transcript
Hi guys it's Dan here, and today we're going to be showing you a Tennis Court Surfacing Maintenance in Yorkshire.
So for this job, our client was the owner of this tennis court, and their facility had become overgrown with moss, algae and dirt.
Originally, the client had feared that they may need to have a complete resurfacing carried out due to the extent of their contamination, however, after inspecting the area, we were really happy to let them know that we could bring their sports court back to it's best with our specialist cleaning and painting services.
So the first step we needed to carry out for this job was to completely remove any dirt and build up, as well as carry out any repairs that may be needed.
This step is really important, and should always be carried out by a professional such as ourselves, as even if the surface looks clean, it's so important the right equipment is used in order to remove all contamination from the flooring.
Once the surface is fully prepared and repaired, we then go about applying our anti-slip paint to the flooring. For this stage of the work, we can actually apply almost any colour of anti slip paint you choose, and we're even able to apply brand new line-markings should you want to play different sports on your surface.
For this work, the client opted for a dark and light green paint finish, and we also topped up their line-markings too.
You can see from these images here that the work has been completed, and looks excellent. The client was amazed at the transformation.
Although we do work nationwide, from doing a lot of work in the Yorkshire area we now rank in Google for these keyphrases:
Yorkshire Tennis Court Repairs
Repainting Sports Court Yorkshire
Yorkshire Sports Surfacing Rejuvenation
Best Tennis Court Company Yorkshire
Yorkshire Sports Surface Maintenance
and more.
So thanks a lot for watching today's video guys, if you'd like to contact us for a quote please just visit www.softsurfaces.co.uk or give us a call at 01625 445 760 and our team will get back to you right away.
Contact Our Team
Thanks a lot for watching, and we'll see you guys later.
If you'd like some more information about wetpour rubber surfacing we can install for nurseries and schools, feel free to contact us.
We can discuss the costs and different designs we offer for these areas. Just let us know what you're looking for and we'll get back to you as soon as possible.
Get expert advice,
today call us on
Get a FREE quote from our award winning team