Wetpour Anti Slip Coating
Wetpour anti slip coating is a safety application which can be added to wetpour to create a non slip surface. 
The anti slip coating is recommended for areas in which children will be running on the surfacing to prevent slipping.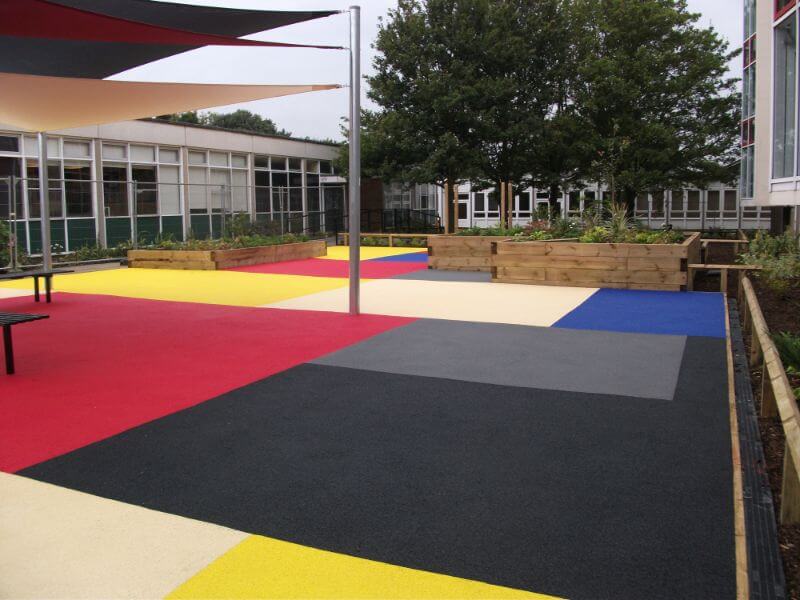 Our team can install anti slip coating to create a safer area for children and adults.
Standard wetpour surfacing can become slippery particularly in certain weather conditions. With the installation of the anti skid aggregate, you can prevent unnecessary falls allowing individuals to run on the area without fear of skidding.
Our application can be installed in parks, schools, hospitals, residential homes and many more areas to create a safe, anti-slip area for users.
If you require more information on the anti slip application, please do not hesitate to get in touch.
Is the Coating Safe for Children?
The anti slip coating is safe for children's play areas.
We wouldn't recommend the coating underneath play equipment, as the coating can cause the surface to become more abrasive. Therefore if children fall onto the surface, there is a risk that they could graze their skin. This is similar to other surfaces such as tarmac.
Instead, we would recommend the non slip application on areas where children would be running / walking around and leave the areas below play equipment. The anti slip coating on an active mile track would be highly recommended.
If you have any further questions on the safety of the anti skid aggregate, please speak to a member of our team using the contact form provided. We will be sure to get back to you as soon as possible.
How Much Does Wet Pour Anti Slip Cost?
Wet pour anti slip coating is approximately £8 per square metre.
The area size is the main factor which could alter the price of the anti slip coating. If the area is extremely small, there may be a slight increase in the cost per m2 due to the economies of scale.
If you would like a quotation for a new wetpour installation with anti slip treatment included, please complete our enquiry form today.
Can Anti Slip Coating be Applied to Existing Wetpour?
Anti slip coating cannot be applied to an existing wetpour surface.
We would only apply the anti slip coating to new wetpour installations. This is because the only way to guarantee the coating will adhere to the surface.
There are arguments to say an existing wetpour surface can be cleaned followed by a binder coat and the scattered aggregate. However we would not recommend this, as the binder coat may not adhere correctly.
How is Wetpour Anti Slip Coating Installed?
The anti slip coating can only be installed during a new Wetpour surface installation.
The anti skid aggregate is scattered over the flooring during the curing process where the wet pour rubber crumb and polyurethane binder is tacky for the aggregates to bond.
Summary
Wetpour surfacing is a perfect solution for nurseries, primary schools, parks and acts as a great safety surface specification.
The rubber crumb safety surface meets British Standards for non slip properties. Like most flooring options, the surface can become slippery again in Winter.
Cleaning of the surface is important to remove any moss or residue. In winter months a de-icer material can be applied to the surface to prevent slippiness.
We strongly advise the anti slip Wetpour coating when the area is on a slope or a ramp. This will help to create a much safer area for users.
If you are still unsure whether to have the anti slip solutions applied, please make sure to speak to a member of our team. We can confirm whether the treatment is advised or not and answer any more questions that you may have.
Get expert advice,
today call us on
Get a FREE quote from our award winning team