Wetpour and Artificial Grass Installation
At Hillview Hospital, Wales
Wetpour surfacing and synthetic turf is great for surfaces all across the uk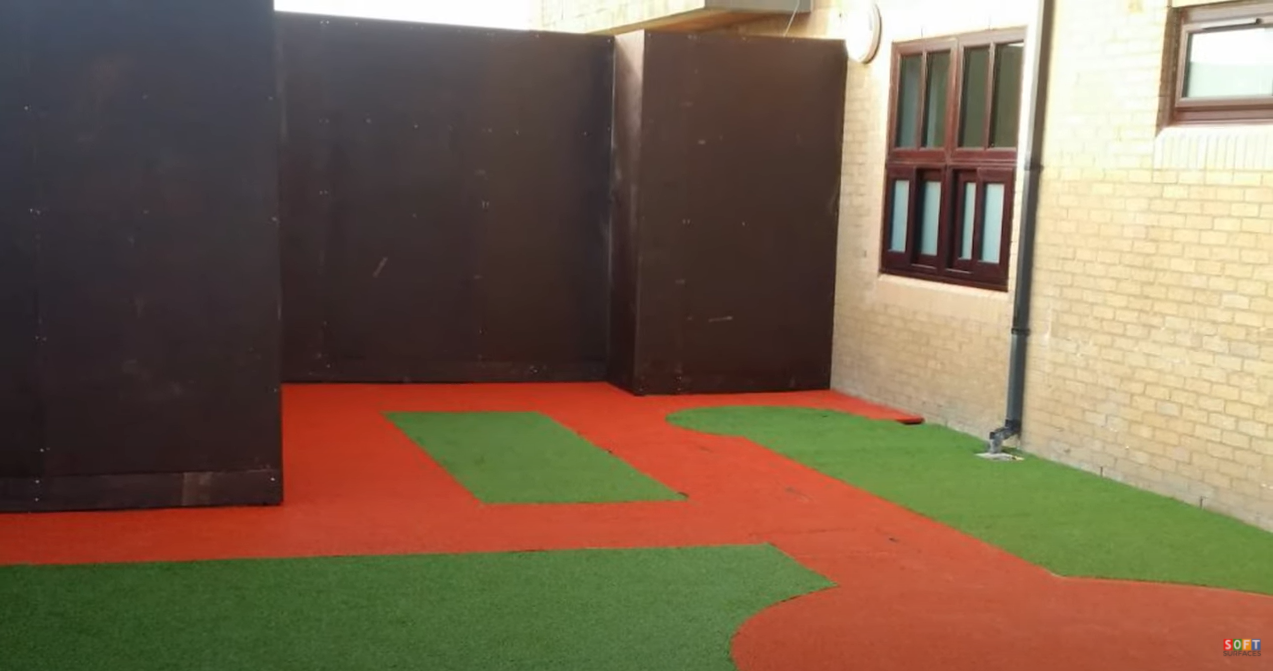 What was the specification? : Wetpour and Artificial grass
What colours were used? : Green, Red
What was the size of the job? : m²
How long did the job take? :  days on-site
Wetpour & Artificial Grass Installation at Hillview Hospital, Wales
Soft surfaces installed this wetpour and artificial turf surface. Take a look at the video below to see the full project from start to finish and see how the outcome looked.
Video Transcript
Hi guys it's Dan here, and today we're going to be showing you a Wetpour & Artificial Grass Installation at Hillview Hospital, Wales
So for this job we were contacted by this hospital who had an outdoor terrace area that they were looking to have a new surface installed on.
They made it clear to us that they were looking for a surface type well suited to our unpredictable weather conditions, whilst wanting the ensure the new flooring looked appropriate for the hospital.
We explained that an artificial grass and wetpour combination could be perfect for them, due to the following benefits:
Firstly, wetpour is an outdoor rubber surface type excellent for our more rainy months. This is because rubber will soak up large amount of the rain, reducing the chance of flooding.
Wetpour is also one of the leading outdoor safety surfaces you can have fitted, as it's rubber credentials absorb falls and trips fantastically, keeping those on the surface safe.
Additionally, with the artificial grass we fit for this job, this is a surface type that's almost entirely weatherproof, giving the appearance of natural grass but with an added durability.
This is great for areas looking to have a natural looking surface that removes the need for traditional grass maintenance.
Here at Soft Surfaces Ltd we've been installing both rubber wetpour and synthetic grass nationwide for over 20 years now, and are proud to have become market leaders for this. So whatever size job you're looking to have completed, please do get in touch.
You can see now that the installation of the surfaces are fully complete, and looks great on their outdoor terrace. The hospital was really pleased with the work we did for them.
Although we do work nationwide, we've also done lots of work throughout Wales and we now rank in Google for these keywords:
Wales Synthetic Turf Specialists
Best Playground Flooring in Wales
Wales Fake Grass Surfacing
Expert Play Area Company in Wales
Wales 3G Turf Surface Installers
and even more.
So thanks a lot for watching guys, and to contact us today please just visit www.softsurfaces.co.uk or give us a call on 01625 445 760.
Contact Our Team
Thanks a lot for watching, and we'll see you guys later.
If you'd like some more information about wetpour rubber surfacing we can install for nurseries and schools, feel free to contact us.
We can discuss the costs and different designs we offer for these areas. Just let us know what you're looking for and we'll get back to you as soon as possible.
Get expert advice,
today call us on
Get a FREE quote from our award winning team