Wetpour Flooring and Artificial Grass Installation
at a School in Worthing, West Sussex
Wetpour and Fake Turf are great solutions for UK play areas for a variety of reasons. Check out our blog post for more.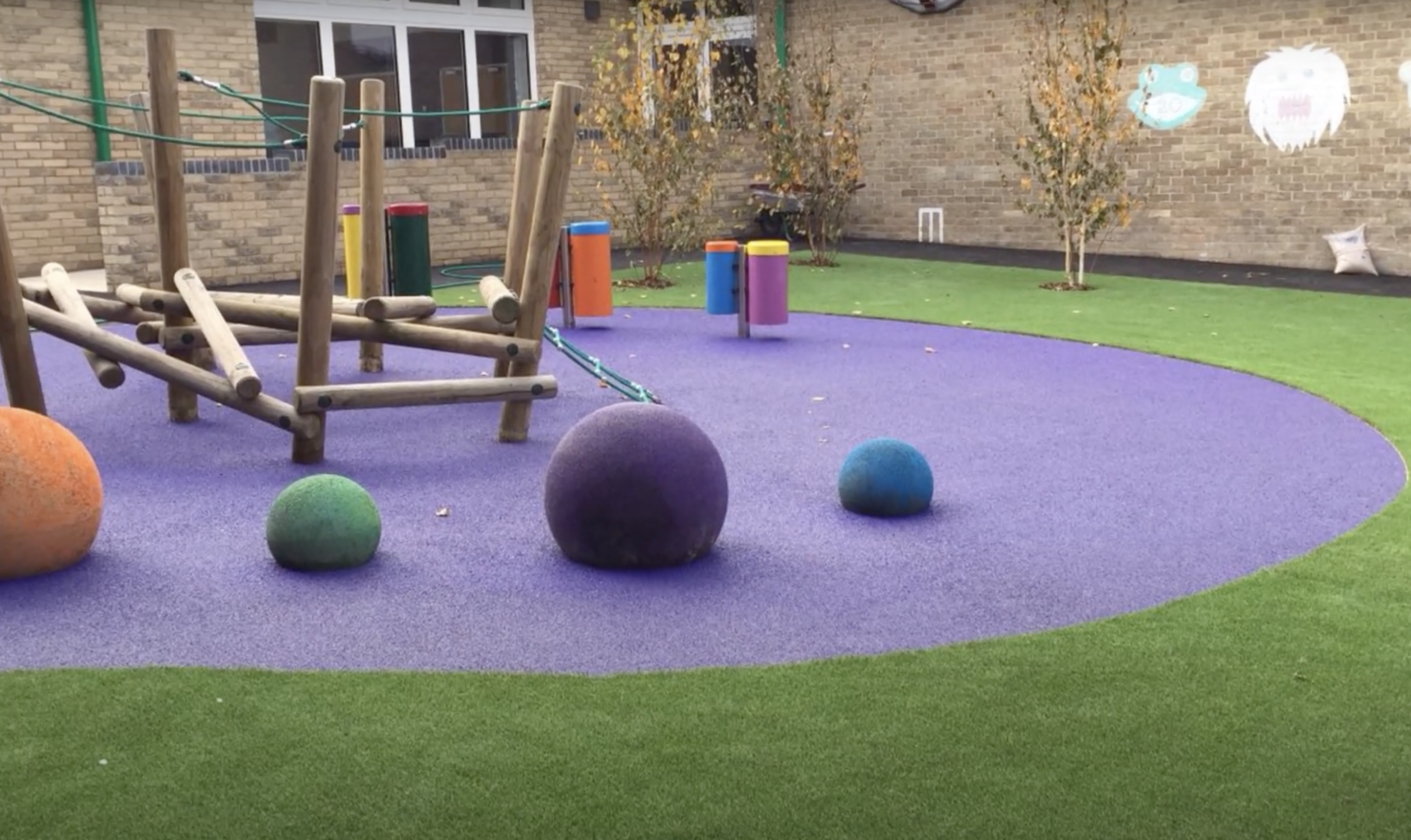 What was the specification? : Wetpour and Artificial Grass Surfacing
What colours were used? : Purple, Green
What was the size of the job? : 20m x 20m
How long did the job take? : 3 days on site
Wet Pour Surfacing and Synthetic Turf Construction in Worthing, Sussex
Our team here at Soft Surfaced fitted this playground surfacing with artificial grass surround at a school in the south of the UK. Take a look at our video below for more info:
Video Transcript
Hi guys it's Dan here, and today we're going to be showing you a Wetpour Flooring and Artificial Grass Installation at a School in Worthing, West Sussex.
Schools and nurseries throughout the UK often have a difficult time picking the perfect outdoor surfaces for their facility, with so much choice for surface types, as well as which company is ideal for their needs.
Here at Soft Surfaces, we have over 20 years of experience in the surfacing industry, and have teams spread across the country, saving clients from paying unecessary travel fees as part of the work.
We're proud to have become market leaders at installing and maintaining numerous surface types nationwide, including the flooring options we fitted for this job: wetpour and artificial grass.
Wetpour is our most popular play area surface type, and it's rubber qualities make it both extremely safe, and also porous, perfect as an outdoor playground flooring here in the UK.
We can also fit wetpour is practically any colour specification you can imagine, and we can even install bespoke graphics to the surface itself.
Additionally, the artificial grass we fit offers an extremely natural look, but without the need for traditional maintenance, and is a great for schools and nurseries due to there being no muddy shoes going in and out of the facility.
You can see from these photos here that the job has been completed, and looks brilliant. This school was so happy with what we were able to do for them.
Despite working nationwide, from carrying out a lot of jobs in the West Sussex area we now rank in Google for these keyphrases:
EPDM Safety Surfaces West Sussex
West Sussex Synthetic Turf Installers
Best Rubber Playground Company Worthing
West Sussex 3G Surfacing Experts
Rubber Safety Flooring in West Sussex
and even more.
So to find out more about the surface types we offer, or to enquire today, simply visit our website at www.softsurfaces.co.uk, or give us a call at 01625 445760 and our team with get back to you right away.
Contact Our Team
If you'd like some more information about wetpour rubber surfacing we can install for nurseries and schools, feel free to contact us.
We can discuss the costs and different designs we offer for these areas. Just let us know what you're looking for and we'll get back to you as soon as possible.
Get expert advice,
today call us on
Get a FREE quote from our award winning team