Wetpour Mini Golf Course Installation
in Market Deeping, Lincolnshire
Wetpour surfacing is great for mini golf courses and playgrounds across the nation.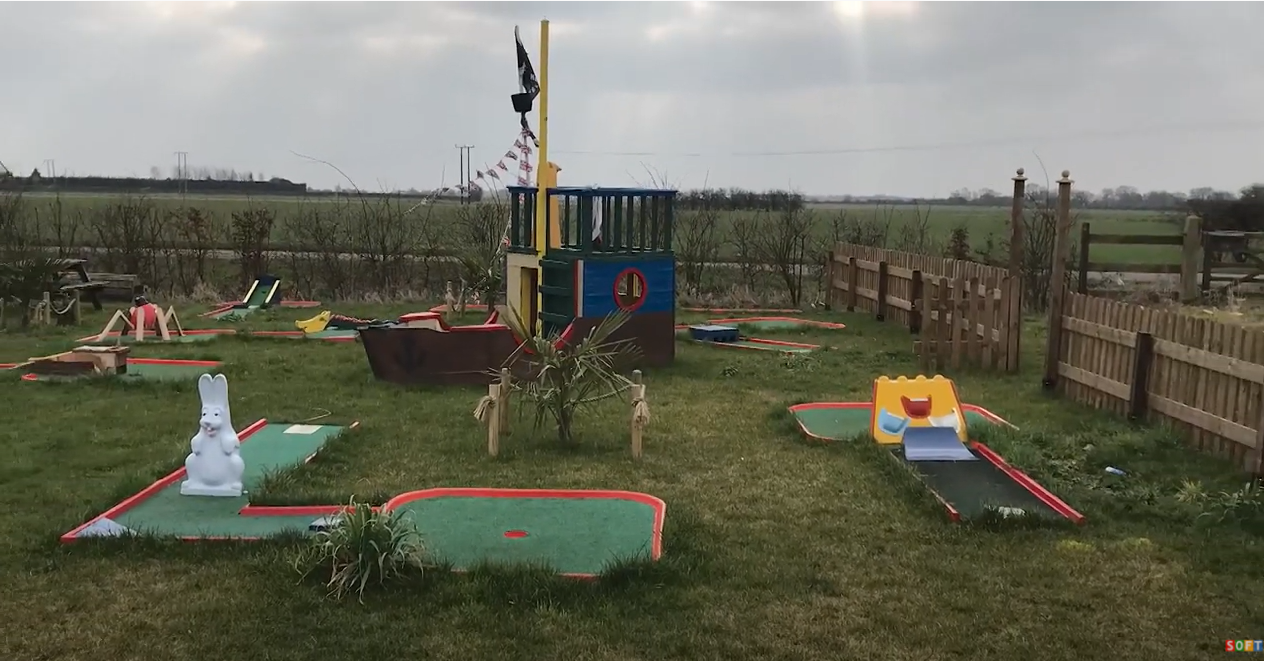 What was the specification? : Wetpour
What colours were used? : Green
What was the size of the job? : m²
How long did the job take? :  days on-site
Wetpour Mini Golf Course Installation in Market Deeping, Lincolnshire
Soft surfaces installed this Wetpour mini-golf course surface in Market Deeping, Lincolnshire. Take a look at the video below to see the full project from start to finish and see how the outcome looked.
Video Transcript
Hi guys it's Dan here, and today we're going to be showing you a Wetpour Mini Golf Course Installation in Market Deeping, Lincolnshire.
So for this job, we were contacted by the owner of this area interested in having a mini golf course installed at their facility.
For works such as these, it's crucial that the surface type you opt for is perfect for the area it's being installed at, and for this outdoor mini golf course we had the perfect solution: wetpour.
Wetpour surfacing was the best surface choice for this crazy golf surface as it's rubber build up makes it porous, capable of soaking up rain across the year.
This is why wetpour is so popular as an outdoor flooring choice here in the United Kingdom, as we're known to get our fair bit of rain each year.
Additionally, because wetpour is made up of a spongy rubber surface, its actually one of the safest flooring types you can have fitted, even meeting the critical fall height requirements for UK play areas.
So for areas such as this crazy golf surface where children will be making use of the area regularly, wetpour is a perfect choice for peace of mind.
And finally, we can fit wetpour in practically any colour choice imaginable, with the ability for custom graphics to be fitted to the flooring as well.
We've been installing outdoor wetpour surfaces nationwide for over 2 decades now, and no matter what or where the job, we can help.
You can see from these images here that the mini golf course has been fully installed, and looks tremendous as their new surface. The client was so happy with they was their course turned out.
Although we do work nationwide, as we've done plenty of work in the Lincolnshire area we now rank in Google for these keyphrases:
Wetpour Specialists in Lincolnshire
Mini Golf Course Installers UK
Lincolnshire EPDM Safety Surfaces
UK Crazy Golf Course Company
Lincolnshire Mini Golf Surfacing Experts
and more.
So thanks again for watching our video, and if you are interested in any of the services that we provide, please feel free to get in touch with us at www.softsurfaces.co.uk or give us a call on 01625 445760.
Contact Our Team
Thanks a lot for watching, and we'll see you guys later.
If you'd like some more information about wetpour rubber surfacing we can install for nurseries and schools, feel free to contact us.
We can discuss the costs and different designs we offer for these areas. Just let us know what you're looking for and we'll get back to you as soon as possible.
Get expert advice,
today call us on
Get a FREE quote from our award winning team