What Is
Self Binding Gravel?
Make sure to check out self-binding gravel as it's a really simple yet beautiful surface.

Self Binding gravel is a simple surface which is formed rolling specialist stone aggregate into place which binds itself into a multipurpose pathway. This is often used as a more cost effective alternative to traditional paving such as concrete and macadam.
A lot of interior and exterior products are now available in the market for various reasons. Some homeowners look for durability, affordability and visual aesthetic with self compacting gravel.
The good thing is, innovations are made to suit what consumers need. In light of this matter, we'll discuss a rising trend in soil or surface topping, self binding gravel.
An Introduction to Self-Binding Gravel
Gravel is typically used for an all-natural aesthetic in gardening, exterior landscaping and other decorative tasks. However, it doesn't stick in one place. It is kicked around, thrown into several areas because of the rain and does not hold the ground for an extended period.
This undesirable feature is considered a deal-breaker for many. Self binding gravel contains a significant amount of tiny particles. Those that are commonly found in gravel, like pebbles, that increases the cohesiveness of the surface topper. Unlike other commercial gravel that removes fine particles, self-binding gravel needs it for an effective stick. Since it is composed of tiny, numerous and fine particles, cohesion is effortless.
Although it isn't comparable to the cohesive properties of concrete, resin or bitmac surfaces, it makes a desirable option if you're looking for an affordable, low-maintenance and reusable choice. This type of surfacing is commonly chosen for paths, golf courses and public walkways. You can also find self binding gravel driveways in domestic areas.
Types and Designs
Since a lot of people discover the beauty of self binding gravel, various designs and patterns are derived to choose from. These are made to complement varied exterior finishes and appeal that a particular environment has. In this section, we'll list the most common designs for you to pick. As self binding gravel suppliers and installers we can offer a range of designs for this surface type.
1. Breedon Gravel
This Magnesian limestone paves the pathways of the Royals for its Golden Amber accent. Since gold is a colour associated with royalty, it can be utilised for pathways, driveways and patios with a golden emphasis for a highlighting effect. Its often used at stately homes, visitor attractions and other decorative areas. You can also use this gravel for a touch of royal in your home if you're looking to fancy a royal treatment.
2. Cedec Gravel
This type of self binding gravel is commonly seen on areas where a dash of red looks appealing and stunning, Cedec gravel is made up of both quartz and granite. When compared to Breedon gravel, it's chemically inert (meaning unreactive to other components) with a neutral pH. Cedec gravel is ideal for designing exteriors that have plants, especially those that are alkali or acid sensitive.
3. Deansett Gravel
Some self-binding gravel works better than other gravel types. In this case, Deansett gravel works best for car parks, driveways, running tracks, and cycle areas. It's alluring pinkish to red tone makes it a charming option for the mentioned areas.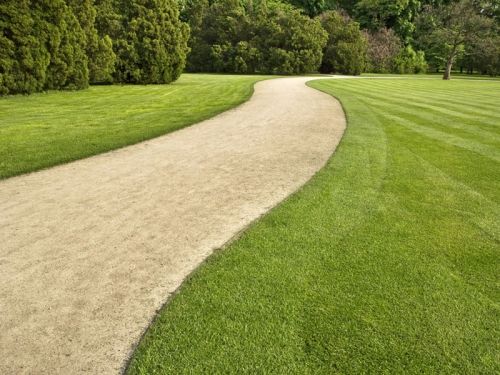 Advantages and Disadvantages of Self Binding Gravel
A self binding gravel path or driveway is a practical choice for homeowners that are looking for a cheap, low-maintenance and appealing way to beautify their gardens or exterior spaces. However, there is a difference when we say low-maintenance to no maintenance.
From time to time, make sure to eradicate weeds that are growing out of the self-binding aggregates so that it'll look clean and pristine. You can manually weed out sprouting greens, or use a shovel to scoop out an area and re-level it after.
It is a visually stunning option for homeowners that wants to achieve a minimalistic yet natural look in their surroundings.
With various colours and components, you can mix and match for a wholesome appeal. One downside of self-binding gravel is, its component can be loose that it can be tossed around, carried over and picked up from shoes to other places. As professionals would recommend some grating or matting is needed to reinforce the surface.
Frequently Asked Questions
Here are some of the most commonly asked questions about self binding gravel.
How Does Self Binding Gravel Work?
The mixture of gravel particles, gravel dust, sand and clay makes this product bind firmly when it's compacted.
All of the smaller particles within the mixture make it more cohesive compared with traditional gravel surfaces which have these fine materials removed before installation.
How Do You Lay Self Binding Gravel?
Self binding gravel has to be laid in thin layers to allow the surfacing to compact properly.
We would recommend a finished product depth of no more than 50mm. It will usually need to be laid onto an MOT type 1 sub base. It is always best to have a professional company install these surface to ensure it is completed to the correct standards.
Is Self Binding Gravel Suitable For Driveways?
Yes, self binding gravel is suitable for driveways.
It's a great alternative to some of the other driveway or garden surfacing options. The gravel binds together when it's rolled to create a self-compacted surface which stays more firm underfoot compared to traditional loose aggregate surfaces.

Contact Us
For more information on self binding gravel or for some of our other resin bound or resin bonded gravel options, please get in touch today and we will be happy to help.
Get expert advice,
today call us on
Get a FREE quote from our award winning team