Benefits of
Rubber Mulch Playgrounds

When it comes to playing area surfacing, there are so many different types of materials that you can choose from, ranging from wet pour to artificial grass. However, one type of surfacing that seems to be quite popular for playgrounds is rubber mulch.
The material is incredibly versatile and once you know the benefits this material offers; rubber play bark becomes a lot more appealing and suitable for a wide range of applications.
What is Rubber Mulch?
Rubber Mulch is a type of surface that can be installed mainly on playgrounds that are made up entirely of shredded rubber. As well as this, the rubber bark particles are bonded together with a special resin so there is no rotting, movement or loss of particles.
In addition, bonded mulch is a porous material meaning that it can dry out quickly in case it starts to rain, or water makes contact. This keeps the surface clean and dry and allows kids to carry on playing.
Another thing about this surface is that it comes bonded together to form a tightly packed material. This is different from other loose chipping surfaces as it means material won't get lost from the area leading to the need for a top-up.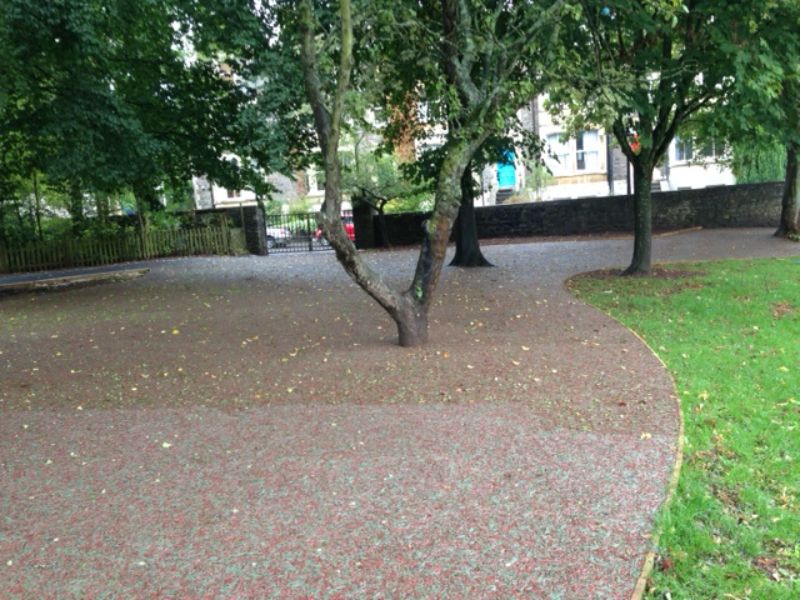 Why is Bonded Mulch Good for Playgrounds?
Bonded Mulch offers many major benefits to playgrounds, which can reflect a positive image to the community. These benefits include:
Eco-friendly – The mulch is made up of shredded recycled rubber, meaning the material isn't harvested in a damaging way.
Cost-effective – When it comes to installing the surface, minimal groundwork preparation is required, in addition to no edging needing to be installed. It can also be overlaid on existing surfaces without interfering with drainage systems.
Range of depths – It can be installed at the correct depth to suit the Critical Fall Height (CFH) of any play equipment in the area.
Looks natural – Every piece of shredded rubber is unique, giving it a natural appearance; it stays in place as it prevents material spread to surrounding areas.
Absorbs impact – Mulch provides a soft impact in case anyone falls over on the surface, reducing the risk of injury to kids if they fall off any equipment.
Porous – The surfacing is permeable as if installed on a free draining sub-base allows the surface to dry out quickly, keeping the whole surface clean and dry.
Flexible – It can easily be installed around play equipment, on mounds and gradients, putting less stress on the installation process.
Usable in all weather – Rubber mulch is an anti-slip surface, keeping playground safety high and making sure children don't end up hurting themselves. The porous properties also prevent flooding and puddles in the area.
Minimal maintenance – The particles within the material are bonded together with a special resin, eliminating movement, loss of particles or rotting. Bare patches are also prevented in areas of high activity.
Rubber Play Bark Safety Surfacing
As mentioned before, rubber play bark is well-known for being one of the safest surfaces you can install on a playground. The flooring type complies with play regulations, including BS EN 1177 and British and European standards. Have a look at this post to see some of the different designs you might see for this surface.
Following this, the rubberised bark surfacing is incredibly soft. If a child does fall on this surface, the likelihood of an injury occurring is far lower compared to other hard surfaces like tarmac. It will be able to absorb the impact and prevent the child from feeling most of the pain.
Unlike other types of surfacing like wet pour, mulch can be applied directly onto grass. This is great for playgrounds which are located on grass and can't have wet pour applied to them due to that fact. Bonded mulch can make many playgrounds safer.
Another good point to keep in mind is how it can be applied around equipment. Some pieces of equipment might be quite difficult to reinforce with safety surfacing. However, this product is incredibly flexible, so it can be fitted in places that other surfacing options might miss.
School Play Area Mulch
Rubber play bark is an incredible safety surface and most playgrounds could really benefit from it. Aesthetically pleasing whilst also being incredibly safe, kids can not only feel reassured about the surface but enjoy the rustic appearance. Visit this RoSPA page to find out more about safe play areas.
If you have any questions about the specification or wish to get a quote, then send us an enquiry today! Soft Surfaces have been involved in the surfacing industry for over 20 years meaning the advice we give you is some of the best and most professional in the industry.
Our team will work to meet your standards and plan so there is no need for you to worry about the construction. Bonded mulch doesn't take long either so there should be no worries about damage to the playground for a while.
Get expert advice,
today call us on
Get a FREE quote from our award winning team