Rubber Mulch Trim Trail Installation
in Nottingham

At Soft Surfaces, we're a specialist installer of Rubber Mulch Trim Trails in Nottingham and are able to fit this surface across the entire East Midlands areas.
Post installation our team can offer rubber mulch trim trail repairs for existing Rubber Mulch Trim trails within this location, so if you currently have a rubber mulch trim trail surface that needs either resurfacing or rejuvenating, feel free to contact us.
For this post in particular we show off one of  our rubber mulch trim trail installations that we carried out in Nottingham.
Below you can see the specific information for this particular install, as well as the video transcript describing the job in detail.
If you are interested in any of our rubber much trim trail services we offer throughout Nottingham, feel free to get in touch with us for a free no obligation quote today.
Rubber Mulch Trim Trail in Nottingham Case Study
What was the specification? : Rubber Mulch surfacing
What colours were used? : Green and Red
What was the size of the job? : 230m²
How long did the job take?: 3 days on site
Rubber Mulch Play Surfacing Installation
Check out our video below to see the seam installing rubber mulch playground surfacing in Nottingham.
Video Transcript
Hi guys it's Dan here, and today we're going to be showing you a Rubber Mulch Trim Trail Installation in Nottingham.
So the client came to us for this job interested in having a new surface fitted for their outdoor play area, and when we explained the surface types we can offer them, they got us booked in to complete the work.
For this particular install, we fitted a rubber mulch trim trail surface. Here at Soft Surfaces we've been installing this flooring nationwide for over 2 decades now, and are proud to have become market leaders over that time.
Rubber mulch is a surface made up of recycled rubber, and as a playground surface has many benefits, including:
Rubber mulch is a fantastic safety surface as a result of it's rubber qualities, and our installations meet the critical fall height requirement needed for playgrounds within the UK. So overall, rubber mulch is an extremely safe surface.
Benefits of a Rubber Mulch Trim Trail in Nottingham
Having a resin bound surface installed in the Nottingham area has many benefits, these include the following:
Low Maintenance
Due to the fact that rubber mulch takes so long to breakdown, it is common for a rubber mulch surface to look the same a whole decade apart with next to no maintenance needed. Of course this is completely dependent on your spending the money on a quality surface and installation as some cheaper died mulches might fade over time. If you opted with an organic mulch surface you would have to change the surface every year or two, so you will end up saving a lot on money by opting for a rubber mulch trim trail in Nottingham.
Insulates well
If you want to protect your plant's roots from heat and dehydration, rubber mulch is definitely something you should consider, as well as in the winter rubber mulch protects them from frost etc. However we also make sure to recommend clients to not choose a dark rubber mulch colour when living in a hot climate, this is because the rubber mulch absorbs heat and can often overheat the soil.
Increases Safety in Play Areas
The biggest advantage of rubber mulch is that it protects children from falls from high places in play areas. Another advantage for parents is that rubber mulch is clean, so it wont stain your kids clothes, in addition rubber mulch stays in place so your children won't be dragging it through the house after playing in the play area all day.
Other areas we install Rubber Mulch Trim trails
At Soft Surfaces, we're able to install Rubber Mulch Trim Trails throughout the Nottingham area, including the following areas:
Rubber Mulch Trim Trails in Derby
Rubber Mulch Trim Trails in Sheffield
Rubber Mulch Trim Trails in Leicester
Rubber Mulch Trim Trails in Lincoln
Rubber Mulch Trim Trails in Mansfield
More Info on Rubber Mulch Trim Trails in Nottingham
Additionally, rubber mulch can be installed in multiple colours, which include green, brown or a mixed blend of the two. All finishes are designed to look natural, and can be specified by you during the enquire stage.
Finally, as rubber mulch is made up of recycled rubber, it's actually a very eco friendly option for your new playground surface.
We can plan the entire installation out with you via email or on the phone, so if you are interested, please feel free to get in touch.
You can see now that the job has been installed, and the client love their new play area surface. They went for this mixed finish, which looks great around their grass.
Despite being a nationwide company, we've done lots of work in the Nottingham area and as a result we rank in Google for these keyphrases:
Nottingham Playground Surfacing
Rubber Mulch Installers in Nottingham
Best Play Area Company in Nottingham
Nottingham Rubber Mulch Specialists
Playground Safety Flooring Nottingham
And more.
So thanks for watching this video, and to enquire today please contact us at www.softsurfaces.co.uk or give us a ring at 01625 445 760.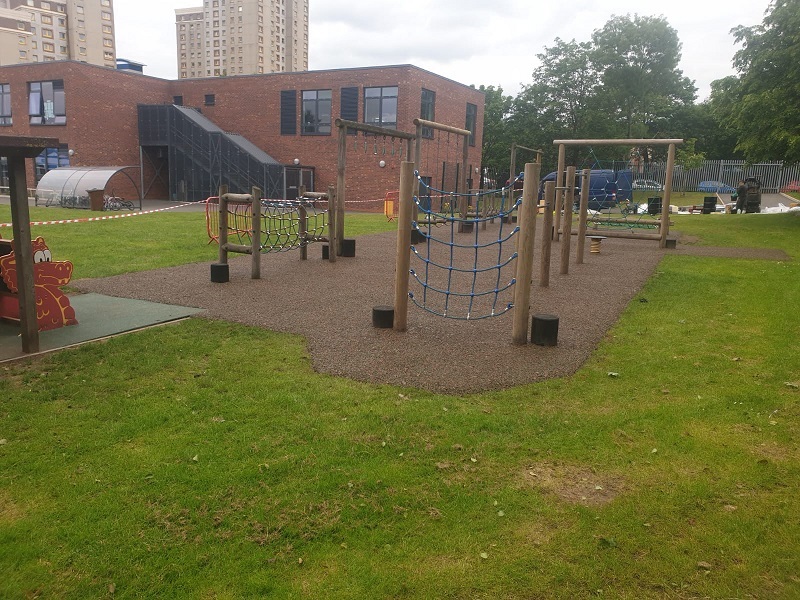 Get in Touch
Feel free to speak to our team if you're interested in having rubber mulch surfacing for your playground.
We'll get back to you as soon as possible with more information on the prices and different designs we can offer.
Get expert advice,
today call us on
Get a FREE quote from our award winning team