Rubber Mulch Trim Trail Installation
in Nottingham

What was the specification? : Rubber Mulch surfacing
What colours were used? : Green and Red
What was the size of the job? : 230m²
How long did the job take?: 3 days on site
Rubber Mulch Play Surfacing Installation
Check out our video below to see the seam installing rubber mulch playground surfacing in Nottingham.
Video Transcript
Hi guys it's Dan here, and today we're going to be showing you a Rubber Mulch Trim Trail Installation in Nottingham.
So the client came to us for this job interested in having a new surface fitted for their outdoor play area, and when we explained the surface types we can offer them, they got us booked in to complete the work.
For this particular install, we fitted a rubber mulch trim trail surface. Here at Soft Surfaces we've been installing this flooring nationwide for over 2 decades now, and are proud to have become market leaders over that time.
Rubber mulch is a surface made up of recycled rubber, and as a playground surface has many benefits, including:
Rubber mulch is a fantastic safety surface as a result of it's rubber qualities, and our installations meet the critical fall height requirement needed for playgrounds within the UK. So overall, rubber mulch is an extremely safe surface.
Additionally, rubber mulch can be installed in multiple colours, which include green, brown or a mixed blend of the two. All finishes are designed to look natural, and can be specified by you during the enquire stage.
Finally, as rubber mulch is made up of recycled rubber, it's actually a very eco friendly option for your new playground surface.
We can plan the entire installation out with you via email or on the phone, so if you are interested, please feel free to get in touch.
You can see now that the job has been installed, and the client love their new play area surface. They went for this mixed finish, which looks great around their grass.
Despite being a nationwide company, we've done lots of work in the Nottingham area and as a result we rank in Google for these keyphrases:
Nottingham Playground Surfacing
Rubber Mulch Installers in Nottingham
Best Play Area Company in Nottingham
Nottingham Rubber Mulch Specialists
Playground Safety Flooring Nottingham
And more.
So thanks for watching this video, and to enquire today please contact us at www.softsurfaces.co.uk or give us a ring at 01625 445 760.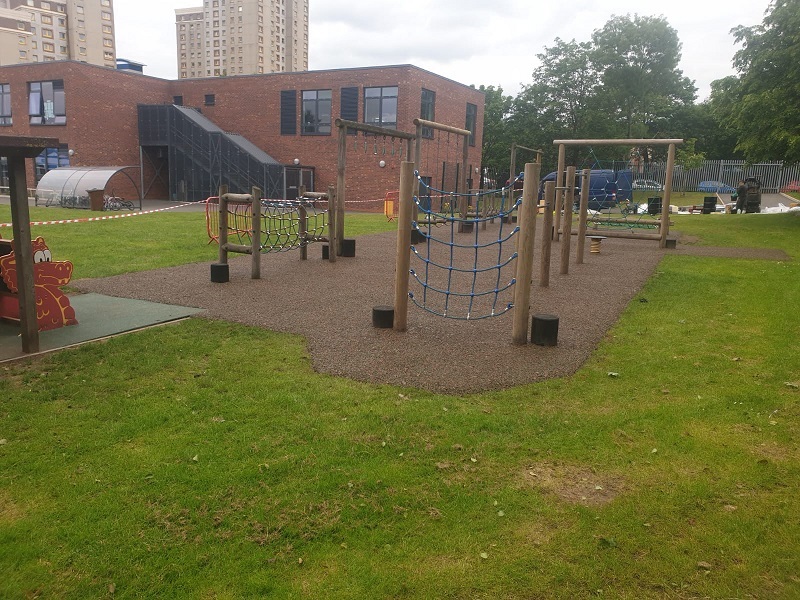 Get in Touch
Feel free to speak to our team if you're interested in having rubber mulch surfacing for your playground.
We'll get back to you as soon as possible with more information on the prices and different designs we can offer.
Get expert advice,
today call us on
Get a FREE quote from our award winning team