3 Reasons to Build Dual Use MUGA
Ball Court
Dual Use MUGAs provide a facility with a versatile sports court that allows for a number of sports to be played on the surface.

Multi or dual-use games areas are a popular sports facility for schools, colleges, sports clubs, and leisure centres in the UK. These versatile sports areas can be especially line marked so a number of different sports including football, netball, and tennis can be played on them. This makes them perfect for adding variety to the sports facility at your organisation.
Why Install a Dual Use MUGA Ball Court?
Outdoor multi use games areas can be constructed in a number of different types of surfacing including porous macadam, artificial grass and polymeric rubber, each different surface can be installed to suit individual projects and specifications to give you the best facility possible. There are a number of reasons why installing a multi-use sports area would be a great idea.
1. MUGAs Save Space
Having a single sports surface with the capacity to house a number of sports through a range of different coloured sport line markings is a fantastic way of saving space if you haven't got a lot of land and can't build a separate area for each sport. School all-weather MUGAs are perfect for this if you want to provide a range of sports that children can play.
2. Lower Maintenance Costs
One of the beauties of having only one surface to play a multitude of sports on is that there is only one surface to clean and maintain. This cuts down on the physical labour of having to maintain different courts. It therefore lowers the costs of potential repairs or resurfacing jobs. These may need carrying out if the surface becomes damaged or worn out.
3. Encourage Variety
If a school or sports club does not have the space to build separate facilities for individual sports, a dual-use ball court area is a great alternative. This is a simple way of getting kids into playing a variety of different sports all in one place.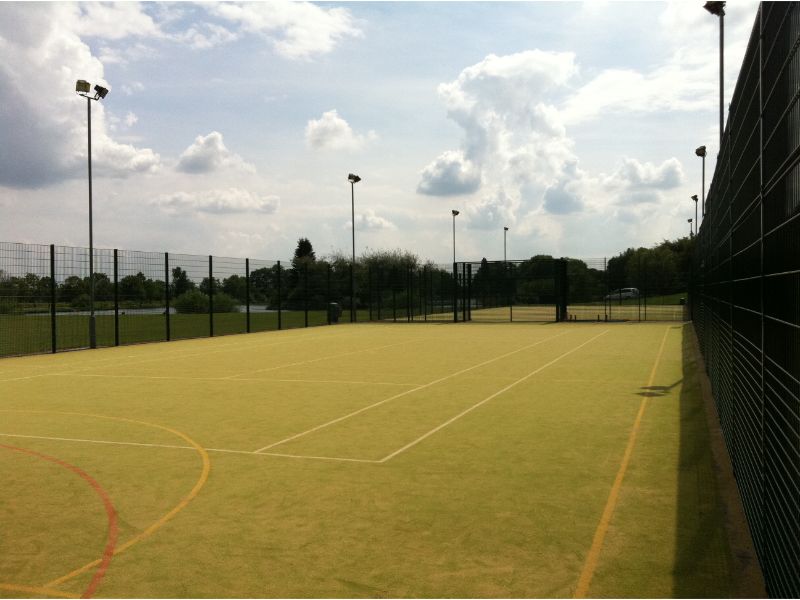 For example with a multi use games area children could participate in sports such as:
Netball
Hockey
Football
Tag rugby
Basketball
Tennis
The sports would all be available in one place meaning there is no need to install a separate court for each one. You also won't have to choose just one or two sports to play.
Dual Use Sport Surface Installers
Soft Surfaces Ltd are industry leaders in the installation of MUGAs and ball courts. We can tailor your project to the individual specifications and requirements of your organisation. Our experienced staff will be on hand to assist you with every stage of your sports pitch surfacing project. From quote to completion, we aim to give you the best service and a top quality and professional end result.
If you would like any further information about dual use MUGA ball courts or any of our other products or services, please visit https://www.softsurfaces.co.uk/ and if you would like to submit an enquiry please fill in the contact form and we will get back to you with further details regarding quotes and pricing.
If this information was helpful to you, please don't hesitate to share it. Also be sure to leave us a nice comment below, thanks!
Get expert advice,
today call us on
Get a FREE quote from our award winning team