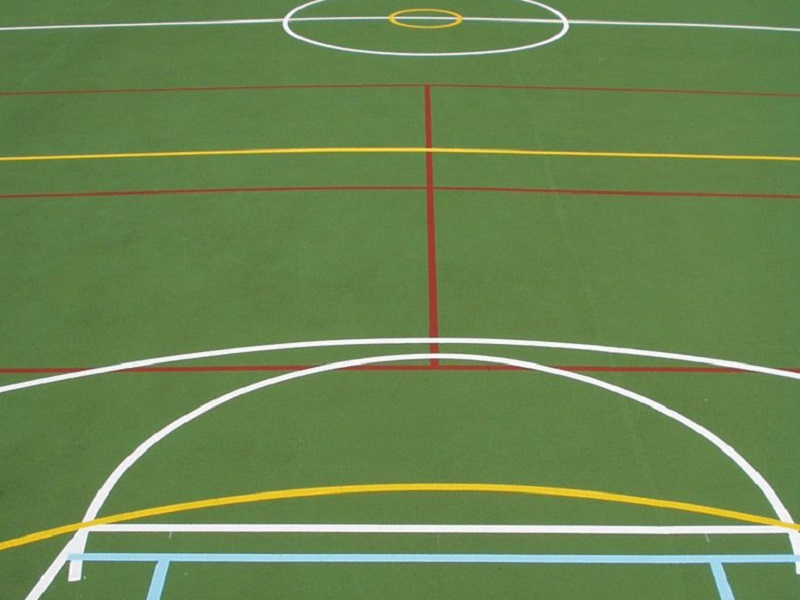 We offer a huge range of different possibilities when conducting multi-use games area installation. A MUGA installation allows you to play a variety of different sports all on one surface. This is an ideal facility for schools that don't have access to a large area of land. When having a multi use games area installed, we understand that it could be a stressful time. This is why we will talk you through the wide range of different designs and specifications that you can have. We want to ensure that our clients can receive a facility that meets not only their requirements but their budget.
Specialist Sports Pitch Installation
There are a lot of specialist services concerning sports flooring surfaces which we will undertake throughout the country. We are able to carry out thorough construction of all new MUGAs, man-made turf areas, tennis courts and many similar surfaces. Our specialist contractors work with colleges, sports clubs, leisure spaces, and residential property. We aim to create multipurpose and high-quality recreation areas.
Unnatural pitches, tarmacadam sports flooring and EPDM material are amongst the recreation surface choices that our team often put in for assignments. Tarmac is known as a permeable surface choice. It's made from stones mixed with hot tar which is applied onto the area leaving a hard court. Rubberised EPDM surfaces will usually put on to a macadam lower layer as a combination of EPDM granules and polyurethane glue.
All these court specifications are available in different designs based upon the client's standards. Our installers may also use a layer of anti-slip paint on the rubber and tarmac surfacing types to improve playing qualities. The synthetic turf floor types we build vary from 3rd generation manufactured turf to sand filled turf and woven flooring surfaces. The third generation flooring style is an ideal choice for rugby and football. Sand filled turf is perfect for playing hockey as well as tennis. However, the needlepunch specification may be used for multi-purpose features.
Building a MUGA Pitch
We shall provide you with a personalised sport surface design pertaining to your recreational surface building which satisfies the different sports you wish to participate in. A dynamic stone foundation will often be established to begin with to be a robust platform with solid court surfaces. After this, a layer of tarmacadam will most likely be applied in the form of a foundation or as being the completed surface if this is the identified design. We'll then apply the polymeric rubber surface while using the asphalt as a sturdy base for the polymeric surfacing.
With synthetic turf surfaces, the stone groundwork and tarmacadam can also be installed to start with to give the court surface a durable structure. Once we install the first layer is successful, we'll then apply the synthetic turf and glue it down to the tarmacadam with specialist adhesive. We'll then install silica sand or rubber granule infill onto the synthetic turf surface. It's all depending upon the desired design of carpet for that certain area.
The solid surfacing types are popular in establishments like schools, leisure organisations and clubs in several areas. We supply an expert colour coating service for these surfaces which helps to further improve the safety features and playing characteristics. An installation of coloured non-slip coating can be dispersed on the sports surface, these can come in an assortment of design options to go well with every facility.
These particular professional colouring applications contribute further grip and traction on the sports surface. This also helps increase gameplay which will help prevent accidental injuries. We can apply expert sports lines onto the facility in a different colour choice. This helps to make sure they are precise and clear. These particular sport markings offer the facility distinct and easy to see markings for any sports you desire to play. If you have any questions about MUGA specifications, please complete the contact form.
MUGA Surfacing Construction
When conducting MUGA surfacing construction, you have the freedom to choose the surfacing type of your facility. We provide a wide range of different surfaces that can help create the perfect facility for you.
Macadam – This surface type is an extremely durable product. This means that it may be used all year round with very little maintenance required for the tarmac to keep its performance characteristics. Macadam is a popular surface type for tennis, netball and basketball.
Artificial Grass – This product is great for facilities that will be playing a lot of hockey and football depending on the specification of artificial grass you require. 3G surfacing is a better choice for football but also makes playing rugby possible.
Polymeric Rubber – Similarly to the macadam, this surface type is highly durable and porous, allowing for a lot of extended use. We also offer an anti-slip paint coating for this facility that will help improve the overall performance and safety characteristics due to the added grip. This surface is perfect for sports such as tennis, football and basketball. This facility is arguably one of the most versatile for multi-use games area installation.
This video below shows a multi-use games area installation for a project in Cheshire. We completed the full construction including groundworks, sub base, surfacing and anti-slip paint application. The client chose a versatile macadam surface with acrylic non-slip paint in green with white and yellow line markings for different sports.
MUGA construction could be a daunting task to undertake. With our expert knowledge, we will make sure that all of our clients receive a facility that they are 100% happy with. Once your sports surface has been built, we can also offer services for maintenance and repairs to the MUGA later on in its lifetime if it becomes worn out or damaged. We believe that every school should have a safe and functional facility. We always try to make sure it fits within their budget that can improve the health of all their students.
Get In Touch
Please use our contact form to get in touch with us if you'd like any further information on MUGA installation and surfacing options. We are able to supply prices and quotes for the work to suit various budgets. We'll also provide design specifications and case studies of our previous construction projects.
Get expert advice,
today call us on
Get a FREE quote from our award winning team