Polymeric MUGA
in Cheltenham, Gloucestershire

At Soft Surfaces, we're a specialist installer on Polymeric MUGA surfacing in Cheltenham, Gloucestershire and are able to fit this surface nationwide.
Post installation, our team can take care of polymeric MUGA repair services for existing polymeric surfaces within this location, so if you currently have a polymeric surface that needs either resurfacing or rejuvenating, feel free to get in touch with us today.
For this particular blog post, we show off one of our polymeric MUGA installation that we carried out in Cheltenham, Gloucestershire.
Below you can see the specific information for this install, as well as the vide transcript describing the job in detail.
As always if your interested in any of our polymeric MUGA services we offer throughout Cheltenham or the entire Gloucestershire area, feel free to get in touch with us for a free, no obligation quote today.
Polymeric MUGA Surfacing in Cheltenham, Gloucestershire Case Study
What was the specification? : 13mm Structural Spray Polymeric
What colours were used? : Light/Dark Green, Light/Dark Blue & Black
What was the size of the job? : 690m²
How long did the job take?: 1 week on site
What sub base was used? : Open Textured macadam
Polymeric Sports Court
The video below shows the process of resurfacing an old macadam sports court with a polymeric structural spray finish.
This was a multi-coloured design including brand logo for our client.
Video Transcript:
Hi guys, it's Dan here. And today I'm going to be showing you a polymetric MUGCA pitcher resurfacing that we carried out in Cheltenham, Gloucestershire. So previously the surface was a damaged, worn time macadam surface, that it actually reached a point of becoming dangerous to use day to day. This client specified that they wanted a new surface, that brightened up the area with the ability for multiple sports to be played at that facility. They gave us a call and we got to work.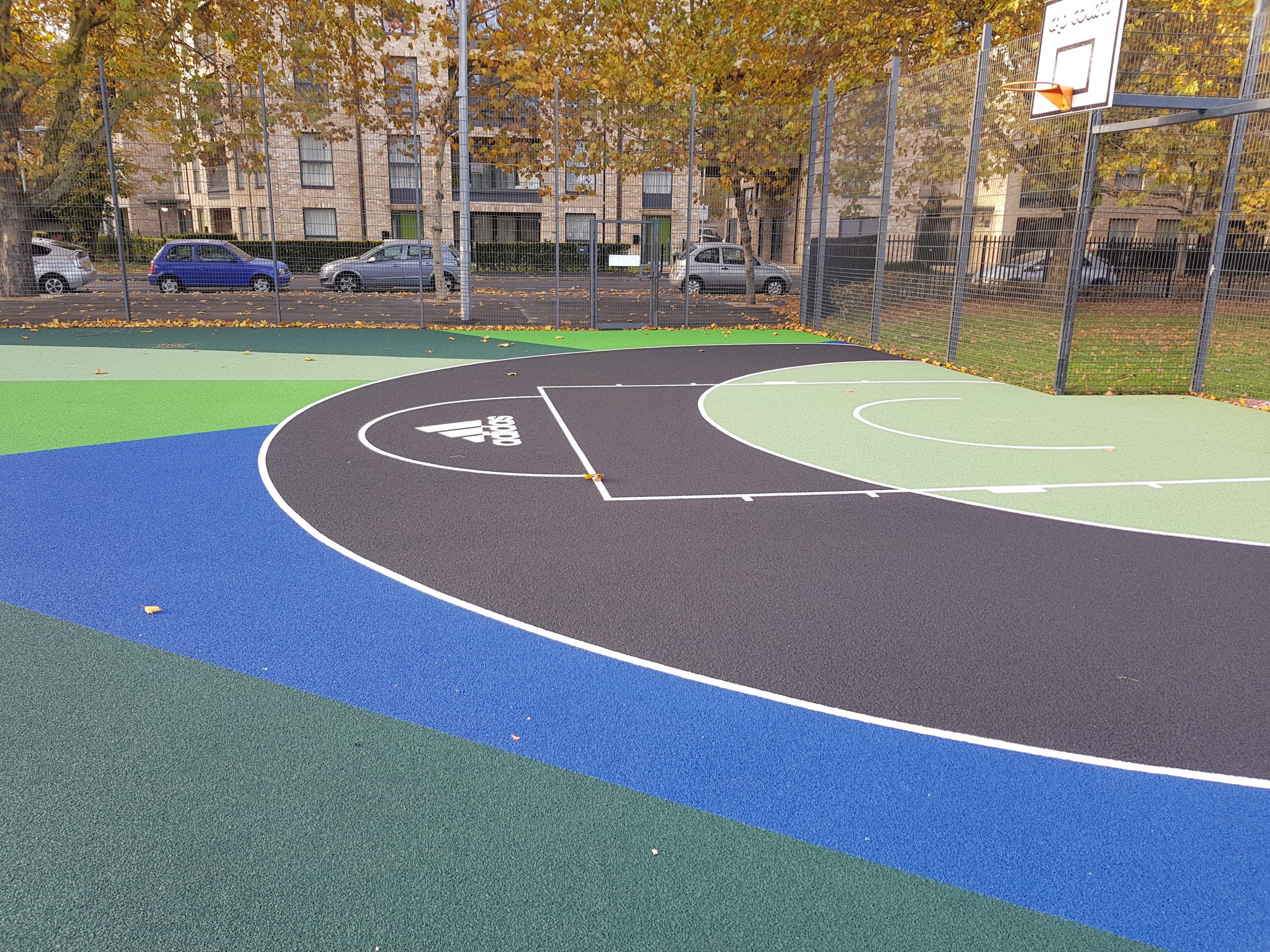 After running through the many servicing options that we have available for the client, it was mutually agreed that rubber polymetric multi-use games area will be the ideal surface for them. This surface type boasts have many benefits, one of which being that this surface type is fantastic for sports such as tennis, football, basketball, netball, and athletics. The client was able to specify which line markings they wanted us to apply. And we carried out the work once the surface was fitted.
Additionally, polymetric surface types can be specified in an almost endless list of colour combinations. And this durable flooring is even porous, which makes it fantastic for use in all seasons here in the UK. Our team at Soft Surfaces have over two decades worth of experience, installing, maintaining, and resurfacing sports surfaces across the UK. And there truly is no job too big or too small for us. So please feel free to get in touch today for a free quote.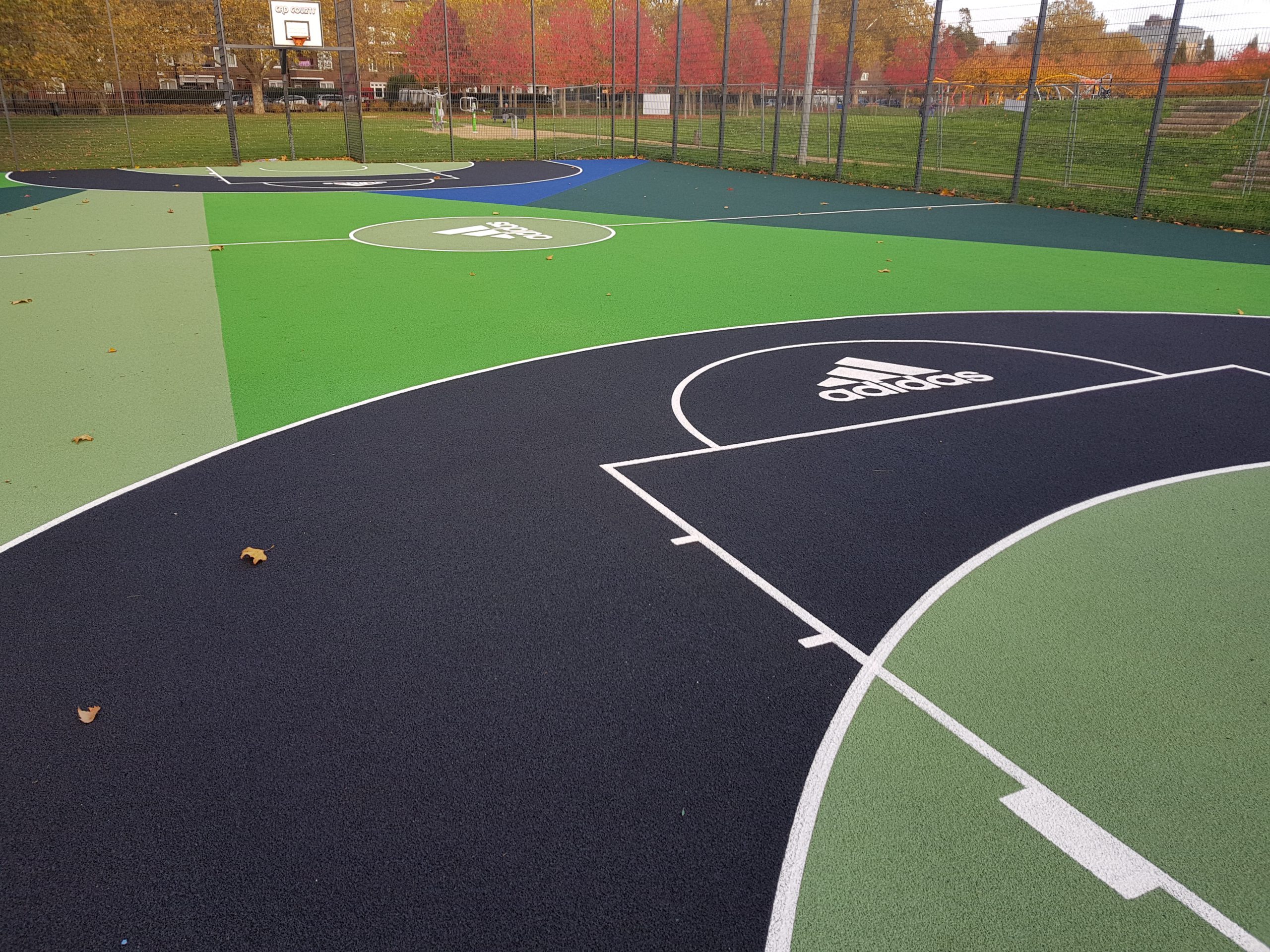 So as you can see, now the job has been completed and the client was amazed at how the surface transformed the entire area. As you can see, we apply the relevant line markings they requested, and they were over the moon with the quality of the surface itself. Here at Soft Surfaces, we're a nationwide company. We've carried out a lot of work in the Gloucestershire area. And because of this, we rank in Google for these keywords, Gloucestershire sports pitch maintenance, best company for multi-use games areas Cheltenham, expert sports surface repair Gloucestershire, Cheltenham football pitch installers, colourful sports surfaces in Gloucestershire, and even more than that.
Benefits of Polymeric MUGA in Cheltenham, Gloucestershire
Having a polymeric surface installed in the Cheltenham, Gloucestershire area has many benefits, these include the following:
Low Maintenance
It is very common for polymeric surface to last many years without needing a rigorous maintenance schedule or respraying.
Impact Absorbent
The surface is designed to reduce impact on the players joints while playing sports. The surface is also designed to reduce the risk a major injury when falling on the surface.
All Weather Surface
The surface is suitable for all weather types due to its porous nature, the surface effectively drains away rain water meaning you don't have to worry at all about rain.
Polymeric Surfacing Applications in Cheltenham
Many of our clients are often interested in what types of surfacing polymeric can actually be used for, and the truth is that it is a very versatile flooring type.
To give some examples, here are some of applications that polymeric can be used for in this area:
Polymeric Sports Surface Cheltenham
Polymeric Sports Court Cheltenham
Polymeric Tennis Court Cheltenham
Why Choose Us?
At Soft Surfaces our team have over 25 years of experience installing polymeric surfaces in Cheltenham as well as across Gloucestershire .
The team pride themselves on only using the highest quality materials for our works, and our professional, hard working installers will work relentlessly to ensure your Cheltenham polymeric MUGA looks brilliant no matter the specification you desire.
Our team can also take care of the maintenance of your surface once installed too, making the process of caring for your new polymeric MUGA surface a clean and smooth experience. Feel free to get in touch with us if this is something you would be interested in, and a member of our team will get back to you right away.
Other Buckinghamshire Areas we Install Polymeric MUGAs
At Soft Surfaces, we are able to install polymeric surfacing throughout the Gloucestershire area, including the following areas:
Polymeric MUGA installation in Aylesbury
Polymeric MUGA installation in Buckingham
Polymeric MUGA installation in High Wycombe
Polymeric MUGA installation in Marlow
Polymeric MUGA installation in Chesham
Contact us Today
If you would like a polymeric MUGA installed in Cheltenham, please make sure to speak to us using the contact form provided.
We can offer information on designs, colours and prices along with advice on preparation works and much more.
Thank you for taking the time to look at our case study, and for any more questions, please get in touch with us today.
Get expert advice,
today call us on
Get a FREE quote from our award winning team