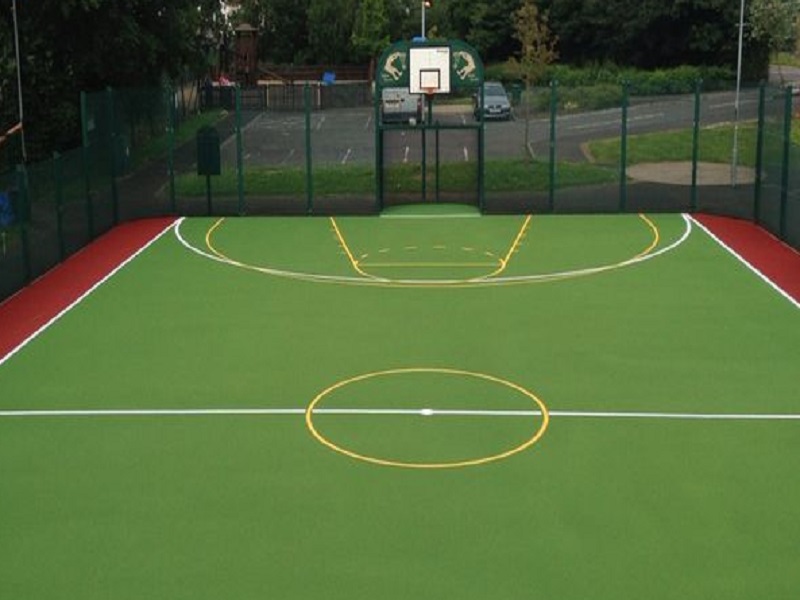 We construct and install all purpose sports facilities all across the country as specialist multi use games area contractors. A lot of schools and leisure centres are now opting for artificially surfaced pitches as their primary sports surfaces. This is because of the wide range of benefits that synthetic flooring types can offer our clients.
Multi Use Games Area Builders
Multi-use games area builders can be found all over the country; however, you have to be very careful when choosing who you would like to carry out the works. It's vital to make sure that the company has the necessary certifications and accreditations to carry out this work to a high standard. When having a multi-use games area installed there are a huge number of different variants that you can choose from the help keep costs down, and to help make the perfect facility.
For example, the biggest factor on price will be the area size, however, if you choose a different sports pitch specification that can minimise costs, you could opt for a bigger facility. As professional multi-use games area contractors, we also offer extras for your sports court. These include floodlighting and rebound fencing, each of these can come in various different designs and specifications.
Many schools don't have the money or space to build activity surfaces that can individually offer perfect characteristics for specific sports, which is why we offer professional sports surface construction. These multi use games areas are perfect for schools that don't have a huge budget. We understand that a lot of institutions want to teach their students a wide range of different sports. Multipurpose courts make it easy to do this as you can make more efficient use of the space you've got.
Our team can offer the best prices since we are professional MUGA contractors who have years of experience in the installation of MUGA facilities. If you would like more information on the costs to hire our MUGA contractors, please complete the enquiry form provided.
Benefits of Multi Use Games Areas
These facilities are commonly found at schools, colleges and sports clubs as they cater for a diverse range of sports. Here are some of the key benefits of having a MUGA:
Suitable to use for a range of sports and activities
Versatile designs including hard court and artificial grass
Makes the most of your existing outdoor space
No need to install multiple facilities for different sports
Less maintenance is required as you are only looking after one area
School children can enjoy doing a number of activities
These are a few of the reasons why people choose to have multi-use sports facilities.
MUGA Court Installers
As well as being MUGA court installers; we can also provide a range of other services that can help you get the most out of your sports pitch. When having your multi use games area installed, we highly recommend that you take proactive maintenance costs into account when setting aside your budget.
Maintenance not only ensures that the performance and safety characteristics are as high as they possibly can be. It also ensures that your multi sport surfacing will survive for the longest possible time. As well as this we carry out reactive MUGA repairs however if your pre-existing facility has become damaged or worn down in some way.
If you are not sure whether your facility requires any maintenance or repairs we offer a surface testing scheme. This can help determine if the surfacing is in a bad condition and needs work. We can come to site and conduct these tests and have the solutions for you to remove damage and contaminations. This should hopefully then bring back the original playing qualities. Our MUGA court installers also have a tennis court painting service which helps change the design of your hard court flooring.
The paint comes in a range of colours, and each contains an anti-slip aggregate. This helps to improve the look of your facility as well as the performance and safety characteristics. Professional line markings are added in various colour options for each of the different sports you choose to play. These could be tennis, netball, basketball or numerous other activities, we can apply these line-markings to meet professional standards, for example, ITF guidelines for tennis.
Multisport Facility Specialists
We can offer a number of services along with the installation of MUGA facilities. Our multisport facility specialists can offer installation services, maintenance, repairs and sports facility testing. As specialists in multisport surfacing, we can offer details on the different surface options available. We'll also assist you to choose the best surface specification for your individual requirements.
Having a professional complete the installation of your MUGA facility is important to ensure you get good value for money. Our specialists only make use of professional equipment and materials meaning you can be sure that the project will be completed to a very high standard. We work with many schools throughout the UK and can also install school playground surfaces if you would be interested in this as well.
Below you can see a video of one of our recent projects. This shows our team converting an existing tarmac sports court into a multi-use facility. We did this by applying a layer of needlepunch activity surfacing on top of the existing macadam.
The final result was a versatile and high-quality sport surface which the school can now use for a range of activities. This specification is ideal for playing football and hockey, as well as netball and basketball too.
Get In Touch
Our specialist team can offer help and advice on the costs, specifications and designs for all of these services. We carry out work for schools, clubs and domestic courts throughout the UK. As experienced multi-use games area contractors, we will be able to create the perfect outdoor sports area. We aim to offer products that you can enjoy for a long time. To learn more about MUGA contractors make sure to get in touch using our contact form now.
Get expert advice,
today call us on
Get a FREE quote from our award winning team