Tips Applying Polyurethane Painted Surface to
Polymeric Multi Use Games Area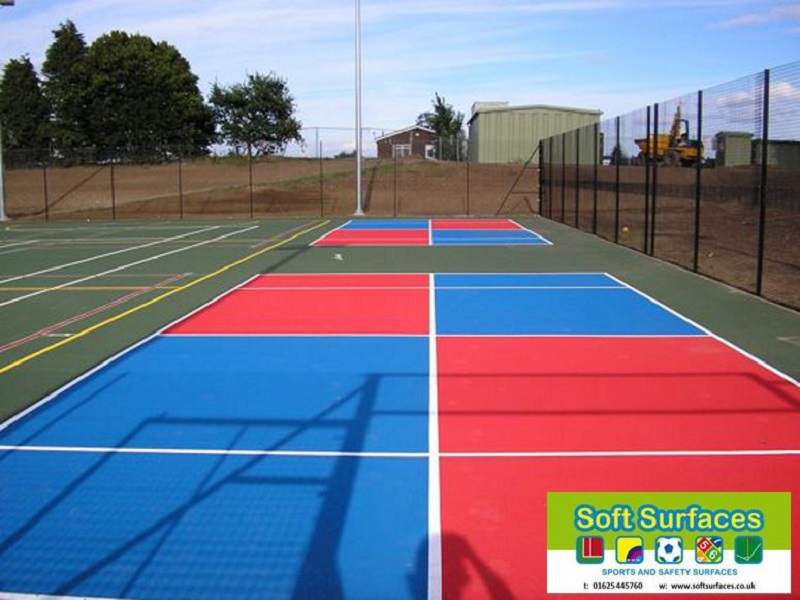 Polymeric EPDM Multi Use Games Areas or MUGAs are often coated in a polyurethane coating to aid slip resistance and to comply with governing body guidelines. There are also Acrylic coatings and Water Based coatings and you can use these coatings on Porous Macadam and Synthetic sports surfaces. Polyurethane or PU coatings, will give the ball court surface an anti slip property which will comply to the TRRL test of 60 for Multi sports and 75 for Netball. These Polymeric systems can have numerous sports played on the surfacing such as Netball, Tennis, Football and Basketball and the sports kickabout court can be coated in different colours like red, green, white and blue and all of these courts can have game markings or sport line markings installed on the surface.
As the Multi Use Games Areas are often made in different sizes / dimensions, the applications of the anti slip sports coatings are done by using airless sprayer. A roller may be used but if the court is particularly large, it may take longer to complete the work than if you were using the spraying option. Artificial pitches or AGP pitches can be painted with acrylic and water based coatings but the PU coating is much better for the EPDM Polymeric coating. These coatings / finishes can all be dependent on the specification and budget of the client.
These can all be tweaked dependant on the surfacing requirements and Soft Surfaces can help you with quotations, budget / funding, costings and contractor information. As we are a true turnkey contractor, we can help you with the full construction, surface upgrade, clean and repainting if required. Please visit our website or call us on 01625 445760 for more information.
Get expert advice,
today call us on
Get a FREE quote from our award winning team