Small Sided Football Dual Use
Games Area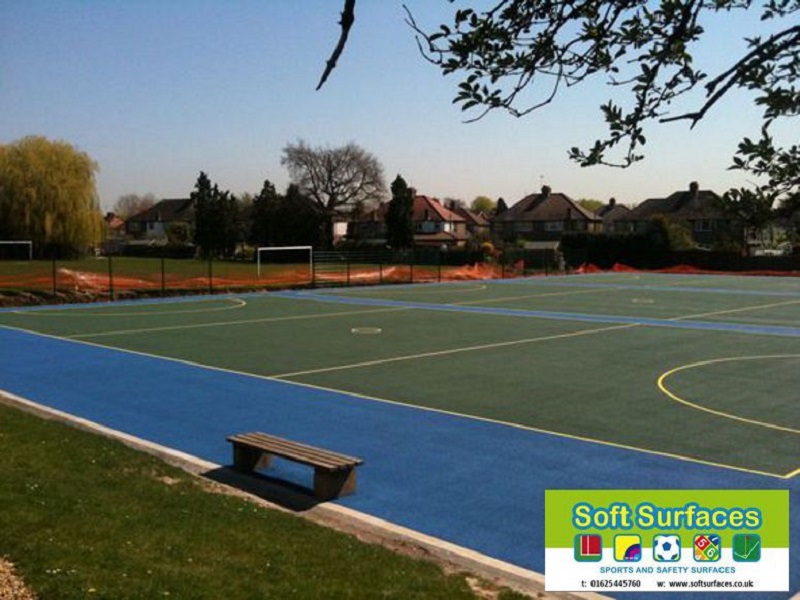 Soft Surfaces Ltd are a company based near Manchester in the UK and are one of many companies and contractors in the United Kingdom who specialise in the construction and design of Dual Use Games Areas. We offer free and friendly advice regarding many areas of the build including pricing, specification, funding advice, quotations and full construction.
Dual Use Games Area Facilities
One of the many sports that are played on the dual use games area is small sided football – this is football that is played to reduced size courts, has a reduced number of players, is played on Astroturf or 3G grass and is played to reduce timings. There are of course other sports that are played on the kickabout court or MUGA at the same time; this is why they are used as multi purpose facilities, these sports include hockey, rugby, basketball and tennis. Line markings can be applied to the sports surfacing of the dual use games area in different colours to make scoring easy for the individual sports. The versatility of these surfaces mean that the school or club has the opportunity to take part in many sports in one single area. Specialist sports floodlighting and fencing can also be installed along with the full surfacing construction to allow the multi sports facility to be used out of daylight hours for training and matches by external clubs and teams.
Types of Surfacing
3G synthetic grass is an ideal surface type for football as it has a layer of rubber crumb installed within the artificial carpet pile. This rubber infill gives the surface natural playing characteristics and also provides ideal playing qualities for rugby. A shockpad can also be installed beneath the synthetic turf surfacing to absorb impact during game play and to protect players' joints and muscles and prevent injury.
There are also a few different types of sports surfacing that can be specified and constructed to suit. Porous macadam, recycled rubber crumb, polymeric EPDM and other types of synthetic all weather grass like a needlepunch surface. Where the 3G synthetic grass provides the ideal surface for football and rugby, macadam and polymeric surfacing have slip resistance qualities which are great for other sports like tennis and netball. All of these surfaces can be game line marked individually to suit the different sports on the same surface and they all have different colour lines to distinguish the different sports being played on the dual use games area. We can also carry out surface testing for these various types of sports surfaces which can help to determine an appropriate maintenance and cleaning system in order to keep the surface in the best possible condition to get the best use out of it.
The dual use games area can be played, designed and specified to suit almost any area size and can be tailored to suit the area required. As experts in the sport surfacing installation industry, we have constructed areas from 21m x 11m to 104m x 59m and would be happy to discuss your project sizes, dimensions and requirements. Please visit our website or fill in our contact form with the details of your enquiry so we can offer advice and answer and questions you may have regarding an artificial sports pitch project.
If you found this information helpful please share it and leave us a comment if you have any questions!
Get expert advice,
today call us on
Get a FREE quote from our award winning team