Activity Flooring
Construction

We carry out activity flooring construction at schools all over the UK for facilities which can be used with a lot of different games and sports. The Multisport synthetic turf specification a softer landing surface compared to standard courts such as macadam and polymeric rubber.
Activity Surfacing Installers
As specialist activity surfacing installers we have completed numerous projects throughout the UK so we offer help on every aspect of the work. We can lay out the flooring straight away however we may put down a shockpad first. This gives a more impact absorbing surface which is safe for children to use. You can also customise the design of the whole games space by adding equipment like PS3 and PS4 enclosures and games panels. These create a fun interactive play area for children that is suitable for lessons or extracurricular activities.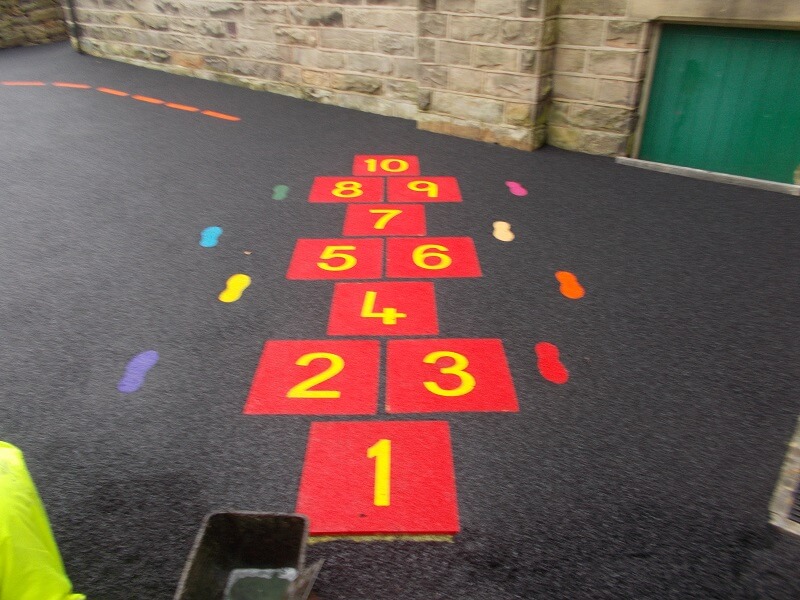 Make sure you contact us today if you've got any questions with regards to activity flooring construction in schools. We provide a detailed quote for any work you need us to carry out. We'll also provide product sheets and videos of our previously completed work on games spaces.
This makes it ideal for multi-activity surface construction in primary schools where younger children will be taking part in different games for lessons and at break times. You may get the artificial activity surfacing in different colours and design it how you would best see fit which would appeal to younger children in primary schools.
The activity flooring construction itself should always take place on a prepared macadam sub base. This may be installed by us or we could use an existing tarmac area as the sub base if you are looking to resurface it with the synthetic turf. We will roll out the coloured activity surface carpet and secure it at the joints and the edges to keep it secure and prevent it from moving around.
If you are thinking about multi-activity flooring construction at your school, we offer advice on the costs and help you to create a design for the project. Fill in our quick enquiry form on this page and we'll come back to you with additional information and case studies of our previous work.
Needlepunch Facility Resurfacing
We also complete activity surface maintenance works as well as being activity surfacing installers. If your synthetic games surface does get misused or vandalised in anyway then we'll be able to fix the problem with reactive maintenance. To avoid this from happening then you will need to complete regular maintenance and repairs to make sure that you get the most of your multi-activity flooring for as long as possible.
The specification should last for about 10 years once the installation is complete. Regular maintenance can add an extra 4 to 5 years so it can make a difference to costs on needlepunch facility resurfacing in the future. Routine checks are important to ensure that your games space surface doesn't have any problems. These could be things like a part of the flooring had ripped or pulled away. These are necessary for helping you notice these small issues before they become serious. If you've got any other types of multi use games are which is in need of cleaning and maintenance, head over to this page – https://www.softsurfaces.co.uk/muga-surfacing-repair/ for more advice on how we can help.
How is Multisport Synthetic Surfacing Installed?
The installation of multisport synthetic surfacing consists of laying down an appropriate sub base and then installing the synthetic carpet. Firstly the existing surface is dug out if necessary to the correct levels. Then the installers will stone up to required level and lay down a macadam sub base. Once an appropriate sub base has been installed, the experts will lay down a geotextile membrane. This will prevent weeds from growing through the surface help to prevent contamination from beneath.
We can then install the Multisport synthetic carpet over this. The team could also include line markings by cutting out the material and laying them between the seams. Our company aims to offer the best prices for multi-activity flooring construction. We'll always do our best to carry out the installation to a top standard. We pride ourselves in the quality of our installations. Therefore you can be sure the final project will be top quality.
Take a look at this video below which shows this process in full. The project was done at a primary school in the UK and included a vibrant colourful design.
Installing Activity Surfaces
As experts when it comes to installing activity surfaces, we offer a number of designs for you to choose from. The surfacing we supply is available in a variety of different colours depending on your individual needs and requirements.
We are a professional company who have been in the trade for a number of years. You can be sure that we will complete the construction to the very best standard. We only make use of premium materials when installing activity surfaces. This ensures the construction will last a long time once complete.
Get In Touch
Our experts will gladly offer you more information on activity flooring construction if necessary. So please get in touch using the contact form if you require more information. Once we receive your enquiry we'll get back to you with additional information on the construction process and the costs involved.
Get expert advice,
today call us on
Get a FREE quote from our award winning team