3g, 4g, 5g, 6g Artificial
Synthetic Grass Pitches Explanation

What will be the latest innovation of the artificial sports pitches? That is the million dollar question and many are looking to design the latest synthetic turf all weather pitches specification. Many are changing the pile heights, pile density, infill rates and some looking at the construction or shockpad element of the works. Some companies are even looking towards a 4G pitch specification which may contain advanced technology.
3G Turf Pitch Specification
Third Generation artificial grass is a sand / rubber infilled sports synthetic surface ideal for football and rugby. 3G football pitches are rented every night to thousands of players for training, 5 a side leagues, 7 aside leagues and even played on for their main games at amateur level with full size pitch facilities. 3G artificial turf surfacing is an excellent substitute to natural grass and meets the approval of rugby and football governing bodies in the UK including FIFA, FA, IRB, RFU and RFL
If you are wanting to use the facility for both training and matches in these sports, this is definitely a recommended surface type as it provides all of the right playing qualities. The overall design can be customised to suit your budget and outdoor space, so feel free to let us know if you are interested in 3G pitch construction by getting in touch with us today.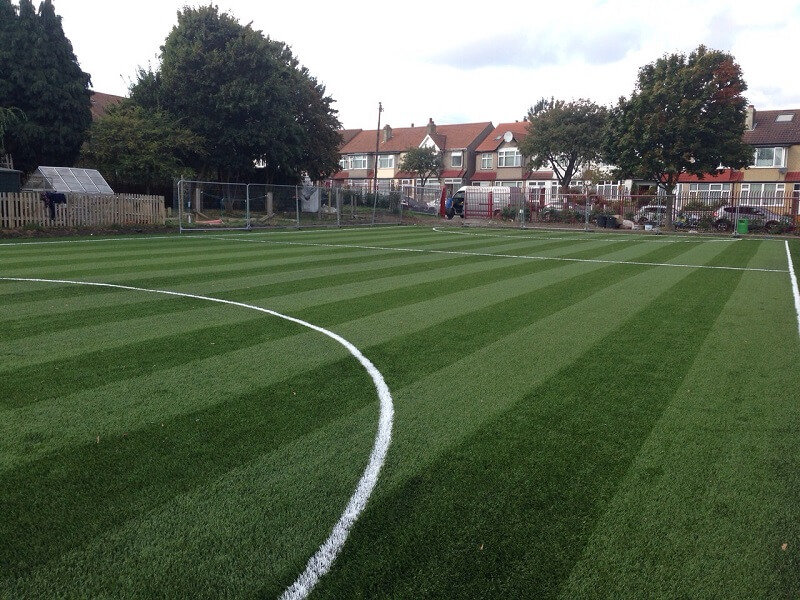 4G Pitch Surfacing Designs
With regards to 4G fourth generation surfacing, 5G fifth generation surfaces and 6G sixth generation flooring then the designs are varied at present. Some are pushing a non infill carpet for the 4G sports pitches and yet the 5G artificial grass is said to be fully rubber crumb infill. However these are all speculations at present and no accredited governing body has approved these designs from IRB, FIH, FA, RFU or FIFA.
Many people are looking at 3G vs 4G pitch designs but the truth is at the moment they are very similar and the official classification is the 3G surfacing.
What is a 5G Football Pitch?
A 5G Football Pitch is an artificial turf surface used for football. The 5G football surface is rubber filled all weather pitch specification.
Get a Quote
If you would like information on the costs, prices, quotes and specifications of the construction of a full size artificial field or even a small sided football MUGA then please fill in the contact form.
Let us know what you need and we can send you all the information on sports fencing, basework specifications, shockpads, drainage and much more. We can also supply product sheets on similar designs to the 4G pitch specification to help you decide on the best option.
Get expert advice,
today call us on
Get a FREE quote from our award winning team