5 Reasons Why Your Artificial Grass
May Have Melted

Synthetic grass surfacing is starting to become a popular choice for homeowners who want a high-quality grass lawn but with as little maintenance as possible (no watering, weed killers or mowing). With the quality of artificial turf improving and its prices becoming more affordable, it's no wonder that people are leaving behind natural grass and opting for a simpler alternative.
Artificial Grass Melting
Although there are many benefits of having an artificial turf lawn installed and contractors take great care in testing their products to ensure they offer the best possible quality and durability, there are also disadvantages that come with this type of surfacing.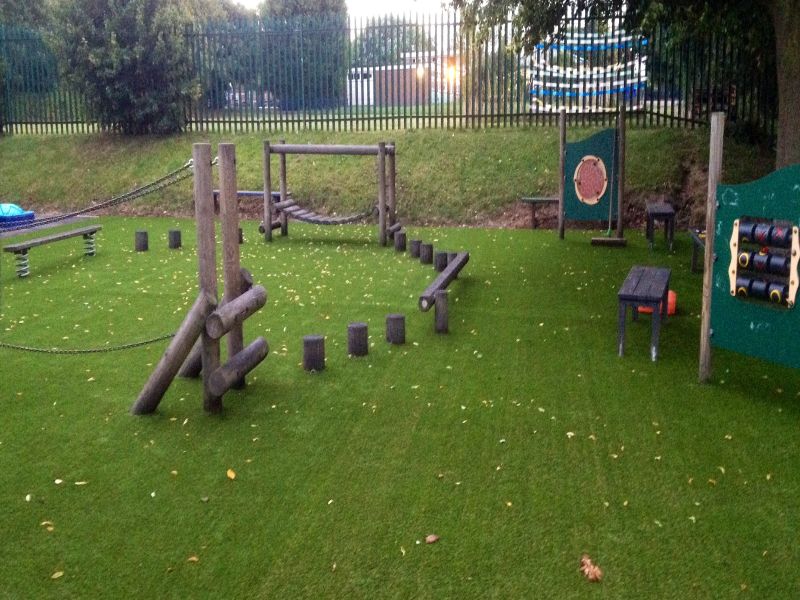 We have recently been seeing a number of cases where lawns have needed repairing, or even resurfacing completely because the artificial grass has melted. This can happen when the temperature of the grass increases above the melting point of the polymer in the turf yarn. It then leaves you with, disintegrated, melted or even burnt artificial grass. This bizarre problem can be caused by a number of factors:
Reflective Surfaces – The top 4 possible reasons why your artificial grass has melted are as a result of intense heat being indirectly applied to the turf through sunlight reflecting off different surfaces in the surrounding area of the lawn:
Windows – A large surface area for sunlight to reflect off for a sustained period of time. You may have noticed artificial grass burning from windows on a nearby building reflecting light onto it.
Polished Gutters – Often dark colours which absorb heat and reflect light from their shiny surface.
Mirrors – Reflects sunlight at a high intensity off a large surface area.
Reflective Panels – On doors, sheds, outbuildings etc. These can also have a big surface area which light can reflect off for a long time.
Direct Heat- The final reason for synthetic turf melting is through direct application of heat:
Fire – Either through vandalism or stray embers from a barbecue. This kind of intense heat applied directly onto an artificial lawn can burn and melt the grass.
Solutions To Artificial Grass Melting
Artificial grass lawns can be repaired of resurfaced if they suffer damage from heat or sunlight. However, the best method of keeping your turf in the best condition is prevention – stopping the problem before it starts.
It is vital that a contractor installing a synthetic grass lawn assesses the area and identifies potential risks. They should find any areas which could be damaging to your artificial turf surface and deal with the problem. This could mean installing a screen to the outside of a window. You could even apply affordable non-reflective paint to panels or gutters which reflect the sunlight.
If preventing the reflection of light onto a particular area of your artificial grass is not possible, you could install an alternative feature. Things such as pebbles, a soil area with plants, a small tree or even a pond can work. This way you can enjoy the aesthetics of the high-quality grass surface whilst eliminating damage to the problem area.
Find Out More
To find out more about artificial grass surfacing for your garden, as well as repair kits to combat existing damage, please visit our website at https://www.softsurfaces.co.uk/. Also, don't forget to share this post and leave a comment if you found it helpful!
Get expert advice,
today call us on
Get a FREE quote from our award winning team