4g Grass Football Pitch
Sports Surfacing Synthetic Turf Carpet

4G Grass Football Pitch Sports Surface Synthetic Turf Carpet is a great marketing tool. At present there is no such thing as a 4G 4th generation sports surface even though the website is flooded with 4G synthetic turf then this actually is from old designs offering non-infill products back in the 80s so some could argue it is actually a 1g system. It is a marketing way of saying one company's product is more advanced than another, with no proof or difference in performance or concept.
For more information on these synthetic pitch surface types, you can fill in our contact form and speak to an expert today. We are able to install sports pitches in a range of sizes and designs so don't hesitate to get in touch.
Synthetic Turf Pitch Specifications
The confusion comes in that there was never a 1st generation or 2nd generation, and these terms have been applied retrospectively. So 1G refers to the original non-infilled surfaces, such as astro turf (which was the generic name) and now encompasses the non-infilled football surfaces popular in Switzerland. 2G refers to surfaces with sand in; mainly sand filled and sand dressed. The next generation of sports pitches refers to any surface which is long pile with sand and rubber infill. There are also surfaces known as hybrids, which are used for football and hockey, but in reality, are also artificial grass systems.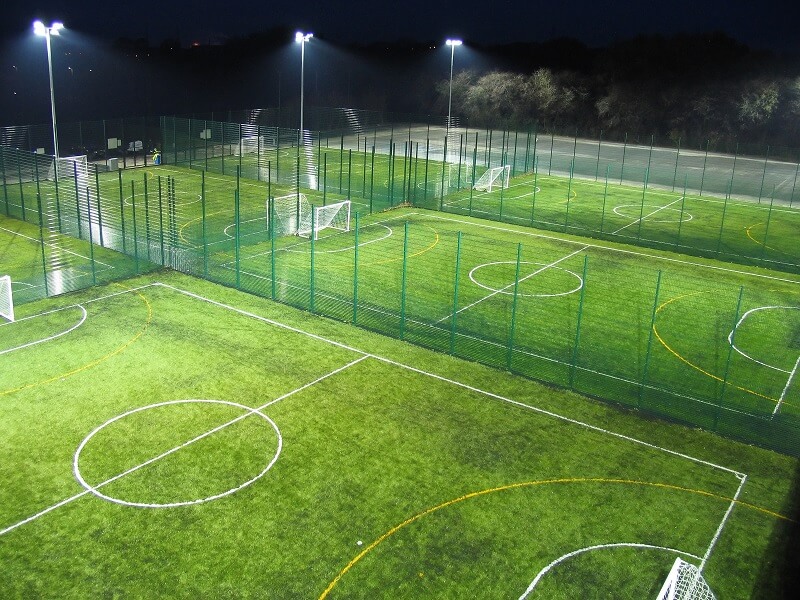 Advanced Artificial Grass Technology
There is also a move by manufacturers to go back to woven products, claiming these are the next advancement in technology. In reality, this manufacturing method was used in the early 1980s, is very slow and very expensive. There is no proven performance advantage as of yet. That's not to say the fourth generation or 4G artificial grass isn't going to come out in the future but people are trying to already saying this is in place with their company when actually from a recent FA document released in May 2012 it states: "..at the moment there is no such thing as 4G or 5G, terms sometimes used by salespeople. some manufacturers may promote non-infilled products, but these are actually earlier generation surfaces, as predominantly used for hockey."
What is a 3G Football Pitch?
A 3G football pitch is a general term used to describe an artificial grass sports pitch. The specification is actually a synthetic turf sports surface containing sand and rubber infill to create the desired playing qualities. We can install these facilities at various UK locations including schools, clubs and public parks.
Installing 4G Football Pitches
The way forward is about systems, how they are installed and maintained, not to call exactly the same surface as most manufacturers offer, a 4G or 5G, which I have heard contractors are now claiming. The installation of the synthetic sports pitch is crucial nowadays and the correct procedures need to be implemented with the correct machinery and then once the sports facility is constructed, the sports surface maintenance needs to be regularly carried out to meet the playing characteristics for the lifespan of the ATP / STP or MUGA ball court.
Get in Touch
Please fill in our contact form for further information on these 4G grass football pitch products. We'll get back to you with all the details you need along with details to carry out your project. The different products vary depending on your budget and the type of facility you want to create. We'd be happy to take a look at all of the options and help you decide what would be best for your school or club.
Get expert advice,
today call us on
Get a FREE quote from our award winning team