4 Reasons Why Schools Have
Artificial Grass

Artificial grass has quickly become hot property for schools and sports centres. But why is this? Does artificial grass look and perform just as well as natural grass? Won't it cost extra to install and maintain? Not necessarily!
If you're interested in redeveloping a school playground or sports surface with artificial grass or turf, there are plenty of great reasons why you should start looking at options right away. Here are four brilliant reasons why schools have artificial grass – and why yours should, too!
1. Less Maintenance Compared with Natural Grass
Natural grass surfacing may be cheap to grow and easy to keep short, but it is still painstaking to make sure it is safe to use. Natural grass needs to be cut on a weekly basis depending on what you are using it for.
Uneven grass, divots and soil could all cause accidents and injuries, too. While some schools may see real grass as cost-effective, it can be very inefficient in lots of other ways.
Artificial grass for schools is built to be safe, solid and easy to maintain. Unlike natural grass, you'll never have to cut it or have to make sure it's free from slippy mud or soil. It can be left to its own devices from season to season! Of course, it's a good idea to keep it clean – but you'll save so much time and so many resources.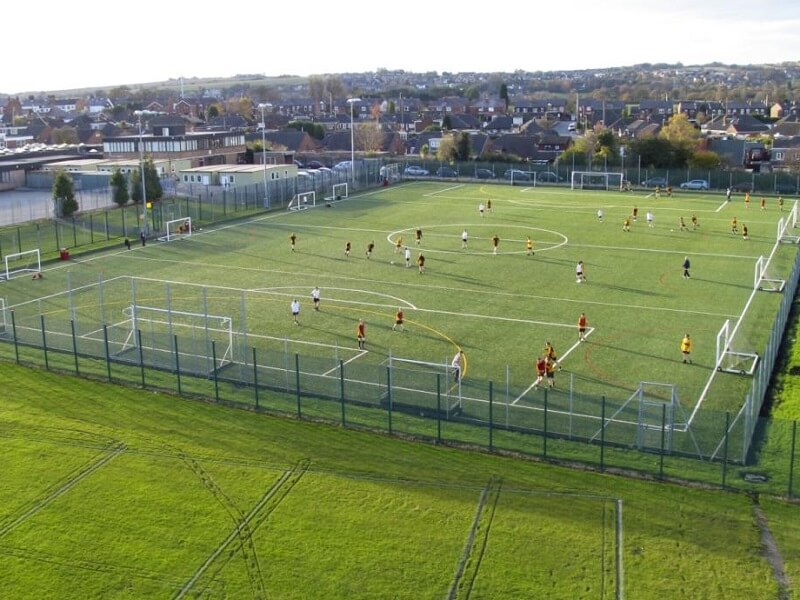 2. Synthetic Grass is Suitable for All-Weather
Real grass may be nice and soft, but when the rain starts pouring down, it can be hazardous. What's more, flat grass surfaces can spoil and become waterlogged. This can result in games and matches being called off completely. What's more, leaving a grass field or surface to air out after a downpour can be a massive drain on your time.
Synthetic grass for schools and other artificial turf standards are weather-resistant. Come rain or shine, kids will be able to head out and play sports and games without fear of slipping or getting too wet underfoot.
Weather resistance is absolutely crucial when it comes to modern play equipment and sporting facilities. Artificial grass lawn solutions are immediately more reliable than real grass for that reason alone.
3. Creates More Opportunities for Outdoor Play
Synthetic grass can help to really encourage kids to get out and play. A high-quality artificial lawn will allow children to play more and do more on school fields and in playgrounds. You can mark designated play areas and zones with ease.
It's not always so easy to do this with real grass, and you can't always mark grassy areas in a school environment and expect them to withstand the weather.
An all-weather artificial pitch will encourage kids to head out and play whether it's raining or fine outside. You'll be able to host sports days and big events with more flexibility. You will also be able to host fairs and events out on an artificial field where there would otherwise be safety risks on a real grass surface.
You can get really creative with the outdoor play options you can install for your pupils – and they can get even more creative with the games they come up with. Synthetic surfacing inspires activity – it's true!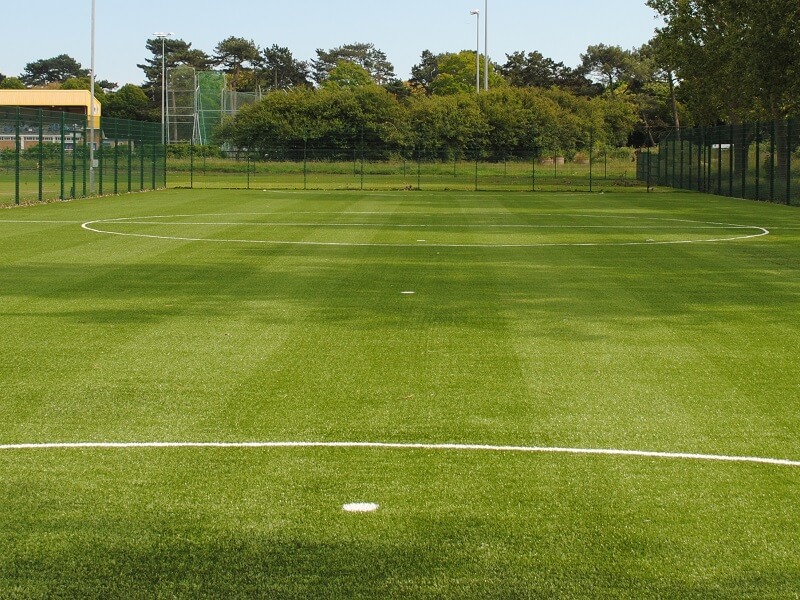 4. Provides Safety Qualities for Playground Equipment
While we've already taken a look at why synthetic grass is considered a safer option for sports fields and playgrounds, we should also consider their use as part of dedicated safety surfacing. When installed with a shockpad underlayer, artificial turf and surfacing can be used to help bolster safety with playground equipment.
No matter how safe your playground equipment may be, there will always be a risk of a child falling or hurting themselves. Artificial turf and grass solutions, when built with shockpads, can help to reduce the impact of a fall or trip, and will, therefore, be kinder to kids who may otherwise be playing safely.
While it is always crucial that you make sure children in your care are safe at all times, you are also going to need to make sure that the facilities they use are built with safety in mind. The shockpad is designed to reduce the impact and prevent serious injuries. It can be specified to suit the critical fall height of equipment in the area.
Not only is fake grass and synthetic surfacing superior to real turf in the sense that slips and trips are minimised, it will also help to lessen the blow of any potential slips and falls which may occur along the way. All in all, synthetic surfacing should be considered a viable option for any school or sports club looking to better protect its users.
School Synthetic Grass Surfacing Designs
School synthetic grass surfacing designs don't all have to arrive in one colour. Modern synthetic surfacing can be easily marked, which means you can designate certain zones and areas for play.
Why not use synthetic grass for schools as an opportunity to encourage multi-sports? Football, tennis, hockey and more – all can be safely played on a water-resistant and hard-wearing turf which really will pay for itself after a few short uses.
Check out this video below to see one of our recent installations in Derby:
We design and install synthetic and artificial grass for schools and nurseries based on a whole host of factors. No matter your needs and requirements, we will always be happy to discuss your perfect school turf design with you. Whether you are setting up a new play area or are arranging for an old turf to be completely re-laid, our team will run through every option and choice with you to make sure you are completely happy.
When it comes to providing the perfect playground and sports surfacing for your pupils, you're going to need to think about safe, fun ways for them to create and explore. With durable synthetic grass, you get all the benefits of a natural grass surface, but without the maintenance, the long-term expense, and the risks to safety.
Considering installing artificial grass for your playground or sports pitch? We can help. Take a look at our previous projects or please get in touch with us to learn more. Our local installers are here to help!
Get expert advice,
today call us on
Get a FREE quote from our award winning team