5-a-Side Football Pitch Construction
With 3g Artificial Turf

We have installed a number of 5-a-side sports pitches across the UK to various schools and sports club facilities. One of our latest projects was a 5-a-side football pitch construction with 3G artificial turf for a primary school in London.
The school chose to have a synthetic grass pitch installed as the 3G specification is much easier to look after than natural grass. You can also use it throughout the whole year, even in wet weather.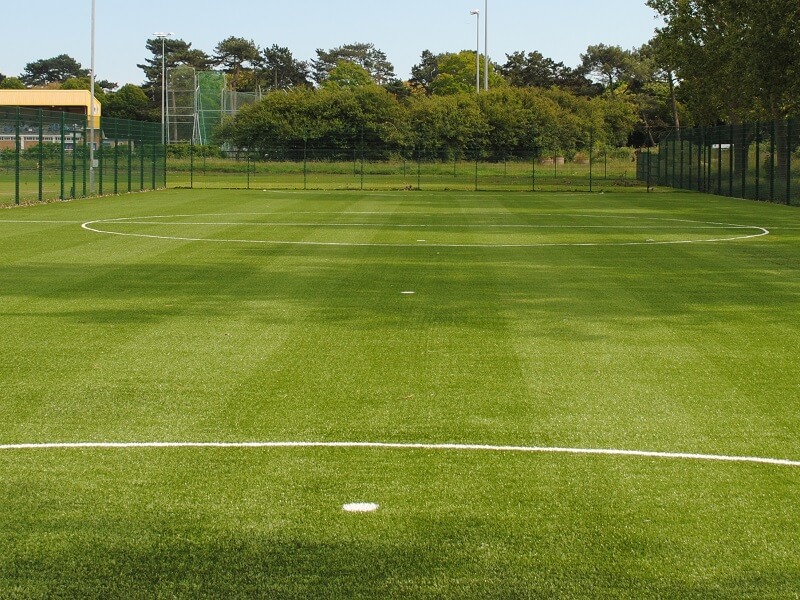 5-a-side Football Pitch Construction
This school had an existing natural grass area which wasn't suitable for use as a sports pitch so they decided to resurface it in 3G artificial turf. The first part of the 3G football pitch construction was to excavate the natural grass surface and prepare the ground for the new pitch to be installed. We ripped up the old grass, leaving a smooth layer of soil beneath which could then be used for the rest of the 5-a-side football pitch construction.
When the ground had been excavated to the right depth, we could then install a soakaway system. This aids in drainage and helps to prevent flooding to the sports facility. Next was the application of a sports sub base. For this type of project, we typically use a dynamic stone sub-base. This is porous and gives the rest of the pitch a solid and even foundation.
We compact the stones down to make sure that they lock together and the sub-base is completely smooth. After the dynamic sub-base has been compacted, a layer of macadam will be applied. This gives the pitch a durable and long lasting base layer. It also creates a smooth foundation to lay the 3G grass carpet onto.
3G Turf Installation
After installing the groundworks and sub base, the next stage of this 5-a-side football pitch construction project was the 3G turf installation. This synthetic grass surface type is popular for football pitches. It has a specific design to replicate the performance of natural grass. 3G pitches have a sand and rubber infill layer installed between the synthetic fibres to improve comfort and enhance the playability.
The 3G turf carpet was installed in separate rolls which were then glued together at the edges and the seams. We do this to secure the carpet into place. Inlaid line markings were then applied in white, along with the sand and rubber infill. We spread this evenly throughout the synthetic fibres to ensure an even playing surface. This is one of the main benefits of the surface as it doesn't become muddy or uneven during wet weather. Visit this post to find out more about the benefits of these surfaces.
After the 5-a-side football pitch construction was complete, the primary school had a top quality sports surface. They can now use this for training and playing football matches. The 3G artificial turf will be a long-lasting all-weather surface. It should also be able to withstand a lot of heavy use all year round. You should carry out 3G pitch maintenance regularly to keep it in top condition.
If you'd like any further information on 3G synthetic football pitches or any of the other sports facilities we specialise in, please have a look at our website on https://www.softsurfaces.co.uk. To discuss costs and designs for a sports pitch installation, fill in our contact form. We'll send you over some product sheets and a price quotation for the works.
Please share this post if you found it interesting. If you have any questions please ask us in the comments below!
Get expert advice,
today call us on
Get a FREE quote from our award winning team