Artificial Grass Football
3G Pitch Costs
3G Pitches are becoming more and more popular by the year so make sure to check them out.

When installing a new sports facility, the artificial grass football pitch costs can vary due to a number of factors; often one of the biggest variables is the size and dimensions of the surface. The costs to install an artificial grass all weather football pitch is largely down to the size of the area to be covered, generally the bigger the area the higher the cost.
For example a full size synthetic turf football pitch will cost more to surface with artificial grass than a small sided football facility used to host evening 5-a-side, 6v6 and 7 a side leagues. Make sure you speak to one of our experts today by filling in our enquiry form to find out more about the costs and designs of synthetic football pitches.
Artificial Grass Carpet Designs
Other factors that can determine the price of the synthetic turf used to surface all weather football pitches is the specification of artificial grass. Things to look out for that determine the quality and specification of grass are the pile height (40mm, 50mm, 60mm), pile weight, type of synthetic fibres (monofilament or fibrillated) and backing of the artificial grass (stitch rate).
The best quality of artificial grass has a FIFA 2* accreditation whilst there are other high accreditations are available such as FIFA 1* and IATS. Synthetic turf with these accreditations (FIFA 2*, FIFA 1* and IATS) usually come at a higher price than others but the quality is well represented in the 3G football pitch cost.
3G astroturf surfacing is the latest technology of artificial turf and is the perfect synthetic surface for football. Previously 2G surfacing was used to surface artificial grass football pitches but its playing characteristics were not well suited for football. 2G surfacing is now more commonly used for synthetic hockey pitches; however some establishments that host both hockey and football may choose to install a 2G carpet. As well as offering prices on 3G artificial grass surfacing we can also provide you with costs on 2G synthetic turf surfaces. Feel free to get in touch with us for more information on our products and services with regards to synthetic football pitch facilities.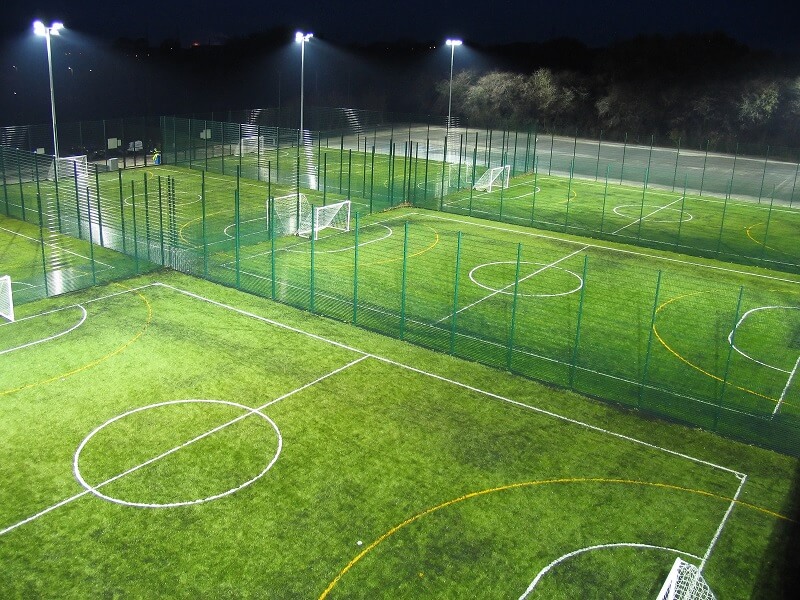 Synthetic Soccer Pitch Prices
3G synthetic turf can be used to surface sports pitches of various sizes at many different organisations. To be able to receive a quote for the artificial grass football pitch costs it is important know the size and dimensions of the pitch as this has the biggest bearing on costs. The larger the area the more the total scheme value will cost but the lower the m2 price will be. We would advise that you decide on an approximate budget for the work so we can offer a quote on the synthetic soccer pitch prices which suits your requirements and gives you a facility that you are happy with.
3G Facility Sports Equipment
Other items that have an impact on the synthetic soccer pitch prices are the line markings. The synthetic turf football line markings can be cut in or sprayed on, cut in line markings usually come at higher price as they are permanent and cannot wear even if the 3G football turf has high levels of usage. Sprayed on line markings usually come at a lower cost but these are a more temporary measure as they can wear in areas of high use.
We can also offer other features to help you make the most of your synthetic sports pitch; these include secure sports fencing and floodlights which both come in a range of designs, heights and specifications to suit you. By installing these extras you can transform your sports pitch into a multi-use facility which can be used by other clubs and teams after hours to help generate more revenue.
To see the full construction process of a synthetic turf sports pitch, watch the video below which shows one of our recent projects at a school:
Uses for 3G Grass Pitches
3G synthetic grass surfacing can be used in a number of sporting organisations and available at various costs and prices including:
Primary Schools – 3rd Generation surfacing for MUGA sports facilities available at different costs and prices.
Secondary School – Full size Third Generation artificial grass football pitch, available at different costs depending on specification.
Leisure Centres – Small sided football cages with artificial grass surfacing, costs dependent on pitch size and dimensions.
Sports Clubs – Sports clubs and Football clubs are likely to have synthetic turf from the higher end of the spectrum, giving better quality which is well represented in the price.
If you would like more information regarding artificial grass football pitch costs please contact us via the enquiry form and we will be happy to supply you with a quotation outlining the budget prices.
Our professional staff will be able to give you advice on all aspects of the project including surface types, construction, designs and extra features like floodlighting and fences.
Get expert advice,
today call us on
Get a FREE quote from our award winning team