Artificial Grass
Nationwide

Artificial Grass is all the rage throughout the UK whether it be a synthetic turf sports pitch for a professional football club or a domestic client wanting an artificial lawn for their garden. Artificial grass has many many positives, one being specifically for sports pitches because it gives the client an all-weather pitch they can play on that gives the same playing characteristics as natural grass. On the other hand artificial lawns are very beneficial because keeps maintenance costs down as the grass isn't needed to be cut and is great for animals and as a play area surface. The artificial grass gets used on playgrounds, daycare centres, nurseries, schools, parks, college play areas, universities and leisure centres.
We have carried out installations of artificial grass, playground surfaces, sports surfacing, MUGA, ball court, polymeric surface, synthetic turf, 3g grass, all-weather pitch and third generation synthetic grass and we are able to carry out these projects across the country!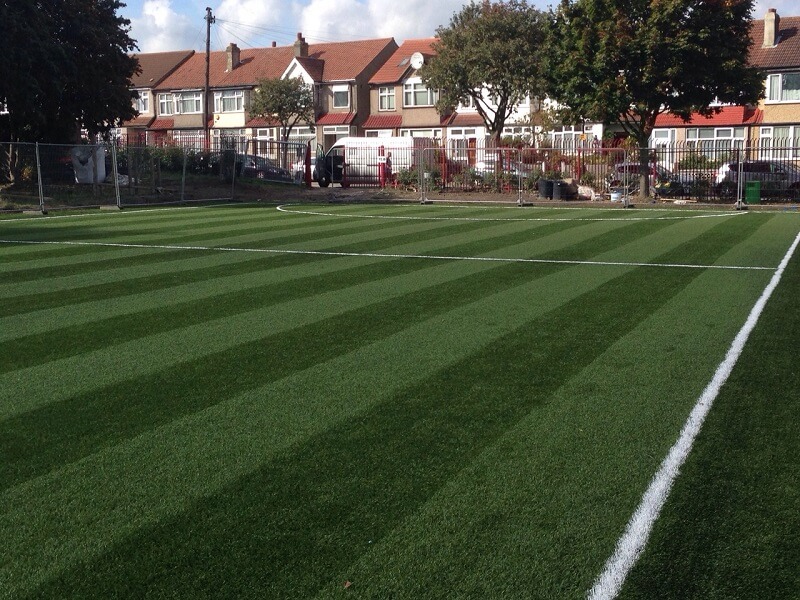 History of Artificial Grass
Artificial turf was first installed in 1964 on a prep school recreation area in Rhode Island. The material came to public prominence in 1966, when AstroTurf was installed in the Astrodome in Houston, Texas. The state-of-the-art indoor stadium had attempted to use natural grass during its initial season in 1965, but this failed miserably and the field conditions were grossly inadequate during the second half of the season, with the dead grass painted green. Due to a limited supply of the new artificial grass, only the infield was installed before the Houston Astros' home opener in April 1966, the outfield was installed in early summer during an extended Astros road trip and first used after the All-Star Break in July.
The use of AstroTurf and similar surfaces became widespread in the U.S. and Canada in the early 1970s, installed in both indoor and outdoor stadiums used for baseball and football. More than 11,000 artificial turf playing fields have been installed nationally. More than 1,200 were installed in the U.S. in 2013 alone, according to the industry group the Synthetic Turf Council. Information provided by wiki.
Maintaining Synthetic Pitches
We are also not only able to install, but also maintain these facilities in order to restore them to their initial state. Carrying out regular proactive maintenance to your facility is great thing to do to prevent extensive work needing to be done in the future, however if your surface does reach a point where it needs entirely rejuvenating then we can offer that service to you.
The cost of maintaining synthetic pitches really does vary from surface to surface, so the best way to find out what the cost of having this done would be is to simply contact us on our site and we will get back to you right away! Our company has decades of experience both installing and maintaining these facilities and can help you with any of your requirements!
Get expert advice,
today call us on
Get a FREE quote from our award winning team