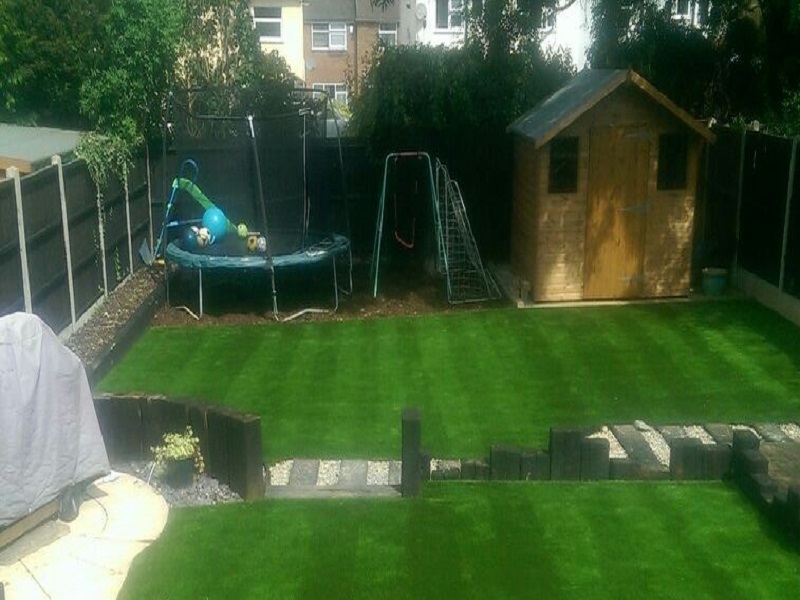 Artificial grass has become increasingly popular and is widely used throughout both the domestic and education sectors. Synthetic turf changes the way you think, feel, perform and is a major driving factor to participation in more sport and play. From the grassroots, we encourage children to play outdoors and artificial lawn surfaces enhance leisure, play and sports activities due to the all-weather surface performance. Synthetic turf pitches have increased the amount of competitive sport played in schools, colleges and universities.
Artificial Leisure Turf Surfaces
Artificial grass is the terminology used on man-made surfaces for play and leisure which in the past has been referred to as artificial turf. Many private and public gardens, and recreational areas are installed with fake leisure grass surfacing due to its durability and simple maintenance needs.
A lot of domestic homes, schools, nurseries and public lawn areas have leisure grass surfacing installed as there is a wide range of colour options and specifications to choose from to ensure you get the perfect surface type for your project.
The most advanced designs of synthetic surfacing have been developed with UV stability; this means they maintain their colour for much longer through sunlight exposure. Artificial lawn surfaces create an attractive look for an outdoor area such as a nursery play surface while still maintaining the natural feel and comfort of real grass.
We can install artificial leisure turf surfaces throughout the UK to a wide range of projects and organisations. Some popular locations include:
Domestic gardens
School outdoor spaces
Nursery gardens
Public attractions
Local parks
We can help you with choosing the right synthetic carpet, creating a design to suit the requirements of the facility, and installing the surfacing itself.
You can choose from a range of lawn options for your home which may need to accommodate children and dogs, or for a public garden that gets a lot of pedestrian traffic throughout the day. Selecting the right specification of synthetic carpet is essential to ensure you get the perfect artificial lawn at a price that suits you.
Leisure turf has become very popular throughout the UK on golf course pathways, embankments, gardens, swimming pool surrounds and leisure complexes. The advantage of leisure turf is the low maintenance costs as you won't need to cut the grass. This gives your area a pristine all year round look as well as being comfortable underfoot. It is also great in areas like the centre of roundabouts, flat rooftops and even on tunnel entrance ways at sports stadiums.
If you're thinking about installing artificial leisure at your home, school, nursery, park, club, visitor centre, or any other outdoor space, please get in contact with us. We have experience in installing outdoor recreational and safety surfaces across the country and we would be happy to assist you in developing a design for your project and installing the surfacing for you.
All you have to do is use our enquiry form to send us your details including the postcode, area size and a brief description of the work you'd like us to do for you. One of our staff members will then get back to you with a price for the leisure grass installation as well as some product sheets and advice on the best artificial surfacing for your project.
Artificial Grass Surfacing Uses
There are a number of artificial grass uses. A multitude of areas in the UK now have artificial turf, some of these include:
Parks
Gardens
Play areas for educational facilities
Nurseries
Sports pitches
Golf putting greens
Golf organisations and also teams have chosen to have fake lawns fitted. Paths and synthetic putting greens are both typical options in which synthetic grass may be a good option. This is due to the minimal routine maintenance it requires along with the great aesthetics.
For more information on the different uses of artificial lawn surfacing, please speak to a member of our team. Simply fill in the contact form and we can provide you with a quote and additional details. Also, see our leisure lawn enquiry process to see which information we'll need to give you a quote.
Advantages of Synthetic Lawn Surfacing
Many individuals look into having synthetic turf because the English climate is not really the best; this is one of the biggest advantages of synthetic turf. Since the weather conditions in the UK aren't always great, garden surfaces can become unusable. This is because real grass can become waterlogged and extremely dirty.
Man-made turf does not get dirty or become unusable in wet conditions. The artificial turf will be SuDS certified, this means that the surfacing isn't going to become swamped or waterlogged.
Another advantage of synthetic turf is that it requires very little maintenance to keep it in good condition. This means that you can enjoy a great looking lawn without needing to carry out as much maintenance.
We recommend that you remove litter and other things that could make the area dirty. This is to prevent the area from suffering contamination and losing its porosity. We can also offer advice for sports pitch maintenance if you have an artificial grass sporting facility.
Get In Touch
If you require more information on the leisure grass surfacing that we can install, please do not hesitate to get in touch. In order to enquire today, please complete the contact form presented on our website. We will get back to you as soon as possible with a free quotation. We'll also supply more information on the products we supply and install.
Get expert advice,
today call us on
Get a FREE quote from our award winning team